That's the great imponderable at the State House now that the Department of Revenue Administration has tossed a bucket of ice-cold water onto Gov. Chris Sununu and the Democratically-led Legislature as they try to fashion a compromise two-year state budget.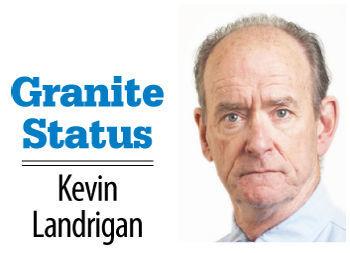 As the Union Leader first reported, Commissioner Lindsey Stepp's latest estimates reflect a growing number of business tax refunds and slowing economy. That prompted her to downgrade the agency's latest revenue estimates by roughly $90 million for the next two years.
Let's review how much bigger this problem just got.
You've got Gov. Sununu's argument that the budget he vetoed created a structural deficit of $91 million.
Then you have Democratic legislative leaders who insist the state can no longer afford the last round of business tax cuts, which began in January and over the next two years would cost $93 million.
You don't need to be a Mensa member to add up the three numbers and understand that's a $270 million hole.
Commissioner Stepp stressed this was an estimate that is again subject to change. Internally, legislative leaders and top aides to the governor credit the commish with coming forward with her best, latest numbers.
There are some positive items on the other side of the ledger.
First there's so-called tax conformity, bringing the state tax code in line with the tax accounting rules under the federal tax cut of 2017.
If a compromise budget includes what the vetoed budget had regarding these provisions, this would bring in $42 million in added business tax revenue.
Senate Majority Leader Dan Feltes, D-Concord, said there are some other sections of conformity not initially taken up that could boost the total.
Then there's the issue of lapses, or unspent money.
The Department of Health and Human Services for the year that just ended June 30 was budgeted to return $23 million in unspent money.
HHS Commissioner Jeffrey Meyers said the agency lapse was actually $82 million, which is $59 million more that can be taken forward.
Anyone can see these make the hole smaller -- but it's still pretty big.
Latest negotiations 'moving forward'
Sununu and top budget writers and legislative leaders met privately for about an hour Tuesday, with both sides reporting that the mood was very respectful and the talk was positive.
"We are making progress; I think we are moving in the right direction," said Senate Finance Committee Chairman Lou D'Allesandro, D-Manchester.
Sununu told reporters Wednesday that "I offered some ideas they liked and they offered some I agreed to take a look at." 
A good sign about the prospects of an eventual agreement? Extending the current continuing resolution beyond the end of September is not yet on the table.
Some observers thought legislative leaders might be getting that language ready since the House and Senate will be coming back Sept. 18-19 to take up Sununu's vetoes.
"We need to keep talking; that's the priority right now," Feltes said.
Here's one reason why getting this problem solved by the end of September is critical.
Stepp's agency begins setting tax rates for all cities and towns in October.
Officials in some communities adopted budgets that assumed the state aid grant increases contained in the vetoed budget.
If a permanent budget is not reached by October, the Department of Revenue Administration can't approve tax rates based on hoped-for grant levels.
This could force city and town officials to reopen their budgets and perhaps have to approve layoffs or a much higher property tax increase.
What now are deal assumptions?
Given the latest news, it's pretty clear both sides will have to make significant movement to bring about a compromise.
Even senior legislative leaders acknowledge cuts will have to be made in spending levels contained in the vetoed budget.
The proposed $100 million increase in state education aid grants is the leading suspect to take a hair cut.
Meanwhile, the House and Senate ad hoc committee on the continuing resolution takes testimony at its third public hearing Thursday, with the impact on education topping the agenda.
It's hard not to imagine a change in the business taxes becoming part of any grand new deal.
There's no doubt House Speaker Steve Shurtleff, D-Penacook, and Senate President Donna Soucy, D-Manchester, will be telling Sununu that it could be impossible to get a new compromise budget through the House with further cuts, unless business taxes take a hit.
An option that's yet to surface publicly would be a trigger mechanism.
This would keep the business tax cuts on the books -- but if by next July 1 revenues do not meet an agreed level, then the latest reductions in the taxes on business profits and business enterprise taxes would go away.
There's a precedent for this option.
Then-Gov. John Lynch and Democratic lawmakers were very skeptical about the revenue base when then-House Speaker Bill O'Brien got through the first cut in the state's tobacco tax since at least World War II.
Lynch insisted upon and got into the budget trailer bill a triggering mechanism.
The lingering recession helped Lynch's argument; the tobacco taxes did not reach the target and the rate went back up.
A year out, Dems' ad attack vs. Sununu
We continue to see more and more evidence that just like the presidential front, the 2020 state campaigns are starting earlier and earlier.
This week's exhibit came in the first NH Democratic Party ad against Gov. Sununu, this one attacking the incumbent for vetoing the paid family and medical leave program.
The 30-second spot comes more than a year before the September 2020 primary. It's a much earlier point than when Democrats unloaded on Sununu running up to his reelection win in 2018.
The ad will air on WMUR, cable outlets and on social media (Facebook) for the next few weeks, according to party officials.
"Sell-out Sununu does the bidding for his special interest donors at the expense of everyone else," said NHDP spokesperson Holly Shulman. "Chris Sununu is for sale to the highest bidder, and it's clear that he's willing to sell out Granite Staters and their priorities to please his party, his special interests, his corporate donors, and the top 1 percent."
The ad begins with the announcer saying, "Paid leave to give birth, or care for a dying parent, is no laughing matter for New Hampshire working families. But when the legislature passed a family and medical leave bill, Governor Sununu vetoed it."
The commercial ends with Sununu participating in the auctioning off of a copy of his veto at a Belknap County Republican Committee fundraiser for $400.
A GOP spokesman mocked the ad.
"While Dan Feltes and his Democrat Party are determined to mislead the public regarding their income tax scheme, Governor Sununu has offered a voluntary paid family leave program in his budget that works for the people of New Hampshire," said NH GOP Executive Director Elliot Gault.
"Democrats like Feltes and Andy Volinsky can try all they want to convince Granite Staters otherwise, but the people of New Hampshire will always know that Governor Sununu is fighting for them."
Sununu adviser Paul Collins also rebutted the spot.
"Facts don't lie, but the New Hampshire Democratic Party does. Governor Chris Sununu long ago proposed a voluntary, paid-family medical leave insurance program that will work for New Hampshire and is not an income-tax. No matter how sweetly the tricky ones coat the bitter pill of an income tax, Governor Sununu will never hesitate to veto it as well as other extreme bills passed by the Democrats in the Legislature," Collins said.
"Unlike Dan Feltes and his liberal self-serving special interest group allies, Chris Sununu will never sell out the New Hampshire Advantage."
The Sununu forces point out they were the first to put up an attack ad against Feltes and the Democrats and had spent with Sununu's campaign more than $3,100 on digital ads compared to NH Dems who had earlier spent only $158 on digital ads.
Joe Kennedy to make 1st NH trip for Warren
U.S. Rep. Joe Kennedy III will make his fir st trip to New Hampshire for Elizabeth Warren's 2020 Democratic presidential campaign, a phone bank on Thursday, Sept. 5.
The event at the 540 Chestnut St. offices in Manchester is set for 5:00 p.m.
Kennedy endorsed Warren last February.
In the past week Kennedy confirmed that he's exploring a possible Democratic primary challenge to U.S. Sen. Ed Markey, D-Mass., in 2020.
"We need a leader who will bring this country together to take on its greatest common threat: a system that protects the powerful and privileged while the rest struggle to scrape by," Kennedy said of Warren in a statement.
"Elizabeth has built her entire career on the belief that ours is a nation of second chances, redemption, and of horizons that don't disappear when fate gives you a tough hand. In Elizabeth Warren's America, we pull people up, we fight by their side and we refuse to leave anyone behind."
Good timing, bad form
The only good news for Joe Biden's latest gaffe on the campaign trail was it happened last Saturday on the other end of the state in the middle of a sleepy summer weekend.
But Biden's confusion about which state he was in during a reporters' gaggle in Keene can't possibly be spun well.
Reporters asked Biden during Saturday's campaign stop what he thought of Keene.
"What's not to like about Vermont in terms of the beauty of it? And what a neat town," Biden said. "This is sort of a scenic, beautiful town; the mayor's been a good guy, and everybody's been really friendly."
Yes on a real clear day you can see Vermont from parts of Keene; that's about the most positive thing you can say about that clueless comment.
The mayor Biden referred to was four-term Kendall Lane, a former Republican state representative who changed his party affiliation to independent while in office.
Lane is not seeking a fifth term.
The campaign must believe its New Hampshire campaign is more solid here than in Iowa, where the more liberal caucus base is being heavily wooed by Elizabeth Warren and Bernie Sanders, among others.
Biden opened the vault and put his first TV ad about health care on the air in the Hawkeye State, but it's not on here -- at least for now.
Biden's ground game here continues to grow with former Gov. John Lynch presiding over the opening of his Manchester field office Wednesday night.
Biden's wife, Jill, continues to serve as his biggest asset and returns to campaign on his behalf here Sept. 14.
At various events Biden has taken to introducing himself as "the husband of Jill Biden."
Kamala 'Captains' mobilizing NH campuses
With students back on campus, Democratic presidential contender Kamala Harris has created an organizing infrastructure and is launching "Kamala Captains" throughout the state.
This is a core part of Harris' campaign volunteer network. The captains take on a range of tasks in college towns and cities, including hosting events and recruiting and training other volunteers.
"As the campaign continues to expand throughout New Hampshire, we have seen tremendous enthusiasm for Kamala Harris' candidacy and vision for America," said Pavitra Abraham, Harris' NH organizing director. "With both the Kamala Captains and Students for Kamala programs, the campaign is harnessing Granite Staters' passion for Kamala's candidacy and creating a volunteer infrastructure that will help the campaign greatly leading up to primary day."
Kos Twum-Antwi is a student leader for Harris at Dartmouth College.
"We are so excited to continue ramping up our organizing program for the Kamala campaign here at Dartmouth," Twum-Antwi said. "There is a huge amount of interest from students around campus in Kamala's candidacy and vision for America, and we will continue to tap into this energy through the fall"
Katrin Kasper is a "Kamala Captain" in Lee.
"Here in New Hampshire we take the primary seriously. That is why I am excited to be one of Kamala's Captains. I can't wait to help get the word out about Kamala's agenda and how it will help lift up the people of the Granite State in the ways most important to all of us," Kasper said.