EDITOR'S NOTE: This is a special edition of Granite Status, which appears weekly on Thursdays.
What are we to make of President Trump's effusive praise but no endorsement for Corey Lewandowski's impending bid for the U.S. Senate in 2020?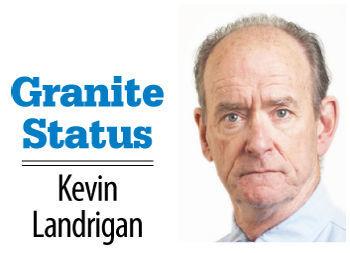 Trump invited the entire Lewandowski family to go onto Air Force One and get a special one-on-one upon his arrival back in New Hampshire.
The former Trump campaign manager had a special seat and got a Trump shoutout. The President said if Lewandowski gets into the race, "he'd be tough to beat."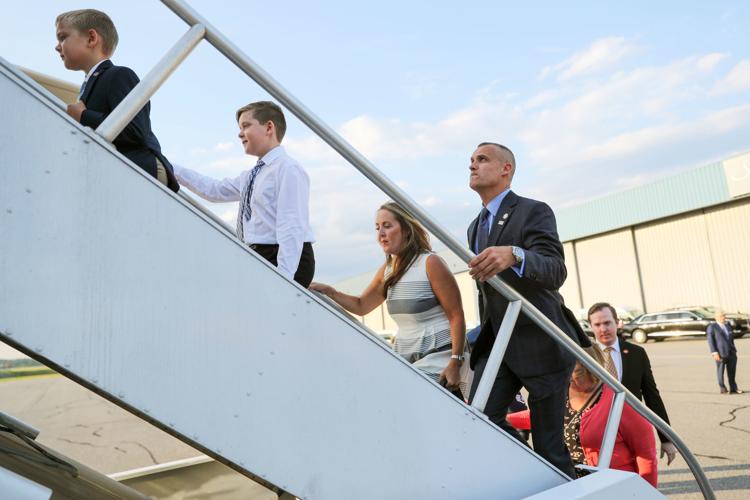 "Everybody asks me if I am going to support him. We don't even know if he's running. So Corey, let us know," Trump said at his rally at SNHU Arena.
Does that mean if Lewandowski gets into the race that Trump will take sides and chose his former sidekick, or only then will he even consider it?
Meanwhile, former House Speaker and GOP Senate rival Bill O'Brien put out a full-throated statement in support of Trump.
O'Brien also noted in his remarks that he was the only candidate in the GOP race "who has actually won elections."
In 2016, O'Brien backed Texas Sen. Ted Cruz for President.
It was a mixed-bag week for Lewandowski. The House Judiciary Committee on Thursday — mere hours before the rally — voted to issue a subpoena for him to testify in its obstruction of justice probe.
Then Politico put online a very tough piece about "NH GOP establishment" reaction to his potential candidacy.
This included the online political news source's claim that Gov. Chris Sununu has expressed concern about the impact a Lewandowski Senate bid could have on the rest of the ticket.
There was an even harsher review from Dave Carney, who had served as chief of staff to Sununu's father, former Gov. John H. Sununu, and was also part of former President George H. Bush's inner circle in the White House.
Carney called a Lewandowski candidacy a "joke."
"He adds nothing to the ticket and doesn't help the President or the ticket in any way," Carney told Politico. "Corey is a political hack. Political hacks make bad candidates generally."
Just like Trump and fake news, Lewandowski brushes aside these brickbats as the misgivings of tired GOP stalwarts whose atrophy brought about the Trump presidency and the "drain the swamp" movement.
NH reaction rocked Trump team
From the commander-in-chief on down, the Trump team appeared stunned at how boisterous and large the turnout for Trump was in Manchester Thursday.
The President said he always thought the people of New Hampshire had a reputation for being "elegant" but he was delighted to see they weren't behaving that way at his rally.
After the event, perhaps from aboard Air Force One, Trump tweeted his event had just broken the record for the largest crowd at SNHU Arena, a mark he said was set by rocker Elton John.
Trump 2020 National Press Secretary Kayleigh McEnany tweeted a short video of the scene declaring, "This is the kind of response @realdonaldtrump gets in blue states. NH won't be blue for long."
Trump legal adviser and former presidential candidate Rudy Giuliani could barely contain himself on Twitter.
"This is more than an hour before and it is as full as a playoff game for a rally for @realDonaldTrump. No one has ever gotten these kinds of crowds," Giuliani gushed.
"This was the reason he won in 2016 and will again. Don't tell the dummies in the Fake Media."
Giuliani then mocked how only 200 showed up for a rally for former Vice President Joe Biden's New Hampshire campaign as he tweeted a picture of the throng inside Trump's event.
"Is this the Biden rally or the Trump rally in Manchester, NH? Dems must realize Sleepy Joe isn't up to it. Actually, applause was prohibited at Joe's competing rally for fear it might wake up the audience. It worked there was no applause and every(one) slept through it," Giuliani tweeted.



Veto showdown dates are set
House Speaker Stephen Shurtleff, D-Concord, confirmed that the House has scheduled Sept. 18-19 as the two days members will be called back to take up the 51 vetoes (and counting) from Governor Sununu.
Even some House leaders think it's a stretch to think a single Wednesday/Thursday meeting will be enough time to take up all these proposals given how controversial many of them are.
The Senate set Sept. 19 as its veto vote day.
There are some signs that Sununu could lose a couple vetoes to override, as he did over repealing the death penalty last spring.
The prime prospects are in the energy field, with subsidies for the wood-fired plants and the net metering legislation being the two he's most at risk of losing.
The governor probably wouldn't mind if one or two from such a tall stack of vetoes slipped through. Once that happens, it becomes much easier for Sununu and co. to maintain party discipline after the rank-and-file have been allowed to "vote off" on one or two issues.
"It is our hope that an agreement can be reached on a budget compromise for the legislature to take up when we return in September," House Democratic leaders wrote in an email to caucus members.
This may be a little ambitious. The next private negotiating session over the budget isn't until the end of August.
But at the end of last week, the governor's office suggested they might add another talking session on Tuesday.
Sununu rejects last Dems offer over budget stalemate
Gov. Sununu said he remains hopeful there will be a deal reached to end the state budget impasse.
But he confirmed that, in his mind, the latest proposal from Democratic legislative leaders offered last Friday wasn't going to cut it.
House Democrats outlined in an email to caucus members the details of what to do with as much as $22 million in "savings" that will come from spending at 2018 levels throughout state government during the 90 days of the current continuing resolution.
Democrats want to take half of those monies to pay for an as yet-to-be-negotiated pay raise for state workers.
The other half would give business tax owners a "tax credit" for having paid higher rates under the business profits and enterprise taxes during the first two quarters of 2019.
Under this plan, the business tax rates would go up and state laws already in place that cut those tax rates would be repealed as of July 1.
House Majority Leader Doug Ley, D-Jaffrey, and Finance Chairman Mary Jane Wallner, D-Concord, briefed the members.
"To our disappointment, our proposal was summarily rejected by the governor and he has not yet offered any counter-proposals. At this point we are waiting on the governor for a counter-proposal while still working toward a solution. Despite good-faith efforts by the legislature to negotiate an agreement, the governor has not shown any signs that he is willing to compromise," Ley and Wallner wrote.
Sununu said the latest gambit was a step backward.
"What they brought in and proposed was another opportunity to raise taxes long-term," Sununu said, alluding to a pay raise paid for with budget surplus money that may not be there in the years to come.
"I have always said that is a non-starter."
The governor said, from his perspective, the fight is between House and Senate Democrats over how to spend that large surplus and not create a $100 million structural deficit.
"It is really the House and Senate Democrats who have to come forward on how to spend those dollars. They just have to work among themselves. I am letting them do that. I am still very hopeful. I think (Senator) Lou D'Allesandro and Senator (Donna) Soucy really understand you have to take politics out of this," Sununu said.
Another CR 'glitch'
We've already reported how the continuing resolution, or CR, that allows state government to function without an adopted state budget has had a few glitches.
The CR gives all agencies only three months of money that was budgeted, not actually spent, during the same period in 2018.
This resulted in 10 state agencies asking for "waivers" of one kind or another to accept or spend nearly $80 million over those targets. For example, state parks use up roughly half of their annual budget during the first three months of the fiscal year since it's the booming summer tourism season.
At the end of August, the Legislative Fiscal Committee will confront another challenge: State employees are paid every two weeks. During the first quarter of 2018 there were six pay periods. In 2019, there are seven.
All state agencies will essentially run out of money to meet their last payrolls at the end of September without the waivers they will most certainly be granted once those requests are processed.
One councilor wants MacDonald to get another shot
Executive Councilor Russell Prescott, R-Kingston, said now that the Democratic majority has secured a judgeship in the Superior Court for Martin Honigberg, he'd like them to give Attorney General Gordon MacDonald another look as a Supreme Court justice.
Honigberg served as legal counsel to Democratic governors and chaired the Public Utilities Commission.
The council last month rejected MacDonald as Sununu's pick to be chief justice along party lines, 3-2.
"I am not happy for Gordon's sake. He has lived an exemplary life, and he is selflessly serving our state as our attorney general," Prescott said in a commentary.
"Setting that aside, I am even more concerned that the political reasons given to block his confirmation undermine the rights of the people of New Hampshire to have impartial judges and an independent judiciary."
The council majority doesn't appear open to giving MacDonald's candidacy a redo.