Welcome back, Mr. President.
A lot has changed since you last visited the first-in-the-nation primary state in March 2018.
That was a real smart move not trying to make New Hampshire a key barometer for your success during the midterm elections.
Blue wave, tsunami, typhoon, hurricane, pick your favorite storm metaphor, it fit for the Granite State.
Once the dust settled, everywhere you looked but the corner office, the Democrats were in charge.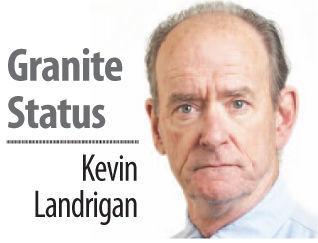 Before November, in almost every case they were in the same vocal minority the NH GOP now finds itself in.
Both houses of the New Hampshire Legislature, a majority on the Executive Council, both congressional seats stayed Democratic -- heck, even voters in Merrimack and Hillsborough Counties elected Democratic county prosecutors who were political unknowns.
You'd be proud of the governor, Chris Sununu, however.
He withstood the Democratic onslaught to solidly win a second term.
Then, while the newly-in-charge Democratic legislative leadership started ticking off one bill accomplishment after another, Sununu got out his veto pen.
Over the past 30 years, the average number of vetoes by a governor is about six.
In 2019, Sununu is up to 50 and every sign is he's not done yet.
While you talked a tough game about holding the line on spending with your federal government shutdown, Sununu became only the third governor since World War II to veto a state budget (two of them were Republicans, the third that junior U.S. Sen. Maggie Hassan, D-NH, who hasn't exactly been on the Trump team).
Whatever else happens going forward by the end of the 90-day continuing resolution period, New Hampshire will have "saved" or spent $22 million less than it would have under the vetoed budget.
Many of your supporters hope at your rally Thursday night you take the night off from attacking the national media, Hillary Clinton, Barack Obama and Nancy Pelosi, AOC and instead stick to the economic script those very smart White House speech writers put on the teleprompter in front of you.
Under Obama, New Hampshire lost 3,400 manufacturing jobs; under Trump, the state has gained 1,700.
At the height of the worst recession under Obama, the unemployment rate here peaked at 6.4 percent.
New Hampshire's jobless rate at 2.5 percent is third-lowest in the country and at times during your term has been number one.
This past month we hit yet another record for the number of people working.
Heck, the biggest economic "crisis" right now is finding skilled bodies for the tens of thousands of jobs that go unfilled in the state every 30 days.
We're by no means out of the woods yet, but all that federal money the congressional delegation and your administration sent back here to fight the opioid epidemic appears to have lowered the drug overdose death rate statewide.
You could help, Mr. President, by assuring us your administration will make it easier to use all these monies to fight the latest threats, like even more powerful doses of methamphetamine now flooding NH streets.
The liberal American Bridge paid for a half-page ad in Thursday's Union Leader reminding voters you had told the President of Mexico during a January 2017 call that, "I won New Hampshire because New Hampshire is a drug-infested den."
Clinton beat you in NH by 2,736 and Green Party nominee Jill Stein got more than twice that many votes (6,496) but we don't need to go through all that right now.
In the meantime, soak up and enjoy the scene in front of a large crowd in the SNHU Arena Thursday night.
The last time you were there was on Election Eve 2016 reading that letter of endorsement from legendary New England Patriots Coach Bill Belichick.
Will it ever get better than that?
Trump sticking with 2016 for 2020
Trump has decided there's no messing with success when it comes to who will run his New Hampshire campaign in the next election.
He announced on the eve of the rally that his three co-chairs will be three top advisers from 2016, State Reps. Fred Doucette of Salem and Al Baldasaro of Londonderry along with Hampton Falls GOP activist and real estate executive Lou Gargiulo.
Another Trump 2016 co-chair, Stephen Stepanek, is now chair of the party and must stay neutral. 
Eric Mitchell, the current deputy director of the Michigan Republican Party, has been tapped to become state director of Trump's 2020 campaign here.
A New Hampshire political veteran, Elissa Voccola, will be returning to be state political director in NH.
She has most recently been New England political director for the Republican National Committee, but in between that and a stint with the Marco Rubio 2016 campaign, she was executive director of the state GOP in both NH and Connecticut.
Trump Campaign Manager Brad Pasquale and RNC Chair Ronna McDaniel issued a joint statement concluding, "The NH Trump Victory Leadership will lead President Trump and GOP up and down the ballot."
Trump in 2016 to Warren in 2020?
This one may leave a mark on Trump's reelection campaign.
Post-election polls often found some of the working-class voters Trump pulled away from Hillary Clinton in 2016 may have been supporters of Bernie Sanders during the presidential primary process.
Well now we have at least a few examples of past New Hampshire supporters of Trump who say they are backing the liberal Massachusetts senator's campaign due to her plans on child care, health care, student loan debt and the opioid crisis.
"Trump promised Granite Staters that he would tackle the opioid crisis, but he's failed to take any sort of meaningful action," said recovery advocate Erin Canterbury. "As a person in long-term recovery, I'm supporting Elizabeth because her CARE Act is the most comprehensive proposal I have seen, and includes harm reduction -- an important piece that is often overlooked."
Becky Gilbert of Concord said she too is making the switch.
"I've been a registered Republican my whole life. But this year, I'll be changing my registration to vote for Elizabeth in the primary because she understands how hard it's become for working families to make ends meet," Gilbert said in a statement. "The cost of health care, child care, and the burden of student loan debt are holding families back, and Elizabeth's plans to address the challenges our family faces would go a long way toward rebuilding America's middle class."
Surely you recall Warren was the first presidential campaign Trump mocked as "Pocahontas" for her claiming Indian heritage on a Texas bar registration form, among other documents.
Warren had a DNA analysis commissioned, declared she wasn't part of any "tribe" and apologized to anyone in the Indian community who may have been offended.
All 21 NH Democratic campaigns unite vs. Trump
The Democratic Party set out getting the directors of all 21 Democratic presidential campaigns operating in New Hampshire to embrace a joint statement blasting Trump.
The argument behind the scenes was probably whether the rhetoric was white-hot enough or not.
At any rate they agreed and the statement read in part, "Donald Trump's presidency has been defined by broken promises, hateful rhetoric, and choosing to side with lobbyists and the top 1% at the expense of everyone else. This week, when he comes to New Hampshire we expect more of the same," they said.
"That's why all of us are fighting to defeat Donald Trump and move this country forward. No matter who the Democratic nominee is, we are in this together."
The anti-Trump forces have a busy day Thursday, including a 1 p.m. Democratic Party news conference at Veterans Park, a 4 p.m. anti-Trump extravaganza in front of the SNHU Arena and then while Trump speaks, a counter-protest sponsored by Joe Biden's NH campaign at Portland Pie Co., just north of Trump on Elm Street.
Sununu rejects latest state budget compromise
The governor remains hopeful there is going to be a deal reached to end the state budget impasse.
But he confirmed that in his mind, the latest proposal from Democratic legislative leaders offered last Friday wasn't going to cut it.
House Democrats outlined in an e-mail to caucus members the details of what to do with as much as $22 million in "savings" that will come from spending at 2018 levels throughout state government during the 90 days of the current continuing resolution.
Democrats want to take half of those monies to pay for a yet-to-be-negotiated pay raise for state workers.
The other half would give business tax owners a "tax credit" for having paid higher rates under the business profits and enterprise taxes during the first two quarters of 2019.
Under this plan, the business tax rates would go up and state laws already in place that cut those tax rates would be repealed as of July 1.
House Majority Leader Doug Ley, D-Jaffrey, and Finance Chairman Mary Jane Wallner, D-Concord, briefed the members.
"To our disappointment, our proposal was summarily rejected by the governor and he has not yet offered any counter-proposals. At this point we are waiting on the governor for a counter-proposal while still working toward a solution. Despite good-faith efforts by the legislature to negotiate an agreement, the governor has not shown any signs that he is willing to compromise," Ley and Wallner wrote.
Sununu said the latest gambit is a step backward.
"What they brought in and proposed was another opportunity to raise taxes long-term," Sununu said, alluding to a pay raise paid for with budget surplus money that may not be available in future years.
"I have always said that is a non-starter."
The governor said it appears to him the fight is between House and Senate Democrats over how to spend that surplus, but not create a $100 million structural deficit.
"It is really the House and Senate Democrats who have to come forward on how to spend those dollars. They just have to work among themselves. I am letting them do that. I am still very hopeful. I think (Senator) Lou D'Allesandro and Senator (Donna) Soucy really understand you have to take politics out of this," Sununu said.
House Republican Leader Dick Hinch, R-Merrimack, said the latest budget compromise is a confession that the vetoed budget raised business taxes.
"For months, we've heard the mantra from House and Senate Democrats that their business tax proposal was simply to freeze rates where they are, even though Republicans and the business community saw right through their phony rhetoric," Hinch said. "Their offer to use savings from the continuing resolution period to offset the higher taxes businesses are facing for the two quarterly tax payments already concluded this year is a clear admission that their budget not only raises taxes, but raises them for periods that have already gone by.
"If their plan was to simply keep rates where they are, this bailout would not be necessary."
Competing polls in the U.S. Senate GOP fight
As potential 2020 U.S. Senate hopeful Corey Lewandowski confirms he'll be at Trump's rally in Manchester Thursday night, his former 2016 Trump campaign colleagues commissioned a poll that urges him to get in.
Politico first reported on the poll done by Tony Fabrizio, who serves as the top pollster for Trump's reelection campaign.
In the Aug. 11-12 survey, Lewandowski leads among likely GOP primary voters with 30 percent, followed by retired Brig. Gen. Donald Bolduc of Statham with 11 percent and former House Speaker Bill O'Brien of Nashua with 10 percent.
Wolfeboro trial lawyer Bryant "Corky" Messner is also exploring a run.
"He could clearly see his lead expand even further with an endorsement from President Trump, who is extremely popular with these GOP voters," Fabrizio wrote in a memo on the poll.
On Tuesday night Lewandowski retweeted the poll results and said they are encouraging.
On Wednesday the Bolduc campaign released results of its own poll, which had Bolduc and Lewandowski tied with 21 percent apiece, O'Brien with 8 percent and Messner with 2 percent. The rest were undecided.
Among all voters, Bolduc's survey found 15 percent were favorable toward Lewandowski, 33 percent were unfavorable and the rest had no opinion.
Sen. Jeanne Shaheen, D-NH, had 42 percent favorable and 40 percent unfavorable, according to Bolduc's poll.
In a head-to-head match-up, Bolduc claimed he was down only 5 percentage points to Shaheen while Lewandowski trailed by 13 points.
There's this week's fun with figures.
Booker plans NH college organizing events
Democratic presidential candidate Cory Booker's New Hampshire campaign begins a series of organizing events for returning students on college campuses starting next Wednesday at Keene State College.
They will then host events this Thursday or Friday at Plymouth State University, the University of New Hampshire in Durham and Saint Anselm College in Goffstown and will bring this effort to community colleges and smaller schools in the coming weeks, campaign officials said.
"A key part of Cory's strong New Hampshire operation is organizing on college campuses across the Granite State," said Erin Turmelle, Booker's NH state director. "As students return, our team will ensure they know their rights for participating in the first-in-the-nation primary in February."
Planned Parenthood protest 'gag rule''
A round table Wednesday drew U.S. Rep. Chris Pappas, D-NH, Sen. Tom Sherman, D-Rye, and providers to the Equality Health Center in Concord to discuss the Trump administration's action on Title X. These groups say it puts 16,000 residents at risk of getting access to birth control, treatment for sexually transmitted diseases and cancer screenings.
Multiple federal judges blocked the rule from taking effect nationwide, but a three-judge panel of the U.S. 9th Circuit Court of Appeals in California last month lifted the freeze.
Sabrina Dunlap, vice president of public policy for Planned Parenthood of Northern New England, said the gag rule is placing an incredible financial strain on all Title X providers in the state.
"During this time, Planned Parenthood of Northern New England's doors will stay open. That is our mission. But time is of the essence, as this gag rule is an incredible hardship for providers throughout the state," Dunlap said.
As a doctor,  Sherman said he's concerned how this could affect healthy outcomes for women.
"I'm proud of our state's positive health trends; but the Title X gag rule presents a serious risk to NH's positive maternal health outcomes, low teen pregnancy rates, and low unintended pregnancy rates," Sherman said.
The vetoed state budget would override the gag rule and have state spending replace any lost federal family planning grants.
Anti-abortion groups maintain Trump will win this fight in the courts.
'We are confident that the Trump administration will ultimately prevail and grateful that, in the meantime, the Protect Life Rule can immediately begin saving lives," said Marjorie Dannenfelser, president of the Susan B. Anthony List.
AFP to go after tax sacred cows.
The state chapter of Americans for Prosperity is planning a forum entitled "Policy and Pints: Unrigging the Economy" at the Great North Aleworks in Manchester next Tuesday night at 6:30 p.m.
AFP is going after the Export-Import Bank and other "tax extenders" that some congressional leaders want to adopt in separate legislation this fall, even though these tax breaks couldn't get into the global tax cut bill of 2017.
"The Export-Import Bank and tax extenders are ingrained in cronyism that tilts the playing field in favor of the well-connected at the expense of everyone else. We are working to educate Granite Staters on why these forms of corporate welfare should be eliminated, so everyone has an equal shot at their American dream," said Greg Moore, AFP-NH state director. "Everyone should play by the same rules and our activists are eager to work with anyone to help unrig the economy for every American."