In the first presidential debate, President Donald Trump warned about voting fraud in the approaching election, urging supporters "to go into the polls and watch very carefully." Then last week on Twitter, he exhorted them to "volunteer to be a Trump Election Poll Watcher" and posted a link to armyfortrump.com.
The president's rhetoric has some voting rights advocates worried about possible voter intimidation on Election Day.
But in New Hampshire, where politics is the favorite sport, poll watching is both legal and encouraged.
"The polling places are public, and voting is a public event, and so anyone who's interested can go to a polling place and watch the activity that's going on in the polling place from outside the rail," David Scanlan, deputy secretary of state, said in a recent interview. The "rail" refers to a barrier that blocks off the place where the ballots are handed to voters and where voting booths and ballot boxes or optical scanners are located.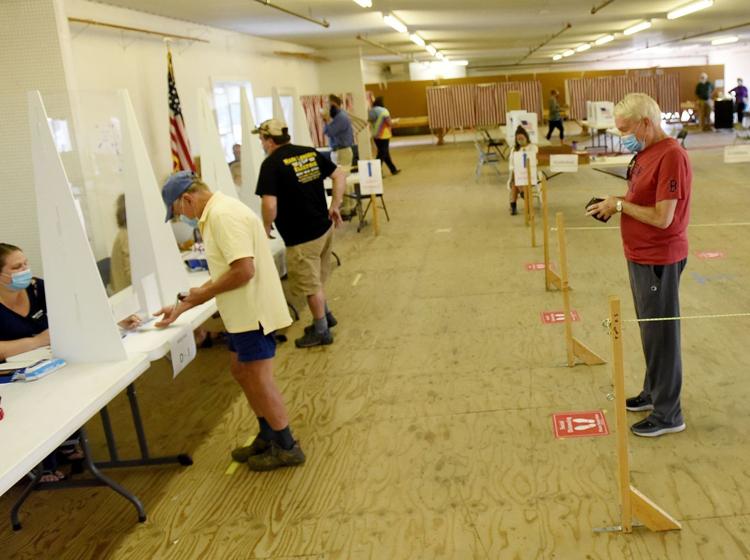 According to the National Conference of State Legislatures, New Hampshire is one of only nine states that allows the general public "broad access" to the election process, including observing polling places on Election Day.
"The public is always welcome to come to the polls and to watch the political process," said Anne Edwards, associate attorney general, who helps oversee the election process here. "It's completely open, all the way through the count at the end of the night."
This year, however, the COVID-19 crisis "changes the dynamic of the polling place," Edwards said.
Moderators have to ensure safe distances between voting booths and other areas. "It's one of the challenges with COVID, because we need to be as safe as possible, but it's a public process so we need to do that," Edwards said.
Scanlan said it will be up to moderators to determine how many people can be inside a particular polling place.
"Their main function is to make sure voters can safely and efficiently vote," he said. "So they can monitor activities outside the rail to make sure that happens."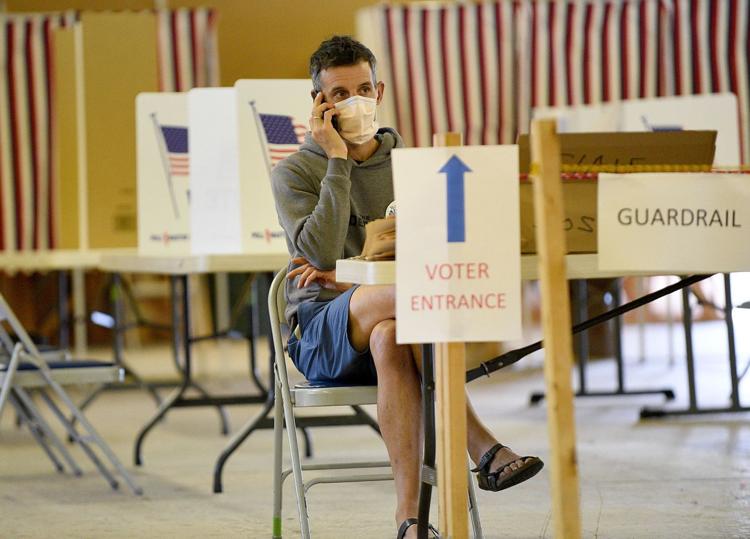 During the September primary, Edwards said, some moderators opted to open windows to allow observers standing outside to see and hear what was going on inside. "It was a safer environment than having everyone pile inside," she said, adding, "It's so New Hampshire."
No campaign activities are allowed inside a polling place. "Outside, you can do all the cheering and chanting you'd like to do, but you can't intimidate voters from coming in and you can't intimidate voters as they leave," Edwards said. "It can certainly be a boisterous affair, with lots of energy and lots of advocacy for candidates, but it can't be a situation that intimidates and prevents voters from feeling comfortable to go inside."
Nina McLaughlin, spokesman for the Republican National Committee, said in an email that the "Trump Victory" poll-watching operation includes volunteers and attorneys who are trained to abide by state laws. "We make very clear to volunteers they need to be respectful and polite, and are not there to be intimidating," she said.
It's as much about getting out the vote as looking for fraud or voting irregularities, McLaughlin said. "The poll watching program is designed to ensure that no legally eligible voters are disenfranchised, that all votes are accurately and legally tabulated, and that voters are not confused about laws and procedures," she wrote. "It's about getting more people to vote, not less."
Meet the challengers
State law authorizes the two political parties to designate official "challengers," who closely monitor the voter check-in process. The parties also can appoint inspectors, more commonly known as ballot clerks, who work together to check in voters and hand them their ballots. If the parties don't appoint them, local officials will.
Challengers sit near the ballot clerks "so that they can see and hear what's occurring at the check-in table," Scanlan said.
Bryan Gould, an attorney with Cleveland, Waters and Bass in Concord who is legal counsel for the state Republican party, said challengers are "looking for anything that suggests that the voter is not qualified to vote."
The parties also send out "poll watchers," he said. "These are people just keeping an eye in general on what's happening at the polling place, and sometimes those people can offer assistance to voters who seem to be confused."
With the president calling on supporters to act as poll watchers, Gould said, "I think there will probably be more people volunteering on the Republican side than has typically been the case." He said challenges are more likely this year because of the expected high numbers of ballots and changes in procedures for COVID-19.
Bill Christie, an attorney with Shaheen and Gordon law firm in Concord and legal counsel to the state Democratic party, was an official challenger years ago. Now he is in charge of the party's "voter protection effort," overseeing training to make sure challengers are prepared to respond to any issues that may arise on Election Day. It's not just about looking for wrongdoing, he said.
"It's more of a process to make sure that the process is carried out fairly and effectively in the polling place, that people who want to vote get to vote," he said. That could mean making sure voters fill out the required affidavits if they don't have the correct ID, or alerting the moderator if the supply of ballots is running low, he said.
Christie said he is aware of Trump's comments encouraging poll watchers. "Whether that translates into people actually coming to the polls and observing remains to be seen," he said. "I think the cities and towns will be prepared for that if that happens, and they will have the ability to regulate how many people are in the polling place at any particular time.
"The most important thing is making sure that voters feel comfortable and their votes are secret, so their ability to observe, just as a matter of the layout of the polling place, may be fairly limited," Christie said.
Notwithstanding the divisiveness that has marked this election season, Christie said challengers and inspectors from the two parties traditionally have worked well together on Election Day.
"In campaigns, both parties are lobbying voters to vote for their side. In the polling place, that's not happening. You're there to make sure that the election is carried out in a fair manner, and that's what both sides are focused on," he said. "It's a cordial, professional atmosphere. Both sides are there to try to accomplish the same thing."
The Attorney General's office by statute is authorized to appoint election challengers. But Edwards can't recall them ever doing that.
Instead, she said, the AG's office appoints as many as 75 "inspectors" who will visit the more than 300 polling places across the state to check for compliance with New Hampshire election laws. One of their key responsibilities is to inspect ballot counting machines. They typically find at least some on which the seals have been incorrectly removed, she said.
If that happens, the machine has to be taken out of commission and the ballots safeguarded until the inspector determines whether it can continue to be used. "It all depends on how the seal removal happened and the chain of custody of the machine after it occurred," she said.
Bring on the election
Election officials say they're ready for Nov. 3.
Scanlan said the Secretary of State's office has been holding regular video meetings with local officials. "And what we've seen for the last several weeks is that election officials are just calm," he said.
"They're asking procedural questions and what-ifs, clarification of the statutes, but none of them are panicking. And that's really encouraging."
Earlier this year, the Secretary of State's office asked the state Police Standards and Training Council to offer training in de-escalation techniques for local election officials. Scanlan said they also encourage moderators to "have a conversation with the local police department just to make sure that there's a plan if the help of police is needed."
"Occasionally, people will walk into a polling place and get worked up for various reasons, and in most cases the moderator can deal with that … and they do it effectively," Scanlan said. "But if something seems to be getting a little out of hand, then they can call their police officer over to help deal with the situation."
Last month's state primary election was "a great test run," Scanlan said. "Things ran incredibly smoothly, and we're looking forward to that carrying over to the general election."
One advantage in New Hampshire is that the clerks, moderators, supervisors of the checklist and selectmen all are elected by local residents, Scanlan said. "So the voters in the town often know the officials actually running the elections," Scanlan said.
Mistakes are bound to happen, Gould said. "It's a human endeavor," he said. "You cannot have an absolutely perfect election, but ours are pretty darn good."
Christie said local election officials and party volunteers share a commitment to civic responsibility. "Everything that we have as a democracy comes from fair elections, so I think there's a lot of people who really believe that these elections don't happen by accident," he said. "All these people are putting in a tremendous amount of work for very little personal gain, if any, to make sure that we have elections that are fair and that we can believe in."
Gould agreed the parties share the larger goal of a fair election. "It really is an uncommon level of civic interest here, and the seriousness with which people take it is impressive," he said. "Without volunteers, you couldn't hold the elections."
That's something voters should keep in mind come Nov. 3, Edwards said.
"I just ask people to be patient on Election Day," she said. "And to please thank their election officials for the unbelievably hard work they're doing supporting all of us."
The Attorney General's Election Hotline is available to voters or election officials who may have concerns or questions related to elections: 1-866-868-3703 (1-866-VOTER03).
In the event a caller receives voicemail, the caller should leave a message. Attorneys in the office will address each message received.