MANCHESTER — City voters head to the polls Tuesday to cast ballots in the 2019 municipal primary election. Primaries for school board and aldermen exist in several wards across Manchester, along with the citywide mayoral race.
Polls will be open Tuesday from 6 a.m. to 7 p.m. Primary races exist for aldermanic seats in Wards 5, 7, 11,and the At Large seats. Races exist for seats on the Board of School Committee in Ward 6 and the two At Large seats. Three candidates are running for mayor.
The New Hampshire Union Leader and New Hampshire Sunday News sent three questions to aldermanic and school board candidates. Candidates were asked to limit responses to 100 words or less. Not all candidates responded.
This is the the last installment in a multi-day series showcasing the responses.
1. What is the top issue facing the city/schools, and how will you address it?
2. Do you think our main street/downtown is healthy and successful? If yes, why? Or if not, how will you change that?
3. Do you support a tax cap override to fund salary increases for city and school district employees?
The responses are from candidates for alderman in Wards 5, 7, 11 and school board in Ward 6.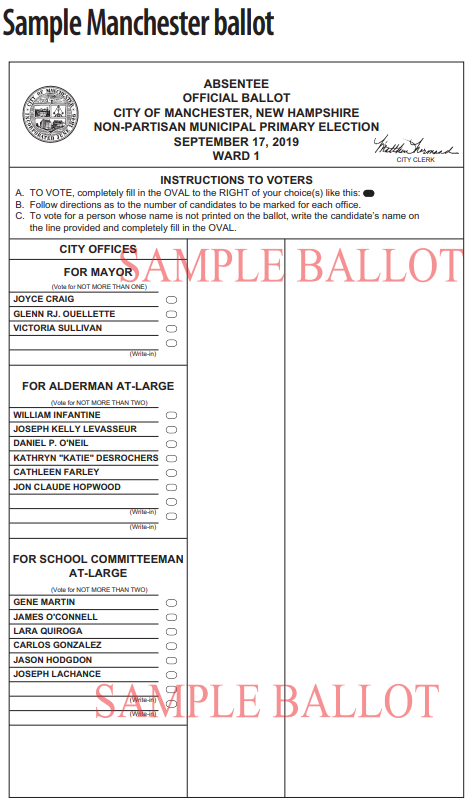 Alderman Ward 5
Marcus Ponce de Leon, 38, single. I manage operations for a health care provider consulting company, Certified Homecare Consulting.
Issues: Funding, affecting support programs in our schools, led to many after-school programs and activities left in limbo without faculty to support the students who count on those programs. Cultural immersion also, in a city so incredibly diverse. While I'm not pro-tax increases, I'd propose the city take short-term measures for getting necessary funding into our schools and growing the availability of resources for staff and students, while taking a closer look at what the city's actively spending on, and continue searching for federal grants and other funding.
Downtown: Downtown made an impressive comeback at the expense of its surrounding wards, while homelessness still exists and is even attracted by this success. The mishandling of that epidemic has pushed desperate individuals outward to our neighborhoods where theft, vandalism and violence continue to increase. I would propose the city increase its efforts to work with local business and community resources to create a plan not institutionalizing this population, but centering them similar to the way they centered themselves in the tent cities that the municipality destroyed with no alternatives in place, leading to what we experience today.
Taxes: I support a temporary measure in order to get our education crisis back on track. The city spends an absurd amount of money on interest payments alone, unnecessarily. I don't doubt that those are the tip of the iceberg of wasteful spending at City Hall. Our financial health and solvency will require some tough decisions and maybe temporarily tougher times before we get to the light at the end of this tunnel, but I have confidence that our financial challenges are far from insurmountable today, and I'd like to ensure that we stop it from getting to that point.
Tony Sapienza: Did not respond to candidate survey.
Cameron Barr: Did not respond to candidate survey.
Alderman Ward 7
Brian D. Cole, 47, Owner JC International, a wholesale distribution company located in Manchester.
Issues: The top issue facing our city continues to be the drug epidemic and the crime that comes with it. While crime overall is down, violent crime is on the rise and needs to be addressed. A stronger police presence is required in our statistically high-crime rate areas of the city. We need to be proactive rather than reactive against drug dealers and gang violence. There are two serious issues in our school system. First is the fact that the teachers have not had a new contract in five years. It is the city's responsibility to negotiate in good faith and get this contract resolved. I met with the MEA, and they have every right to vote against the proposals from the school board. The second issue is the amount we spend per student.
Downtown: Manchester has a wonderful downtown that everyone should be proud of. It is clean, neat, and well taken care of. On any given night you can go there and enjoy a large variety of different types of foods. There are many places that have local entertainment for your liking. We are fortunate to have the SNHU arena, which brings in top-name bands and prime-time events. The Palace Theatre always has comedy acts, live shows, and is a great venue to take in a musical performance.
Taxes: I support a tax cap override to give the teachers their new contract. From what I am told this will be approximately $1.6 million, which is less than 1% of their current budget and less than .5% of the entire city budget. I have a plan for the Fire Department to resolve their contract problems and budget woes as well. The best part of the plan is there will be no impact on the tax cap and will improve fire safety for our first responders. It is important to have a tax cap in city government as not to crush people on fixed incomes.
Brenda Noiseux, 41, small business owner.
Issues: We need consistent, team-driven leadership across all aspects of our city's education system, from the superintendent to the school board, union representatives to the Board of Mayor and Aldermen. I support public education and know the many challenges as my husband was a high school teacher in Nashua for over a decade. I will be a voice that helps Manchester plan for the future and encourages active, constructive participation from all stakeholders, including parents, students, educators and the community.
Downtown: I believe our downtown is in the process of evolving into a vibrant community space. I come to downtown several times a week myself. You can now spend an afternoon downtown, having a meal, working over coffee, perusing books, playing board games, visiting art galleries, seeing a show and so much more. And there are many initiatives by hard-working Manchester residents to continue that trend. That said, as more people come to enjoy downtown, the increased foot traffic attracts panhandling and the homeless, which can make visitors feel uncomfortable or unsafe. I would support the efforts of the Task Force on Homelessness and work with community leaders, including the Manchester Police, to address these complex issues to help our downtown thrive.
Taxes: Knocking on doors, Ward 7 residents are concerned with roads, education and safety; city employees play a key role in each of these concerns. This question downplays the complexity of those issues and the city budget as a whole. We need to make forward-thinking financial decisions while being responsible with our constituents' money.
Ross Terrio, 53, wife Clecia, and three children, Jordana, Alexsandra and Anthony. Hospital pharmacist.
Issues: Increase in crime (murders and calls to the police are up), drug addiction, homelessness, and a decrease in the quality of life. I don't support "Safe Stations." In my work as a hospital pharmacist I see many of the same people again and again being treated for drug addiction. In many cases we aren't curing them but enabling them. Also, because Manchester has "Safe Stations" we attract many people from outside of Manchester and outside of New Hampshire, which compounds our homeless problem. We are spending several million dollars a year on this program; this money would be better spent on our schools and our own residents.
Downtown: Downtown appears to be doing well but has serious problems. There are many new restaurants, which indicates a healthy economy and people investing in Manchester. On the other hand, many people complain about and avoid our downtown because of aggressive panhandling by homeless people who also pass out on the sidewalks and defecate/urinate in public places. The police can detain/arrest people for public intoxication, disturbing the peace, and urinating/defecating in public among other things. Homelessness should be treated as a public health issue. Previously, the homeless were living in camps that were out-of-sight. Mayor Craig had these camps destroyed, which forced the homeless to move downtown.
Taxes: No. The tax cap should only be overrode for emergencies such as natural and man-made disasters. The current reliance on overriding the tax cap almost every year is not sustainable in the long run. This will lead to people leaving Manchester and city government becoming unaffordable, resulting in cuts to city services and layoffs among city employees.
Alderman Ward 11
Normand Gamache, 81, wife Arlene and two grown children, Michael and Michelle, retired.
Issues: Public safety. One of my priorities (placing a fire department ladder truck in service on the West Side) is projected to become reality near the end of this month. Thanks to the effort of Chief Goonan and the support of Mayor Craig and my colleagues on the BMA for agreeing with me to fully staff this ladder truck. Schools: Working to give the teachers and the school department the respect they deserve and resources that they need as we entrust them to educate our children in a safe environment. Infrastructure: I am in constant contact with the DPW heads to assure that our streets are clean, roads are maintained in all seasons and that constituent concerns are addressed in a timely manner.
Downtown: Manchester has vast potential and oftentimes the undesirable situations get more attention than what is going well. The opioid epidemic along with the city's homeless population, especially in our downtown area, need to be addressed. I am committed to continue working with my colleagues to find a solution.
Taxes: I am in support of our city's tax cap as currently written.
Issues: The top issue is still the opioid epidemic. This issue is the main cause in the spike in violent crimes that plague our city. We need to continue to support the Safe Stations Program. The city needs to have better communication with the state and organizations like Hope for Recovery, Families in Transition/New Horizons, Liberty House, to name a few, to help addicts get the support and information needed to provide services to help foster recovery. There needs to be a better referral process from the hub-and-spoke program the state offers; too often those seeking recovery are not given options or a support system to help shine the path to recovery.
Downtown: The city of Manchester is a small city with big-city problems, and our downtown area is a prime example of that. I have spoken to many residents, not just in Ward 11, but citywide. Citizens are not comfortable with going to establishments' downtown and being harassed and bullied by vagrants on Elm Street. Business owners have the same frustration with little to no support from the city. Business owners have to keep their storefronts clear of snow and ice or any hazards; they should also be able to keep the storefronts clear of loiterers. Police officers' walking the downtown beat is a great beginning which needs to be expanded.
Taxes: Are you even kidding me with this question?! Every two years all the candidates get asked this same question, and every two years you get all the same answers, that they support and respect the tax cap. The funny thing is that these are the same people that vote to override the tax cap every year. Ha ha…The joke is on us! My answer to the question is simple. Overriding the tax cap is for emergencies only. Salaries and benefits are not emergencies. We need to make responsible budgeting decisions in order to pay our employees a wage that respects the tax cap, fair to employees and taxpayers.
Andre Rosa, 37, senior software developer.
Issues: Housing prices are too high! People can barely afford to live here. The high prices affect people on the margins, worsening the homeless problem. The solution is to let people build! That means changing the zoning laws, reduce onerous regulations increasing costs for developers. It also means stop playing favorites when determining who gets to build here.
Downtown: Main Street is doing well, but the homeless problem sours the perception. I would love to see what's going on in Elm Street happen in other places too, like Kelley Street and Webster Street. Why does Elm Street get all the love when the rest of the city needs attention? For the homeless, you need to lower housing costs to see a drop in their presence.
Taxes: I will never, never, ever, ever, ever override the tax cap. We have plenty of money for salary increases. Confiscating more money from taxpayers' wallets to handle salaries and expenditures is lazy thinking. All it takes is some creative thinking, research, and guts to execute effective policies to get the excellent city services we expect while still living within our means.
School Board, Ward 6
Dan Bergeron, 57, married with two kids.
Issues: The success of the city depends on the success of our schools, and vice versa. The Manchester School District (MSD) must communicate our award-winning brand as well as ongoing issues. It would help our businesses who currently lose potential candidates due to legacy information. The community has committed to partner with us as they know it is vital to our future. We could retain many of our students to attend NH colleges and universities, and in turn, join the local workforce and community for generations.
Downtown: Current trending suggests a successful trajectory. The need for affordable housing, rail, marketing our proximity to the coast, mountains, and major cities, our diversity, and the arts is suggested. If we legislate based on resident feedback representing all demographics, we would attract and retain the next generations(s) of residents, business leaders, families, and educators.
Taxes: The tax cap is the law, and the MSD appropriation is not set by the BOSC (board of school committee). That being said, I do support favorable retention with competitive wages; staff turnover is costly. Practicing effective "succession planning" practices, such as utilizing experienced and motivated personnel to train, mentor new MSD employees, and promote current staff, would provide a favorable return on investment.
William Bergquist did not respond to candidate survey.
Jon DiPietro, 51, married with four daughters, self-employed digital marketing consultant.
Issues: The top issue facing Manchester schools is the achievement gap. Half of all students are not proficient in English and three-quarters are not proficient in math. To close this gap, we need to go back to basics: Focus less on soft skills and more on literacy, incorporate blended grade levels, and empower teachers to take back control of their classrooms.
Downtown: Downtown is not healthy due to homelessness and drug abuse. The mayor and aldermen must enforce existing ordinances.
Taxes: I do not support overriding the tax cap for salary increases.