CONCORD — The New Hampshire state budget stalemate hit Day 20 Saturday, and Gov. Chris Sununu has been applying his charm offensive — including in an unprecedented private meeting with municipal leaders to plead his case.
Some were won over, like Londonderry Town Manager Kevin Smith, a past Republican candidate for governor.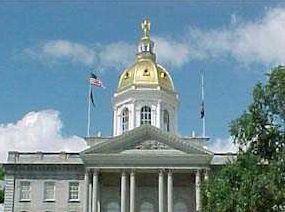 "I think Governor Sununu has shown sound fiscal prudence in his management of the state budget since being in office so I can appreciate where he is coming from with this veto," Smith said.
"My biggest concern is the deficit contained in the vetoed budget. That last time the state carried such a deficit, it resulted in significant cuts at the state level and municipalities were left to pick up the tab. None of us wants to experience that again."
Berlin Mayor Paul Grenier felt quite differently as he was counting on that state budget deal to deliver an extra $4.2 million in state aid for his city.
Under current law, Grenier's looking at losing $230,000 in state aid, which he said will force layoffs.
"I don't think the governor could look me in the eye and tell me how good this veto is for Berlin," Grenier said.
Meanwhile, Democratic legislative leaders announced a series of public hearings next month on the affects on education, human service and other programs that are now living on a continuing resolution at current spending levels.
The two-term Republican governor and legislative leaders from the loyal opposition remain apart over whether to increase business taxes and use budget surplus money to dramatically ramp up aid to local communities.
Sununu opposed the business tax hikes and said the higher spending, "while well-intentioned, is not financially sustainable."
But there were signs this chilly dispute over fiscal policy in the midst of this New Hampshire heat wave is starting to thaw .
"I have had productive talks with House and Senate leadership, and believe we are close to reaching a deal that balances the needs of our citizens and the concerns of our taxpayers," Sununu said in a statement released at week's end. "Moving forward, my door is open, and I look forward to continuing these talks. To play politics with such a process would be a disservice to Granite Staters, and I hope the House and Senate agree that reaching a compromise sooner rather than later is better for our communities."
Senate President Donna Soucy, D-Manchester, agreed she no longer doubts whether a deal will be done, but the precise details still need some working out.
"We are going to get there, exactly what it is going to look like, I think we still need some more information to assess that," Soucy said.
Senate Finance Committee Chairman Lou D'Allesandro, D-Manchester, said every day without a compromise puts more stress on programs like Granite Shield, the law enforcement tool to fight the opioid crisis, with local police chiefs planning for a $3 million increase.
Then there's a budget transfer needed in the Department of Safety, or the state police will run out of enough money to pay its detectives, D'Allesandro said.
"I've had great conversations with the governor, along with my counterparts in the House, the speaker, all of us. I think we are making progress, but if you want to put a budget together and have compromise, there has to be compromise on both ends," D'Allesandro said.
Sununu didn't include Friday's municipal summit in the Executive Council chambers on his public schedule, but nearly two weeks ago, he set it in motion with a July 9 invitation.
In that letter, Sununu said the vetoed budget spent too much one-time surplus money on permanent programs.
"The looming structural deficit of almost $100 million could mean layoffs and cutbacks for critical state programs (plows, social services, etc.)," Sununu wrote.
"It could mean the elimination of revenue sharing and downshifting of costs onto local communities. These scenarios are unacceptable and would put New Hampshire on the path to an income or sales tax — something none of us want to see."
Bruce Breton is a Windham selectman who became one of the first conservative activists to organize for presidential candidate Donald Trump in New Hampshire during 2015.
"The Legislature's 'compromise' budget was anything but a compromise. It was crafted exclusively by Democrats without any Republican support, and makes financial promises that cannot be kept — the costs of which will be downshifted to towns across the state," Breton said.
Nashua Mayor James Donchess said the budget that was vetoed would have meant $5 million more for his city. Donchess was the top signatory on a critical letter to Sununu from a few dozen officials, including the mayors of Dover, Somersworth, Rochester and Berlin.
"When you vetoed everything from funding for substance use disorder treatment to investments in local education to municipal aid, you left the people of New Hampshire wondering what will happen to services and programs they depend on, and left communities across the state unable to plan for their future," Donchess wrote.
Both sides agree many popular programs remain up in the air until a settlement is reached, such as ending the waiting list for developmentally disabled adults to get services, a new, 24-bed forensic psychiatric hospital, revenue sharing for cities and towns, rate hikes for Medicaid providers and workforce investments at the university system (see list, Page A1).
While closed-door talks bring the players together, the rhetoric for public consumption keeps the divide alive, such as this Twitter post Saturday from Senate Majority Leader Dan Feltes, D-Concord, a potential candidate for governor in 2020:
"Today is Day 20 without a state budget. @GovChrisSununu vetoed our budget & funding for #NH lawsuit that could hold corporations accountable for water contamination in #NH communities, simply because @GovChrisSununu didn't get even more tax breaks for corporations. #nhpolitics."
Earlier this month, the N.H. Republican State Committee aired a TV ad attacking Feltes and other Senate Democrats.
"The New Hampshire Legislature just passed a fiscally irresponsible budget. Overpromising critical funding, raising taxes and potentially leaving taxpayers on the hook with a nearly $100 million dollar deficit," the ad states.
At the negotiating table, some proposals were being reviewed that could help break the deadlock.
Legislators wanted to raise the rates of taxes on both corporate profits (BPT) and business activity (BET).
An overture from legislative budget writers would be to give Sununu no change in the profits tax if the governor would give in on bumping back up the BET.
"We froze the business taxes for two years, but when we spoke to businesses, what was most important to them was not the rates but the business tax reforms that were in our budget," Soucy said.
"We do need to implement them."
Sununu supports giving rate increases for Medicaid providers, but has said a 3.1% hike for all providers may not be warranted.
Some language being floated would give the head of the N.H. Department of Health and Human Services authority to seek rate increases from the Legislative Fiscal Committee, which could mean different hikes depending on the job class.
"The state budget is the most important thing we do, and we have to get it done," D'Allesandro summed up.
"If this goes beyond three months, it's a catastrophe for New Hampshire, and all the good done by the House, Senate and the governor will go for naught and nobody wants that."