Eviction notices went up Tuesday at one of the larger homeless camps in Manchester — a tent city sandwiched between the Merrimack River and Interstate 293, where some estimates put the number of residents near 40.
If state officials follow through, it will be the first forcible clearing of a homeless camp in the city since June.
Steven Blais, one of the residents, said Wednesday that camp occupants are talking about holding a protest in downtown Manchester.
"I want the city to do something for us. Tell us where we can go so we don't cause problems," said Blais, who said he has lived in the camp since April.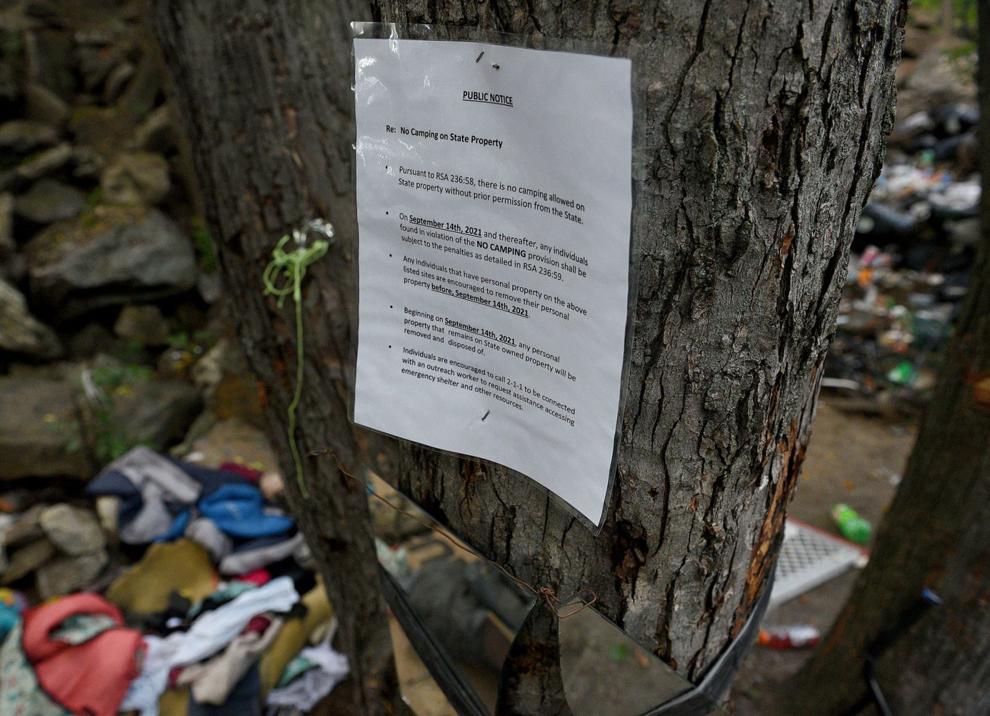 Signs warn that as of next Tuesday, anyone camping on the property will be breaking the law and their property will be removed and thrown away if it remains on site.
State Department of Safety spokesman Paul Raymond said the notices were posted at the request of the city.
"Local service providers have already begun visiting the site to offer emergency housing and medical services," he said in a statement. "As of today, no individual at the encampment has accepted an emergency bed."
Department of Health and Human Services spokesman Jake Leon said the services will continue to be offered up to the Sept. 14 deadline.
"The city of Manchester asked the state to clear the encampment due to safety concerns, as reaching the encampment is only possible by crossing I-293," Leon said in a statement.
One part of the camp is closer to the Second Street highway entrance, the other to the Merrimack River.
The camp near the highway features an orderly site, with a main walkway delineated by lawn fencing and plants, some artificial and some real.
Tents faced out onto the rug-covered walkway like front doors to a street. A screen tent was set up for bug-free dining, and a security camera hung from a tree.
Sandra "Ma" Alicea said she spends most of the day keeping the place neat. It started with about a dozen residents and has grown to 35 or 40. With the growth has come problems such as drug use, theft and rowdiness, she said.
"I have no choice," she said about where to live. She said her disability income makes it difficult to find a place to live, and recently one landlord wanted her to quarantine because of COVID-19 concerns.
Just a few days earlier, social workers were talking about delivering a portable toilet, she said. But then on Tuesday, state troopers pounded in stakes with the notices.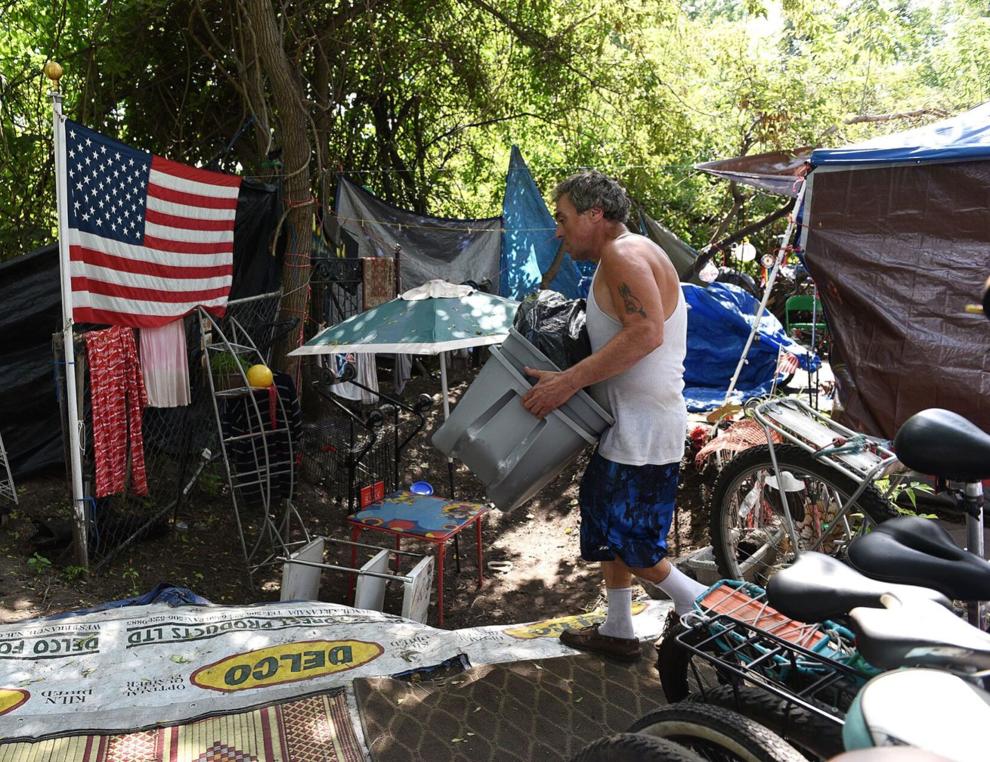 The camp, nicknamed Econocamp because of its proximity to the EconoLodge hotel, is on state land, which means the removal may be reminiscent of the high-profile clearing of a homeless camp at the Hillsborough County courthouse by state police last November.
By contrast, the city of Manchester's latest approach calls for allowing small camps to remain as long as they don't generate complaints and don't pose a health or safety hazard, according to the city's top official overseeing homelessness programs.
"If there are one or two (tents) and they keep it clean and they're not bothering anybody, we're not bothering them," said Schonna Green, the city director of homelessness initiatives.
There are about 20 such small sites across the city, she said.
But she said the Econocamp had generated many complaints and was not safe.
"The encampment over there, being near the highway, it's got to go," Green said.
She said the city is operating under a new plan, Housing Options Promote Empowerment, which the city website describes as including emergency shelters, transitional housing and permanent housing.
Kelly McAndrew, a former homeless woman who has become an activist, said the 15 to 20 residents were benefiting from daily visits by outreach workers. Evicting them from the site will disrupt their lives, throwing them off regularly scheduled medication for mental health or drug addiction, she said.
That will lead them to the resumption of bad habits and crime, McAndrew said.
"I don't understand why they're doing this. Is it because the (city) election's coming up?" she said.