MANCHESTER -- Democrats will only win the White House in 2020 if they offer big ideas on the economy and taxes that appeal to both liberals and working-class voters, according to U.S. Sen. Sherrod Brown, D-Ohio, who's spent this weekend seriously exploring his own bid.
Brown's big idea is the Patriot Employer Tax Credit, which rewards companies that not only pay their workers well but produce goods in the U.S. and not in countries overseas.
"The bigger idea is to make a comprehensive change, to create incentives for companies to prosper and grow within our borders," Brown said during a telephone interview Saturday with the New Hampshire Union Leader.
"If you earn a decent wage and benefits and make production in the U.S. then you get a lower tax rate. For those that don't, they pay a corporate freeloader fee."
On Saturday morning, Sen. Elizabeth Warren, D-Mass., made official her presidential run in a Lawrence millyard complex and promoted her plan to impose a 2 percent tax on $50 million and 3 percent of assets of more than $1 billion to raise $275 billion a year.
"Let's start asking the people who have gained the most from our country to pay their fair share," Warren said in her announcement speech.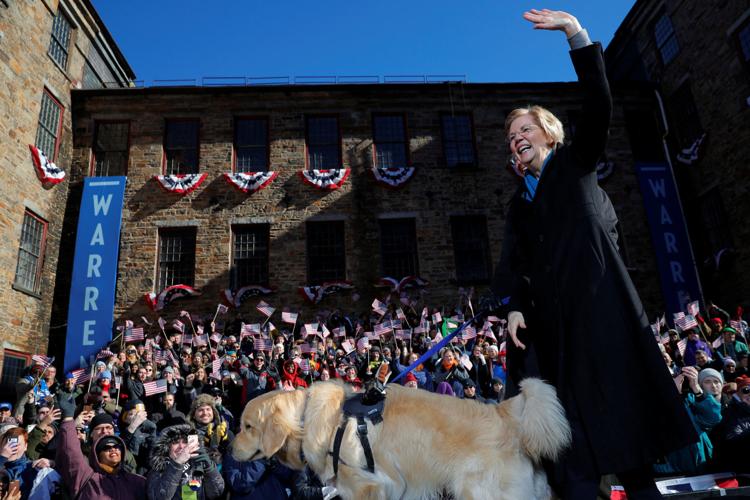 "That includes real tax reform in this country — reforms that close loopholes and giveaways to the people at the top, and an ultra-millionaire tax to make sure rich people start doing their part for the country that helped make them rich."
Right after that speech, Warren headed to the first primary state and hosted a town hall forum in Dover.
Asked what her first act as President would be, Sen. Kamala Harris, D-Calif., told a CNN televised town hall she'd sign a tax cut that would boost incomes for working families by as much as $6,000 a year.
Sen. Cory Booker, D-N.J., who entered the race 10 days ago, touted his plan for government-paid trust funds for every American baby, which supporters say could dramatically shrink the racial wealth gap.
Both Harris and Booker will make their first stop as candidates to New Hampshire next weekend.
As the Democratic field takes shape this winter, the "ideas primary" is well underway and there are already on the table the outlines of plans for expanded health care coverage, efforts to combat global warming and reform of the political system.
Brown said his dignity-to-work tour has been all about trying to draw attention to the growing inequality of wealth and wage stagnation for low and middle-class workers.
The drive to come up with boldly stated economic policies reflects a lurch of the Democratic Party to the left since President Donald Trump's election. The shift involves political risk, potentially reviving a debate over "big government" that Democrats backed away from a generation ago.
Trump made clear in his State of the Union speech on Tuesday the line of attack he hopes to use against whichever Democratic nominee emerges: "We are born free, and we will stay free," he declared. "America will never be a socialist country."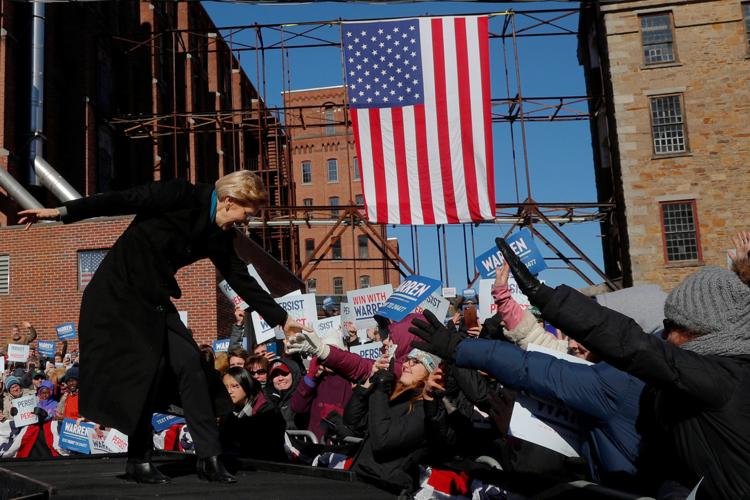 And the Republican National Committee is pushing the narrative that all these Democratic candidates are not in the mainstream. RNC spokesman Michael Ahrens reflected that sentiment Saturday when commenting on Warren getting into the race.
"We've always known that Elizabeth Warren's socialist policies were far outside the mainstream. But Warren's disastrous handling of her false minority claims and her refusal to apologize until now has everyone, including her own supporters, cringing at her campaign," Ahrens said.
This new crop of Democratic candidates clearly believes the country's mood has shifted.
Brown said the path to victory in 2020 for a Democratic challenger is to offer sweeping solutions that appeal not just to liberals but working class voters — many of whom voted for Trump over Democrat Hillary Clinton in 2016.
"It is not an either/or, or we lose. You don't win swing states like Ohio and New Hampshire by only talking to one base of people," Brown said.
He said what sets him apart is that while he's pushed policies for the middle class, he has bona fides for progressives that include voting against the Iraq War, voting against the anti-gay Defense of Marriage Act and having a lifetime F rating from the National Rifle Association.
"If you love your country, you fought for the people who make it work and that's all workers whether you shower before work or after work," Brown said.
Even in the midst of low unemployment, voters' economic insecurity and fear that opportunities are disappearing for their children shape their views, said Lanae Erickson, senior vice president for policy at Third Way, a centrist Democratic group based in Washington. Across the party's ideological spectrum, Democratic activists believe Clinton failed in 2016 to connect with that concern.
This time around, Erickson said, "everyone knows they'll need some big ideas."