NASHUA — Democratic presidential contender Cory Booker said he does not expect for the rest of his lifetime the Democratic Party to have a presidential ticket with "two, white straight men."
Given the gender, racial, ethnic and sexual orientation diversity of this presidential field, Booker said nationally Democrats must embrace all of the above with presidential tickets in 2020 and beyond.
"With this much talent, with this much diversity, with this many incredible talented women ... why would I even consider a man as a running mate?" Booker said during an interview with the Union Leader Saturday morning.
Booker has said before if he wins the nomination, he would only consider women to be his vice presidential nominee.
"If I don't win the nomination and someone asks to consider me for a place on the ticket and they're male I'm going to say, 'Don't even consider me,'" Booker said as his campaign RV took the candidate from a door-to-door canvass in Manchester for Mayor Joyce Craig to a town hall forum at Nashua Community College.
Later in the day, Booker hosted a campaign event in Exeter; on Sunday there were planned stops in Pelham and Plymouth.
Booker said the diversity of the field has changed what questions get asked of him and others on the trail.
While candidates in the past constantly faced questions about marriage, divorce and sexual orientation, Booker said voters rarely ask him how long he'll remain single.
Booker has never been married.
In 2013, Booker was named one of "Town & Country's" Top 40 bachelors and had said he was dating more in hopes of finding a life soulmate.
Last March, actress and activist Rosario Dawson confirmed she was in a relationship with Booker.
But voters aren't obsessed with the topic, he said.
"So much less than I thought. It is totally different. The irony is this is one of those times I want to talk about my personal life because I'm so in love with my girlfriend," Booker said.
"This is the woman of my dreams. Do you want to ask me about her? I like that it has been relegated. Look at our field. Women, black people, gay people, Latino people, straight people, nobody cares."
South Bend, Ind. Mayor Pete Buttigieg, who is married, seeks to become the first openly gay person to be elected President.
Booker said he first saw this shift during his first election to the Senate in 2013, a seat he won for a full six-year term the following year.
"My New Jersey race; remember I am only the fourth popularly elected African-American elected to the U.S. Senate in our history," Booker said
"I am the first black person from New Jersey; nobody asked me about it. I can't remember an article ever being written: 'Hey there's a black man running for Senate in New Jersey.' That's a real great sign."
As President Trump instructs federal authorities to crack down and deport more illegal immigrants in key cities, Booker said there's no hope in the short term for immigration reform on Capitol Hill as the Republican Party establishment has decided it must support Trump's strategy.
"I think it's going to get worse before it gets better. That's his political tactic," Booker said.
A colleague, Montana Sen. Jon Tester, told Booker that immigration at the southern border is the top issue among Republicans and independents in that state nearly 1,000 miles north of Mexico.
"I am not saying this is an ineffective tool. Xenophobia, we have seen in every generation — people appealing to hatred of each other — so we are going to see a lot of it," Booker said.
But Booker said Trump's persistent condemnation of illegal immigrants will become an aberration in the future and not the national norm.
"The Know-Nothing party was an anti-immigration party that rose to power against the Irish and the Italians," Booker said. "The greatest of America is us responding to those people and rendering them to the ash heap of history. Those aren't the people we hail. We don't have statues to the Know-Nothing Party. We don't have holidays for (infamous Birmingham, Ala. anti-civil rights leader) Bull Connor. We have them for Martin Luther King because at the end of the day those are the values we hail."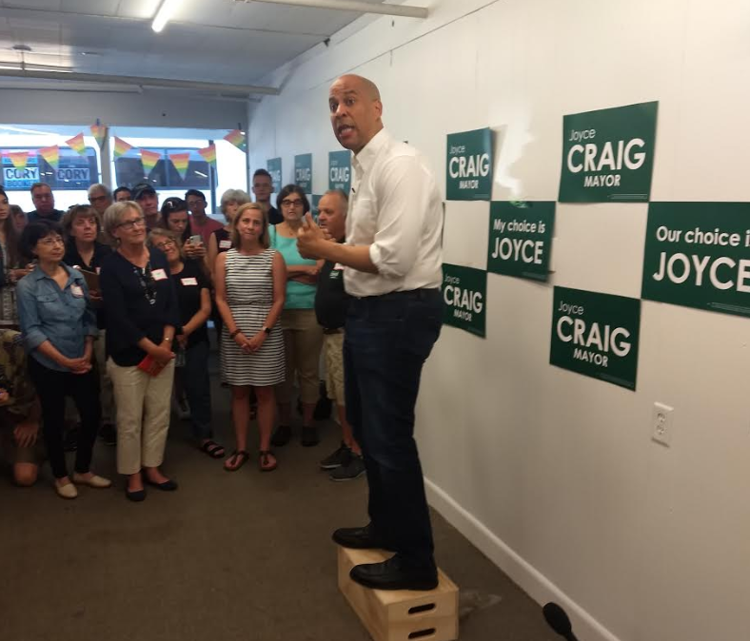 Booker remains mired in the single digits in the national polls and hasn't raised nearly as much money as those out in front of those surveys, including Joe Biden, Bernie Sanders, Elizabeth Warren and Kamala Harris.
He said raising money was the least enjoyable part of campaigning and the Citizens United decision that legalized unlimited spending by special-interest groups was one of the worst threats to our democracy.
The national media continues to have difficulty giving enough equal exposure to a race with nearly two dozen candidates, Booker added.
"If I wasn't the subject matter, I would almost find it comical. It is painful to watch," Booker said.
He remains confident over time that he'll have his breakthrough in this race and called the September debate the "real starting line" for the 2020 campaign.
"This is a long campaign. We feel confident about where we are," Booker said.