DOVER — Rep. Chris Pappas will have some competition for the 1st Congressional District.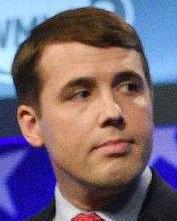 Matthew Mayberry, a Dover resident and former vice chairman of the state Republican party, said he plans to file his candidacy papers in January.
Mayberry is the first Republican to say he will run against Pappas. The National Republican Congressional Committee had in February designated the seat one of its 55 targets for the 2020 election.
As of Sept. 30, Pappas had raised almost $900,000 for a reelection campaign, according to Federal Election Commission filings.
Mayberry said he is running in part because he is frustrated with Congress.
"When I see dysfunction in Washington, how 500 grown adults can't get along and can't get anything done, it just repulses me," he said.
Mayberry said he wants to direct more federal funds to New Hampshire and find ways to empower local people to decide how to spend the money.
"I want us to get our fair share," he said. "We should at least get back every dollar that we send to Washington."
He was reluctant to say why he would do a better job than Pappas, and said he did not want to malign the first-term Democratic congressman.
"It's not against someone else; it's I think I can deliver better customer service," Mayberry said. "I'm going to lay out my case, and let the voters decide."
Other Republicans are more eager to attack Pappas. Nina McLaughlin, a spokesman for the Republican National Committee, has issued seven statements criticizing Pappas in just the last month.
Mayberry said he is excited to start talking to voters when he launches his campaign in the new year.
"I like talking to people, hearing their stories, what gets them up in the morning, what gets them engaged," he said.
Pappas had not responded to a request for comment by Sunday afternoon.