ROCHESTER – Democratic presidential candidate Elizabeth Warren talked about her $100 billion proposal to tackle the drug crisis Saturday during a community conversation in a city that has been hit hard by opioid addiction.
Warren was at The Governor's Inn and Restaurant in Rochester.
Public defender Amaresh Srikanthan said that the way substance abuse disorders are treated in the criminal justice system varies from state to state, and even within counties in New Hampshire.
"How do you intend on incentivizing states and municipalities into believing drug addiction is something to be cured with public health options rather than the criminal justice system, and overall how do you plan on changing the conversation from incarceration to treatment?" Srikanthan asked.
Warren said, "193 people will die today from substance abuse. It's like a plane crash, and it will happen again tomorrow, and the next day and the next day until we make real change in this country." She said the problem with substance abuse is that Americans know what needs to happen to help those in crisis, but nobody wants to spend the money, in part, because of the stigma attached to opioid addiction.
Warren compared the drug crisis to the AIDS epidemic of the 1980s when funding research and treatment was difficult because of the stigma associated with the disease.
In 1990, Congress passed the Ryan White CARE Act. Warren said her comprehensive plan to end the opioid crisis is modeled after that.
Congressman Elijah Cummings, D-Md., worked on the plan with Warren before he passed away in October. Warren said they figured out how to pay for $100 billion in federal funding over the next 10 years that would put money into communities for programs that are successful on the local level.
The CARE Act closes loopholes that allow wealthy families to escape the estate tax.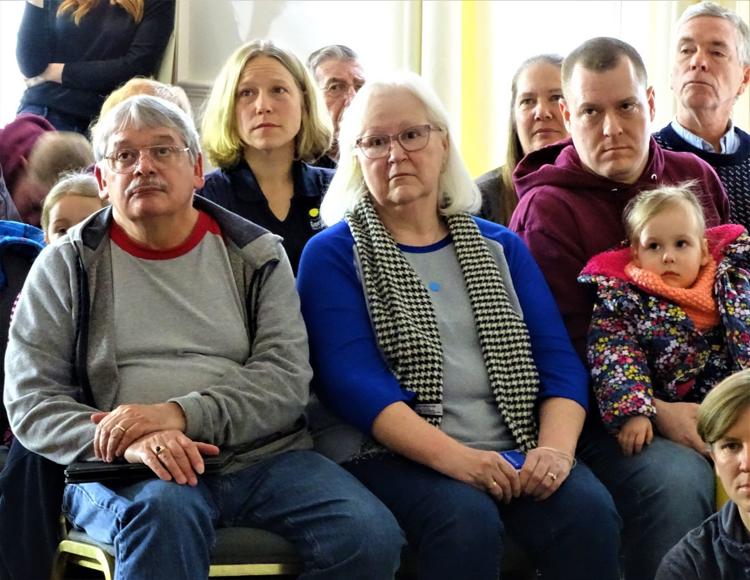 "There's going to be enough federal money there to be able to get treatment for our brothers and sisters who are caught in addiction," Warren said. "When we put the money into treatment, we can treat addiction like the public health crisis that it is and take the pressure off our criminal justice system."
After a second question about the drug crisis from Nicole Sczekan, a nurse midwife who works at Brigham and Women's Hospital in Boston, Warren asked how many people in the room had families affected by addiction. Of the 170 people in attendance, about half raised their hands.
Warren also said those who profited from selling opioids should be held personally accountable.
"Think about what happens in our system," she said. "If the company gets caught, the company pays a fine. But the people who actually make the decision — they get bonuses, right? They keep their jobs. They walk out free and easy," Warren said.
Prior to Warren's arrival, Doug and Debbie Stanton of Rochester said homelessness and the drug crisis are the two biggest issues affecting their city. Alex de Geofroy, of Rochester, agreed.
"We do have an opioid problem in this community. As a matter of fact, we had a dealer right across the street from us that we had to work with the police to get them out," Doug Stanton said.
Debbie Stanton said the drug dealer was evicted after two overdoses.
De Geofroy said the drug crisis concerns him too. His 2-year-old daughter, Eleanor, was sitting on his lap.
"I hate to say it because I like my house. I enjoy living in Rochester, but I wonder, do I still want to be here in a few years or do I want to move further down the seacoast where it's not so questionable," de Geofroy said.
Warren was in Peterborough and Henniker on Friday. She traveled to Rye for a town hall after the community conversation in Rochester on Saturday.
This marks Warren's 24th trip to New Hampshire since January. She has visited 28 states and Puerto Rico during her presidential campaign, according to organizers.