FRANKLIN — With the primary in full swing, getting out to see all the candidates is like a full-time job.
This weekend, David Bacon of Madbury joined voters from Salem to Lebanon to meet presidential candidates, hear them speak and get questions answered.
On Friday, Bacon saw Sen. Amy Klobuchar of Minnesota and Sen. Cory Booker of New Jersey. On Saturday morning, he drove an hour to Franklin High School to see Sen. Bernie Sanders — but only after trying to attend a Gilford house party for Rep. Tulsi Gabbard of Hawaii, cancelled because Gabbard was ill, her campaign said.
Bacon voted for Sanders in 2016 and had expected to vote for him again — but with so many candidates, he wanted to give more people a chance. He wants to be sure he makes the right choice.
At stump speeches on Saturday, Democrats Booker, Sanders and Sen. Elizabeth Warren laid out similar visions for the future of the country, but showed off different ways of getting the message across.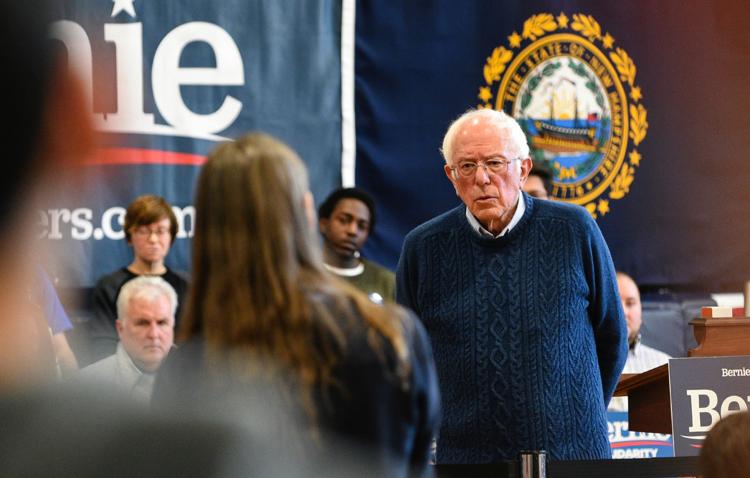 As Sanders paced across the gym floor, one hand in his pocket, he told the audience that they were being had by the wealthy and powerful.
"As a nation we have got to recognize there is something profoundly wrong when three people own more wealth than the bottom half of this country," he said.
Childcare? "It's a disgrace!" Teachers? "Disrespected!" Health care? "We're spending twice as much as our Canadian neighbors," he said.
Sanders asked people to shout out their deductibles, the amount they have to pay out-of-pocket before their insurance starts covering expenses. They shouted $3,000, $5,000, $7,000.
"You cannot in many instances afford to go to the doctor," Sanders said.
Barbara McDuffy, a Franklin resident, said she would vote for Sanders in the primary, but was pleased to see other candidates adopt Sanders-like policies. "I think it gives him more support for his ideas," she said. "It's time for the people to be taken care of."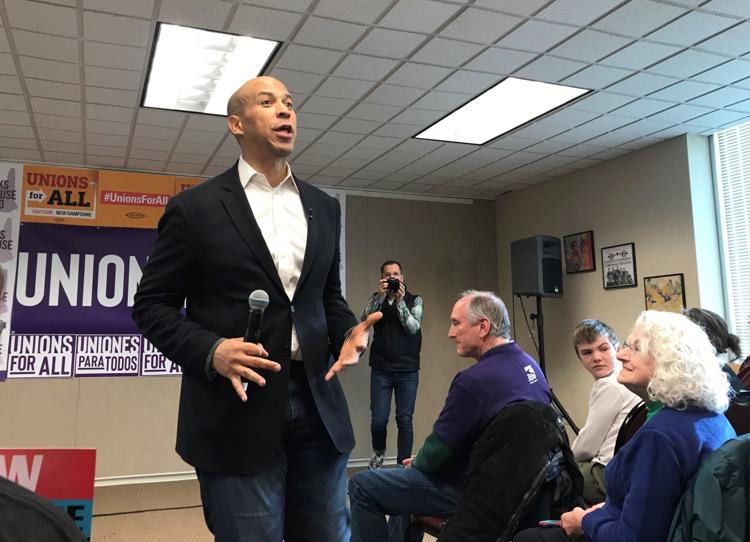 At a Concord union hall Saturday morning, Booker's speech was more upbeat. He cracked jokes about his family, and hugged two questioners who said they would support him. Booker often called back to the 1960s — with references to Martin Luther King Jr., the film "Judgment at Nuremberg," police violence in Alabama, and his own parents' struggle to buy a house in a white neighborhood in New Jersey.
Booker defended public assistance programs, saying that defunding such programs only created more costs for the public. "Being penny-wise produces so many more failures," Booker said. If elected, he promised to use the tax code to lift people out of poverty, and promised changes that would only need 50 senators' votes to pass.
Jennifer Cheney of Pittsfield said she's seen a few candidates, but Booker is her favorite so far.
"He spoke to a great many areas that I wanted answers to," she said. Cheney also liked how Booker answered all the questions, and how he seemed to sincerely engage with voters.
Paris Awalt said she was glad to see the 60 people who came to see Booker, and ask him questions. The New Jersey senator was asked about a range of topics, from PFAS contamination to the cost of groceries.
"I think that's the beauty of New Hampshire, they show up and engage," Awalt said. "It's not just a set piece."
In Salem on Saturday afternoon, 150 volunteers cheered as Warren entered Coffee Coffee. She told the group she took a big bet on them, in taking a pledge against pay-for-access fundraising.
"What you are doing today is about the things we are fighting for, but we are also fighting for our democracy," Warren said. "It is about fighting for a democracy where the rich and the powerful may have more shoes than we do, they may have more cars than we do, they may have more houses than we do, but they don't own a bigger share of our democracy than we do."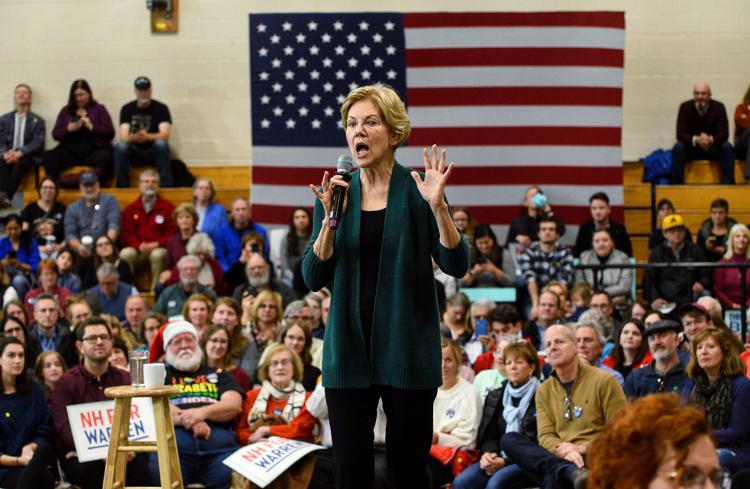 Later Saturday afternoon, almost 600 people listened to Warren speak at McLaughlin Middle School in Manchester, listening raptly to a highly personal stump speech that wove together her life and her policies. The event attracted avowed Warren fans and undecided voters.
Paula Hanley of Hooksett has not decided who she will vote for in the primary. She likes Warren. "She's sort of ballsy," Hanley said, but she wants to hear her talk more about her health care proposals, and hear from other hopefuls. Hanley said she is taking the decision seriously. "You need someone with character and you need someone who's working on policy as well."
Lisa Reinke of Exeter liked Warren too, but is looking for a candidate who could sway her Republican relatives. She hopes to nail down a choice in January, and start volunteering for a campaign.
Staff writer Jonathan Phelps contributed to this report.