CONCORD — Saying he doesn't "give a damn about politics," retired Brig. Gen. Donald Bolduc on Monday launched his GOP run for U.S. Senate, saying he will go to Washington to help break the political gridlock.
"I am anything but a politician, but like many Americans today, I am ticked off by the partisan mindset on display in Washington, D.C.," Bolduc told supporters inside VFW Post 1631.
Bolduc, 57, of Stratham, officially declared his candidacy for the GOP nomination to face Democratic U.S. Sen. Jeanne Shaheen. Bolduc is expected to face former New Hampshire House Speaker Bill O'Brien, who has said he will have his own "major announcement" on July 23, in the Republican primary.
The Laconia native had a storied Army career that included serving as commander of special operations in Africa. Over his three decades of service and 10 deployments, Bolduc received two awards for valor, five Bronze Star medals and two Purple Hearts.
During his announcement in shirt sleeves and a tie, Bolduc criticized "a politics-first attitude that is blocking effective solutions to some real-life issues that affect each of us and our families and that must stop."
The father of three grown sons blamed Congress for several national problems, but he didn't mention President Donald Trump by name.
"Politics and failed leadership in Congress has gotten in the way of bringing real solutions to the opioid crisis," security at the border and helping veterans, he said.
"We can't solve problems as a nation if we are divided," Bolduc said. "And please know we are divided. That division threatens everything from the economy to our national security, and if unchecked this will threaten the futures of our children and our country."
Bolduc was one of the soldiers depicted in "12 Strong," a movie about a horseback-riding Special Forces team that fought the Taliban in Afghanistan soon after the terrorist attacks on Sept. 11, 2001.
Bolduc, however, has received more national attention as an advocate for helping combat soldiers dealing with brain injuries and mental health problems.
In introducing her husband, Sharon Bolduc said he always made sure wherever they were stationed somewhere "to know his people, their families and their issues."
Stratham neighbor Joann O'Riordan, who attended the announcement, called the retired general "a real family man and true hero."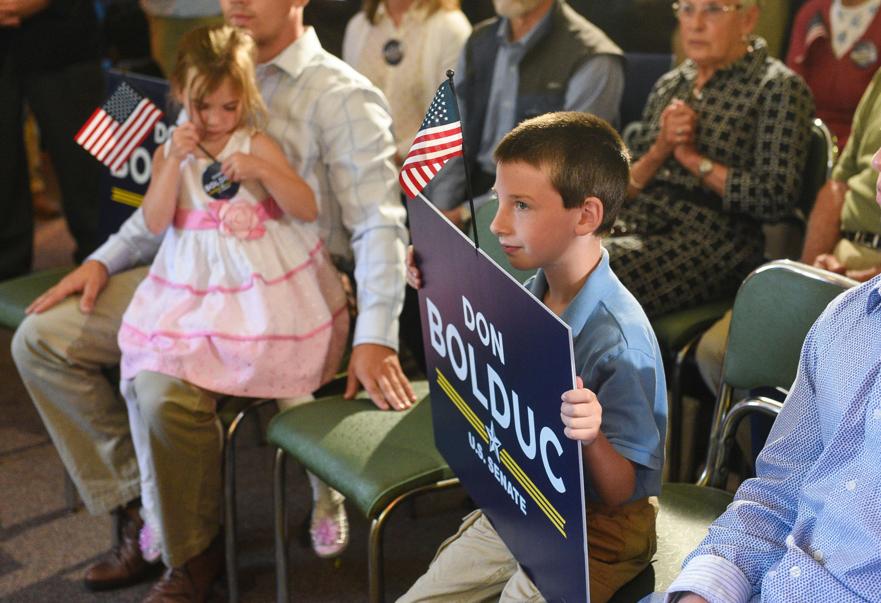 New Hampshire Democratic Party Chairman Ray Buckley said he expects an "intense Republican primary" among candidates "who would rubber-stamp Donald Trump's agenda to end health care for tens of thousands of Granite Staters and rip away protections for patients with pre-existing conditions."
Unlike Shaheen, "none of them can be counted on to stand up for New Hampshire," Buckley said in a statement.
Bolduc singled out Shaheen, who is up for reelection next year.
"I want everyone to understand that I respect Sen. Jeanne Shaheen for her decades in the political arena, but she has been part of the failed leadership in Congress, and it's time for a change," he said.
"I will staunchly defend the Constitution as it is written. It is not to be interpreted for political gain or agenda, but that is what's happening and it must stop," Bolduc said.
He also said his years in the military have given him experience in dealing with adversity.
"If you think that in the air-conditioned halls of Congress I'm going to back down from loud-mouth Democrats trying to tell me what to do, you are wrong."
Addressing his lack of experience running for office, Bolduc said: "Let me tell you something: If you don't think my job in the military was political, you're sadly mistaken."