CONCORD — The second-largest union in New Hampshire will announce Monday it will endorse Vermont Sen. Bernie Sanders in the Democratic primary.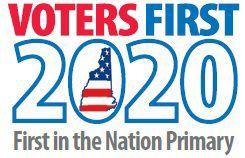 SEA/SEIU Local 1984 will host a press conference Monday to announce the endorsement with campaign representatives at 12:15 p.m. at the union's local office, 207 N. Main St. in Concord. About 10,000 workers across the state are represented by the union's collective bargaining contract.
"I'm honored to receive SEA/SEIU Local 1984's support today," said Sanders in a statement Sunday. "The labor movement helped build the middle class in this country, and strong unions are key to reviving it today. As President, I'll continue to stand on the side of workers and unions like SEA/SEIU 1984 in the fight for a fair and just economy that works for all of us."
This decision comes as members of SEA/SEIU Local 1984 continue to advocate for fair pay and a new contract. Union officials said Sunday Sanders has supported their efforts, joining them in a rally last month as part of the End Corporate Greed in New Hampshire tour.
"For decades, Senator Sanders has represented the interests of workers all across this country, and during these past few months, he has taken the time to support SEA/SEIU Local 1984 specifically," said Rich Gulla, SEA/SEIU Local 1984 president, in a statement. "Just recently, when he learned of the struggles that New Hampshire state employees who are without a contract are facing he called a press conference to tell Governor Sununu to treat workers with respect. We know American workers can count on him. We are proud to endorse Sen. Sanders for President."
SEA/SEIU Local 1984 also endorsed Sanders during the 2016 presidential election, while its national affiliate organization, the Service Employees International Union, backed the eventual Democratic nominee, Hillary Clinton.
The national affiliate organization, which represents about two million workers nationally, has remained neutral in terms of endorsing a candidate thus far.
SEA/SEIU 1984 is the second statewide New Hampshire union to endorse Sanders for President, along with the American Postal Workers Union (APWU) of New Hampshire. He has also picked up endorsements from other major labor groups including the United Teachers Los Angeles (UTLA), National Nurses United (NNU), Boston Independent Drivers Guild (BIDG), United Electrical, Radio & Machine Workers of America (UE), and National Union of Healthcare Workers (NUHW).