CONCORD — New Hampshire became the 21st state to ban capital punishment on Thursday as the state Senate voted 16-8 to override the governor's veto of a death-penalty repeal.
Sixteen votes in the 24-member chamber were required to override the veto.
Republican Gov. Chris Sununu, a staunch opponent of repeal, cited law enforcement and families of crime victims in his reaction to the override vote.
"I am incredibly disappointed that the Senate chose to override my veto," the governor said in a statement.
Democratic state Rep. Renny Cushing of Hampton and members of his family watched the historic vote from the gallery, as death penalty opponents withstood a strong lobbying effort by Sununu and active members of law enforcement throughout the state.
Cushing, whose father was murdered in 1988, has championed repeal of the death penalty in New Hampshire for decades.
"The Senate vote to finally abolish the death penalty in New Hampshire is a remarkable moment in our state's history," he said.
The Senate first voted 17-6 on April 11 to pass the repeal measure, HB 455.
Manchester State Sen. Lou D'Allesandro, who was absent for the April 11 vote, has been a consistent supporter of the death penalty and voted Thursday to uphold the veto.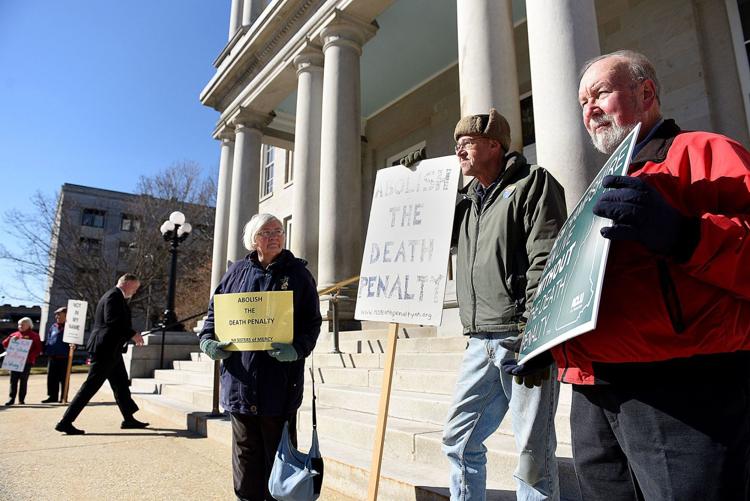 Vote changes
North Country Republican Sen. David Starr, who on April 11 voted for repeal, changed his vote on Thursday to support Sununu, but it was not enough to turn the tide.
Sununu came within one vote of having his veto sustained in the House, which voted last week to override the veto, 247-123, just meeting the two-thirds requirement.
Repeal of the death penalty was a major initiative for the Democratic leadership in House and Senate. The deciding vote in the House was cast by House Speaker Steve Shurtleff, while the final vote in the Senate was cast by Senate President Donna Soucy.
Supporters of the death penalty focused most of their arguments on a call for justice in the 2006 murder of Manchester police Officer Michael Briggs by convicted felon Michael Addison, who is awaiting execution.
Opponents of the repeal measure argued that Addison will escape execution, even though the bill states that the repeal is not retroactive.
"If you think you are passing this today and Mr. Addison is still going to remain on death row, you are confused," said Sen. Sharon Carson, R-Hudson.
She pointed to Connecticut, which had several death-row inmates whose sentences were reduced to life in prison after that state's repeal of capital punishment. "You have to think about the police officers and what they face every day," she said.
Public support
Sen. Melanie Levesque, D-Nashua, reiterated many of the arguments against capital punishment that came up in the months of hearings and debate leading up to the vote, including the disproportionate number of black people who are executed, the high cost of executions and the execution of people later found to be innocent.
Carson, echoing Sununu, framed the issue as a matter of public support for law enforcement.
"Police officers are feeling under fire, not supported and alienated," she said. "They need to know that we have their backs. That we support them. This is about justice, and the people's will."
Sen. Harold French, R-Franklin, said the vote was a matter of conscience.
"Today I will vote to override the veto not due to some lack of respect for the great guidance (Sununu) has shown the state, and not because of a lack of compassion for the sacrifices made in the call of duty by our law enforcement personnel and their families," he said. "My vote will be made because this vote is about our state, and about what kind of state we are all going to be a part of."
Police disappointed
Police Capt. Patrick Cheetham, immediate past president of the N.H. Police Association, said police are "frustrated and disappointed" with the vote.
"We believe that it doesn't make New Hampshire safer; it doesn't make it safer for New Hampshire police officers and it's extremely disappointing," he said.
"The death penalty has been used sparingly, judiciously and appropriately at a time when New Hampshire's police officers are confronted with greater and greater violence."
Cheetham said the repeal "sends a message that puts police officer's lives in danger," and promised that law enforcement will be following Addison's case closely.
"We'll be tracking that case and mark my words and those of others, in the coming weeks or months we will see Michael Addison's death sentence changed to life without the possibility of parole because of repeal of the death penalty today."
Kelly Ayotte, former U.S. Senator and the attorney general who served as chief prosecutor in the Addison trial, expressed disappointment about the state Senate vote in a tweet: "Police killer Michael Addison is the happiest about their vote today."