MANCHESTER — Democrats launched a "Veto Sununu Tour" in Manchester on Tuesday, with party activists appearing in Arms Park to focus on Gov. Chris Sununu's veto of a minimum wage increase earlier this summer.
They launched the effort the day before lawmakers convene in Concord and Durham in attempts to override 22 Sununu vetoes, including legislation that would raise the minimum wage, establish paid family leave and expand net metering.
Four speakers called Sununu's minimum wage veto Trumpian and faulted the Republican governor for taking a $31,000 salary increase while vetoing a minimum wage increase.
"This is one issue that should be (bipartisan) but isn't," said Senate President Donna Soucy, D-Manchester.
Sununu's campaign spokesman Ben Vihstadt said Democrats couldn't come up with one example of a New Hampshire business paying minimum wage.
And he said governors do not set their own salary; it is determined by state law.
New Hampshire is the only New England state without a minimum wage, and employers must abide by the $7.25 an hour federal benchmark. The minimum wage bill would boost the benchmark to $10 an hour and eventually $12.
Soucy agreed that few New Hampshire workers earn the minimum wage, but an increase in the minimum wage would directly benefit more than 100,000 workers, she said.
Employers who pay $8 an hour rely on the government to cover the needs of their workers for housing and school meals, Soucy said.
"They're actually looking for a corporate subsidy. They need to pay a living wage," she said.
Sununu's campaign referred a reporter to Sununu's July 24 veto message. Sununu said a minimum wage increase would have unintended consequences, including higher prices and hurting entry-level workers.
"A law can force an employer to pay a minimum wage but it cannot force an employer to hire or retain a worker at that wage, or to continue offering the same number of hours to that worker," Sununu wrote.
On Wednesday, the House will meet at the Whittemore Center at UNH in Durham and take up 17 vetoes. The Senate, which will meet in Representatives Hall, is scheduled to take up five.
Soucy said a lot is at stake, including bipartisan legislation that will fail if lawmakers don't override the governor's vetoes. Not all will be overridden, she said.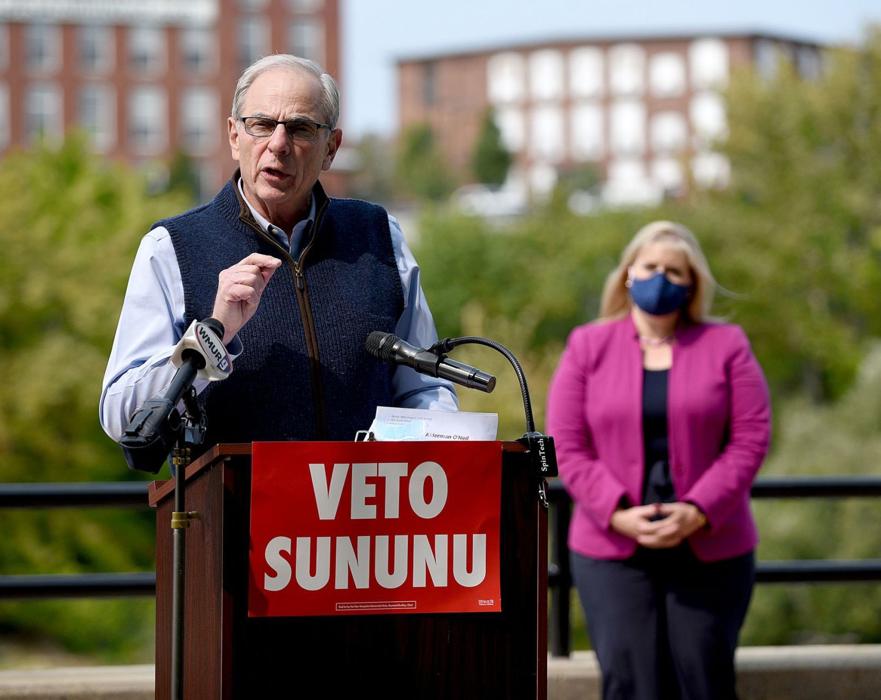 "I'm a betting person, but I'm not willing to take a guess today," Soucy said about the number of successful overrides. "I don't think all of them."
Appearing with Soucy were Mark MacKenzie, Democratic candidate for Executive Councilor, and Manchester state Reps. Patricia Cornell and Josh Query.
The Veto Sununu Tour is scheduled for Thursday in Keene, where it will discuss the vetoed Reproductive Health Parity Act, and Friday in Concord, where it will discuss net metering.