CONCORD — Democratic activists staged a peaceful demonstration outside the office of Gov. Chris Sununu Monday morning, hours after legislation reached the governor's desk to raise the state's minimum wage for the first time in 11 years.
The governor has until Friday to make up his mind.
Sununu, a Newfields Republican serving his second term as governor, already has said he opposes a law to decouple New Hampshire from the federal minimum wage of $7.25 an hour.
Staff and volunteers representing the state Democratic Party showed off a petition with the names of 750 residents urging Sununu to drop his opposition and sign Senate Bill 10, which spells out a two-step jump to reach a minimum wage of $12 per hour.
Volunteers unfurled a sheet of paper with the handwritten names of petition signers that, once rolled out, spanned the entire second-floor hallway, starting at the governor's office suite and then snaking around the corner and past the office of Secretary of State Bill Gardner.
"Right now it's like hanging a sign that says this state doesn't really value workers," said Kathy Staub of Raise Up New Hampshire, which commissioned a poll that found 47% of independents said they would be less likely to support Sununu in 2020 if he opposed the wage hike.
"It would not hurt him in any way to sign this bill," Staub said.
The same Public Policy Polling survey found, in a separate question, that if Sununu vetoes the bill, 33% of respondents said they would be more likely to support him and another 24% said a veto wouldn't make a difference in how they voted for governor in 2020.
Since June, volunteers for Raise Up New Hampshire and the American Friends Service Committee have been delivering pens to Sununu's office, urging him to sign the minimum wage bill.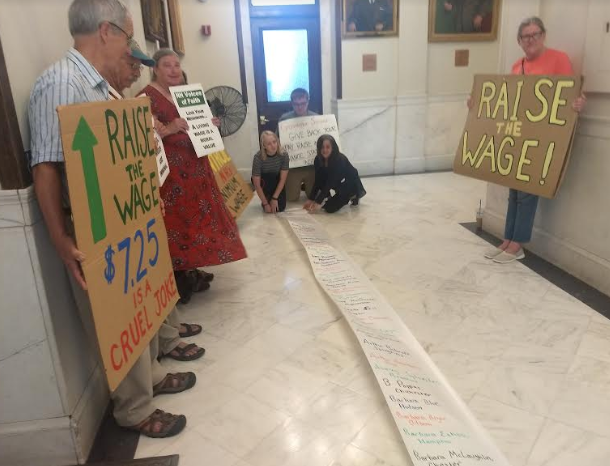 Democratic Party Chairman Raymond Buckley pointed out Sununu had received a pay raise for his job totaling $22,000 a year after all politically appointed or elected jobs were tied to an increase given to state workers two years ago.
Sununu did not propose the hike.
"Chris Sununu has already made clear that he opposes giving Granite State families a raise after giving himself a massive pay raise at taxpayers' expense," Buckley said. "It's time for Sununu to give back his pay raise and give Granite Staters one instead."
The state chapter of the National Federation of Independent Business urged Sununu to veto the bill.
While few workers in New Hampshire are paid only the minimum, NFIB State Director Bruce Berke said a mandated increase would lead to job losses, lower productivity and lower take-home pay for many workers as employers would reduce hours or not fill vacant jobs for many hourly workers.
"NFIB NH and its 1,000-plus members in NH believe in allowing the free market to determine wage levels and relations in general between employees and employers. Companies in NH are establishing new, higher wage rates all the time in order to attract the employees they need to be successful," Berke said in a statement.
"With some national companies announcing $15 an hour wage rates, competition for workers in NH is strong and employees across the board are benefiting from this healthy economy. When wage rates are artificially increased, businesses adjust often causing employees and prospective employees negative consequences."
The bill would raise the minimum wage to $10 an hour on Jan. 1, 2020. The standard would then go up to $12 an hour on Jan. 1, 2022.
This bill is the seventh measure proposed to raise the minimum wage that Senate President Donna Soucy, D-Manchester, has authored. She urged Sununu to have a change of heart.
"When it comes to ensuring decent wages for our workers, New Hampshire is far from first. We haven't raised our minimum wage in more than a decade, and in 2011, the Legislature eliminated our state minimum wage altogether. In 2009, $7.25 wasn't a living wage and it certainly isn't a living wage in 2019."
New Hampshire is one of 21 states that tie their minimum wage to the federal level. There are also five states with no minimum wage. In those states, the federal minimum also applies.
In 2020, the minimum wage will be going up in the rest of New England: $12.75 in Massachusetts, $12 in Maine, $11 in Connecticut, $10.78 in Vermont and $10.50 in Rhode Island.