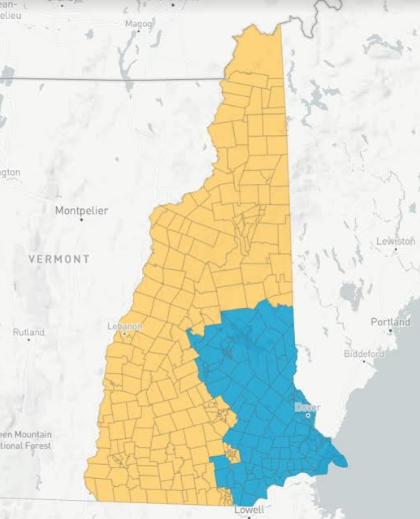 CONCORD — House and Senate leaders unveiled a new proposed congressional map late Friday that puts both Democratic incumbents into the same district and makes the 1st District more Republican-leaning and the 2nd District even more Democratic.
In a joint statement, House Redistricting Chairman Barbara Griffin, R-Goffstown, and Senate Chairman James Gray, R-Rochester, said the proposal is both "constitutional and fair."
"In our opinion, the map that we have created honors both of those important goals," they said.
Gray and Griffin said they've been working the past few days on an alternative to the plan (SB 200) the House passed 10 days ago, which already drew the opposition of Gov. Chris Sununu.
Sununu hasn't commented on this latest version but said any plan has to pass the "smell test" and keep competitive both congressional districts.
GOP leaders counter that with the current map, Democrats have won 90% of the congressional elections in the past decade.
The first public discussion of this plan will come when the House-Senate conference committee holds its initial meeting on Monday at 11 a.m.
Leading Democrats charged the aim remains trying to make sure 1st District Congressman Chris Pappas can't win a third term this fall and 2nd District incumbent Annie Kuster is given a district that could set her up for perpetual victory.
They charge this is done by moving Pappas' hometown of Manchester and neighboring Goffstown into Kuster's district, while adding to the 1st District GOP suburbs such as Hudson, Litchfield, Salem, Windham, Pelham and Atkinson.
The Merrimack County city of Franklin and towns of Allenstown, Canterbury, Chichester, Epsom, Loudon, Northfield and Pittsfield would all go from the 2nd to the 1st District as well.
"They simply can't let go of this can they, trying to take away the chance of Chris getting reelection," said state Sen. Lou D'Allesandro, D-Manchester. "This can't be allowed to stand."
New map shuffles GOP candidates again
The last map the House passed would have put four GOP candidates for the 1st District into a new 2nd District.
This would be an obvious windfall for 2020 GOP nominee Matt Mowers of Gilford, who faces at least a half dozen rivals in the Sept. 13 primary.
This latest plan puts the hometowns of all of Mowers' opponents back into a new 1st District.
A veteran observer of the GOP redistricting process said one result of this new map was better "aesthetics."
That's because it creates a 1st District made up of all the southeast and eastern central part of the state.
The new 2nd District would have all the rest, including all of the North Country.
Supporters of the new plan note six of the 10 counties are kept whole in one district, with the 1st District getting all of Belknap, Rockingham and Strafford counties, while the 2nd District would have all of Coos, Sullivan and Cheshire counties.
Rep. Timothy Smith, D-Manchester, said Sununu should treat this proposal as he has the last two House-endorsed maps and oppose it.
"The districts as-is are more competitive than that map — the point in this new map is to move both (Democrats) into the same district, cheating-to-win," Smith said.
House and Senate negotiators have until Thursday at 3 p.m. to reach agreement on a map that then would go to the GOP-led Legislature for an up or down vote.
The Supreme Court ruled this week it would draw its own map to apply to the 2022 election that met the "least change" test if the Legislature and Sununu can't come to some agreement.