CONCORD — More than a year before the 2020 state primary, New Hampshire Democrats are launching their most extensive and hard-boiled political attack, charging that two-term Republican Gov. Chris Sununu has become too beholden to powerful special interests and corporate donors.
The "Sununu For Sale" campaign will include digital ads in targeted communities, campaign signs, news conferences, videos and other events across the state, according to the program's strategic plan the Union Leader has obtained.
"Chris Sununu is for sale to the highest bidder, and it's clear that he's willing to sell out Granite Staters and their priorities to please his party, his special interests, his corporate donors, and the top 1 percent," said New Hampshire Democratic Party spokesman Holly Shulman. "Sununu is for sale. It's shameful, and it's no way to govern."
This attack campaign launch comes days after Sununu reached his 50th veto of 2019 bills crafted by the Democratically-controlled Legislature, a record in modern New Hampshire history.
"Chris Sununu vetoed New Hampshire's budget — denying and delaying property tax relief, school funding, and mental health and substance use disorder treatment services — just so he could give out-of-state corporations a tax break," Shulman said.
Further, the campaign will highlight Sununu having vetoed the first minimum wage increase for the state in 12 years while accepting more than a $20,000 increase in his own salary, an increase lawmakers granted to all politically-appointed or elected figures following a collective bargaining agreement for state workers.
Sununu Senior Adviser Paul Collins said the Democrats would rather attack the incumbent than take ownership of their own extreme policies.
"Facts don't lie, but the New Hampshire Democratic Party sure does," Collins said in a statement.
"No matter how sweetly the tricky ones coat the bitter pill of an income tax, Governor Chris Sununu will never hesitate to veto it as well as other extreme bills passed by the Democrats in the Legislature. Unlike (Senate Majority Leader) Dan Feltes and his liberal self-serving interest group allies, Chris Sununu will never sell out the New Hampshire Advantage."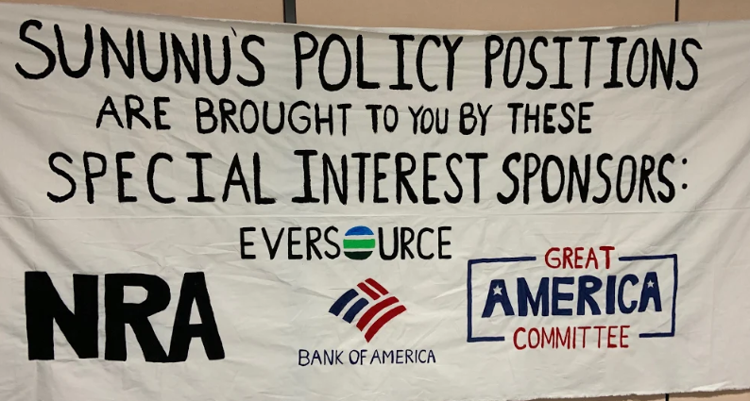 The head of the Business and Industry Association, Jim Roche, recently fired back at Democrats for referring to the benefactors of the business tax cuts as "large, out-of-state businesses."
In a Sunday News commentary, Roche said all firms, large and small, profitable or not, benefit from the tax cuts and New Hampshire remains 45th worst out of 50 states in state business tax climate.
"To suggest that 'large, out-of-state corporations' are receiving preferential tax treatment is not only inaccurate, it's insulting to companies like Lincoln Financial Group, Oracle+Dyn, Markem-Imaje, Osram-Sylvania, Millipore, Timken and dozens of others that have invested in New Hampshire and provide some of the best opportunities in the state," Roche wrote.
Last month, Morning Consult, a global technology and media company, ranked Sununu the third-most popular governor in the country with a 65% approval rating. Only Massachusetts Gov. Charlie Baker and Maryland Gov. Larry Hogan ranked higher.
The anti-Sununu campaign of New Hampshire Democrats will include launching a new website, Sununu.ForSale, the distribution of yard signs, and the placement of targeted ads on Facebook and Twitter about education aid grants at risk with the governor's budget veto.
The social media ads will run in many communities, including Manchester, Nashua, Derry, Rochester, Berlin, Claremont, Milford and Merrimack.
The Democratic group also attacked a Belknap County GOP event at which a copy of Sununu's veto on paid family leave was auctioned off to raise money for the party.