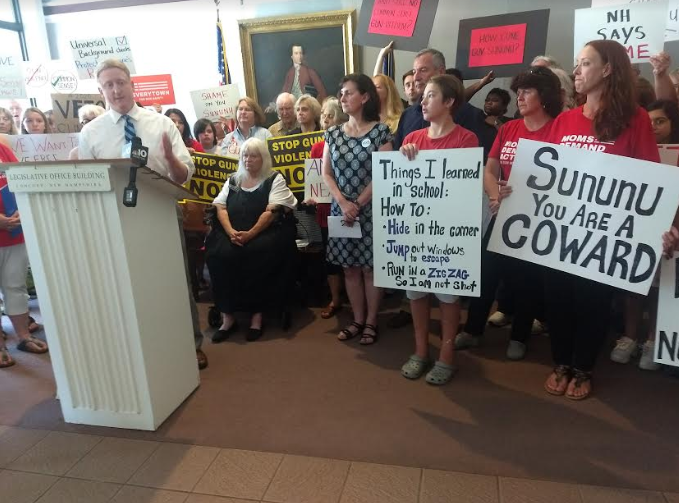 CONCORD — Gun control advocates kept fighting Monday with heightened emotion in vocal protest at Gov. Chris Sununu's veto of three bills aimed at tightening New Hampshire's gun laws.
Activists vowed to keep the pressure on to try and override these vetoes even while organizers privately conceded the two-term Republican governor likely will have enough GOP allies to uphold them when showdown votes take place next month.
Ruby Carr, a senior at Coe-Brown Northwood Academy, last spring helped organize a gun control student rally that attracted about 4,000 to the State House plaza.
"I now feel helpless because if our elected officials won't listen to us, how can I have faith in the system," Carr said.
She vowed Sununu would be held accountable for these vetoes.
"Politicians who oppose gun violence prevention no longer will be tolerated," Carr declared to cheers from the dozens of gun control activists who held signs at a new conference in the Legislative Office Building.
The three vetoed bills would have required commercial background checks (HB 109), imposed a three-day waiting period (HB 514) and created a modified gun-free zone around school property (HB 564).
Senate Majority Leader Dan Feltes, D-Concord, said New Hampshire is on its way to having the most homicides in 15 years and the third highest rate of suicide in the country.
"If you cared about preventing suicide, you would have signed the three-day waiting period; Sununu vetoed it," said Feltes, who is considering his own Democratic primary bid for governor next year.
"It's time to stop selling out to the corporate gun lobby and to start standing up for Granite Staters."
In a one-page veto message covering all three bills issued last Friday afternoon, Sununu said current gun laws were "well crafted" and the state's Second Amendment was even a stronger recognition of gun ownership rights than in the U.S. Constitution.
Sununu also cited steps the state has taken to keep citizens safe including $30 million in grants for school safety, a new civil rights unit in the Department of Justice, a commission on diversity and modern-day record investments in the state's mental health treatment system.
Kate Day of Spofford is a GOP activist who ran for vice chairman of the state GOP last fall.
Day repeated the claim of other GOP officials that Democratic legislative leaders deliberately held onto these bills until after the mass murders in El Paso, Texas, and Dayton, Ohio, to put more pressure on Sununu to drop his opposition to them.
"I just think it's disgusting. They pass these bills a month ago and then wait until a national tragedy to exploit these emotions," Day began.
"I am so proud of Governor Sununu standing up to principle. These bills were not good for New Hampshire. We have one of the lowest murder rates in the country, very responsible tradition of gun ownership. They were looking for a problem to solve that we don't have."
Bob Clegg, a lobbyist with Pro Gun New Hampshire, said much of the gun control legislation is trying to police criminal behavior which no public policy is going to control.
"We are trying to punish law-abiding citizens for the small minority of bad actors who are going to do whatever they want in violation of all the laws we put up to deal with this issue," Clegg said.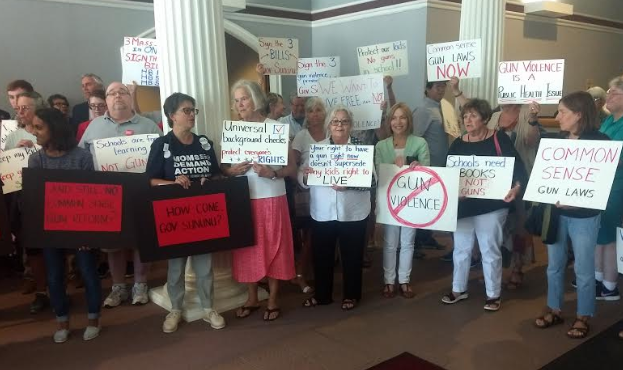 Rep. Kathi Rogers, D-Concord, read off several headlines about gun violence in New Hampshire during recent days.
"Governor, with all due respect if you are not taking steps towards slowing down gun violence then you are complicit in the results on the streets," Rogers said.
Tracy Hahn-Burkett leads a working group on gun violence prevention for the liberal Kent Street Coalition.
"Governor Sununu has drunk one-too-many cups of Kool-Aid from the gun lobby's endless supply and we New Hampshire citizens have had enough," Hahn-Burkett said. "Neither our federal nor our state Constitution grants unlimited rights to anyone, and we're sick of the governor pretending that the very real, everyday concerns of Granite Staters regarding gun violence don't matter."
Deidre Reynolds, a volunteer leader with Moms Demand Action, said her organization will keep pressing lawmakers.
A legislative study committee is working this summer and fall on a so-called "red flag" bill that would allow a judge to order guns seized from someone at risk of harming himself or others.
Lawmakers will pass judgment on the idea early in the 2020 session.
"Just who is Governor Sununu working for? Governor Sununu has let the people of New Hampshire down," Reynolds said.