CONCORD — House and Senate leaders will spend the next two days poking and prodding at Gov. Chris Sununu's Republican defenses, trying to override his 55 vetoes of the 2019 session.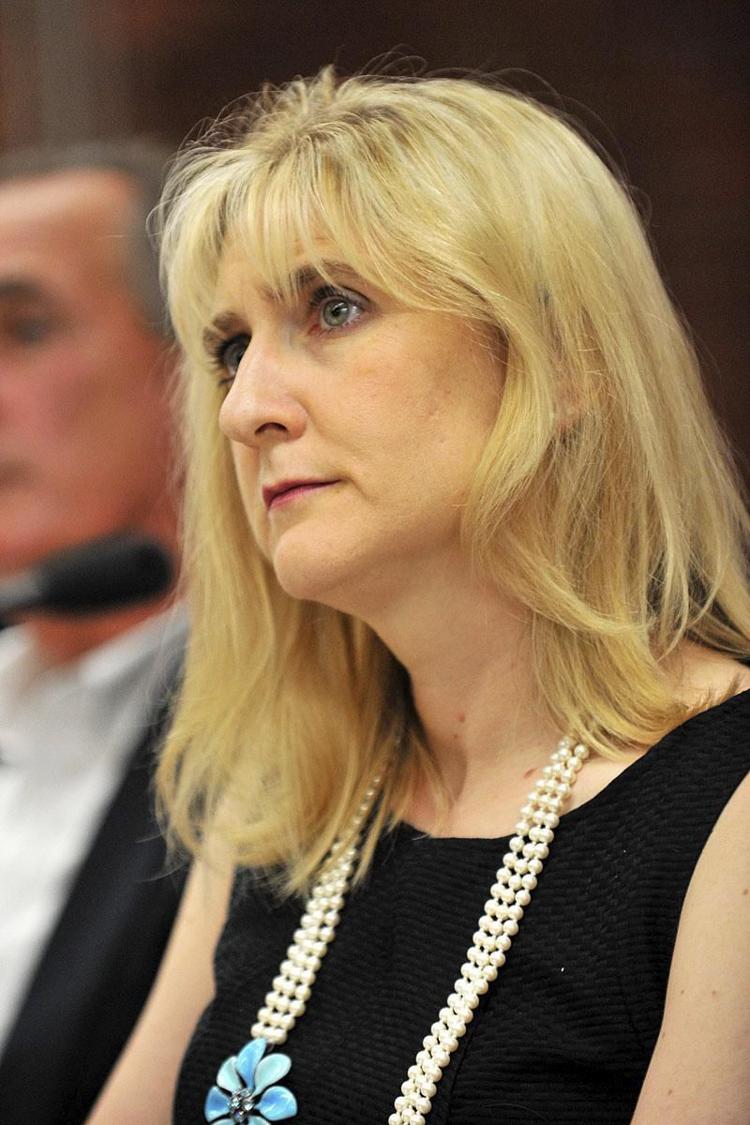 The House meets Wednesday and Thursday to take up bills the two-term governor has set aside; the Senate returns from having the summer off to act on its bills Thursday.
Sununu has already had one setback: The Legislature this past spring repealed the state's death penalty after overcoming Sununu's veto of the repeal.
Senate President Donna Soucy, D-Manchester, said GOP lawmakers often stick with their chief executive, which would spell doom for most of the veto override attempts.
A two-thirds vote in favor of a bill is needed to override a veto. Democrats have controlled the New Hampshire House and Senate since last November's elections, but the Republican forces comprise more than one-third of both chambers.
Soucy told reporters she remains optimistic there will be a few breakthroughs.
"I think the sheer volumes of vetoes that the governor cast gives people license, particularly Republicans, to support overrides," Soucy said.
Political observers widely agree the two bills with the best chance of overcoming Sununu's veto are HB 183, which would allow larger energy customers to get lower electric rates through their own renewable energy projects such as solar farms, and HB 365, which would continue subsidies to the biomass or wood-burning power plants.
"I think those have a real possibility," Soucy said.
Sununu said both measures would unfairly give benefits or subsidies to some energy users while all other customers get no break and could even pay more as a result.
Another sleeper bill, Soucy said, was one that has bipartisan sponsors in the Senate and would permit medical marijuana dispensaries to operate as for-profit companies (SB 145).
The average number of vetoes in a legislative year over the past generation has been about six.
Sununu has vetoed nearly 40 more bills than Democratic Gov. John Lynch in 2012 when Republicans had a 3-1 majority in both legislative houses. In those two years, 2011-12, Lynch vetoed a total of 28 measures.
On Tuesday, Sununu said that despite his rejections, 2019 has been a productive one because he's acted on 397 bills, which is the most in any year over the past two decades.
"I have signed more bipartisan legislation this year than my previous predecessor (Maggie Hassan) did during any session while also vetoing extreme bills that have no place in New Hampshire," Sununu said in a statement. "We've been busy and worked to ensure our citizens have the strongest economy and highest quality of life in the Northeast. It's working."
Earlier this week, Soucy made a final plea for her pet project that would raise the state's minimum wage for the first time in more than a decade.
The GOP-led Legislature in 2011 repealed the state's minimum wage law, leaving New Hampshire with the federal minimum of $7.25 an hour.
Soucy's bill that Sununu vetoed would raise the minimum to $12 an hour over two steps.
"If you were a single mother trying to hold two jobs you just can't get by without government assistance," Soucy said.
"I did speak to a lot of business leaders, not just in New Hampshire only, and their number-one concern was actually attracting a work force. I was very disappointed that Governor Sununu vetoed the legislation but I remain committed to the fight," Soucy said.
The state chapter of the National Federation of Independent Business opposes a minimum wage increase and its spokesman said many employers will cut employee hours if lawmakers were to pass it.
Individuals hosted a crowded news conference to push for the paid family and medical leave bill that has been a top priority of Senate Democratic Majority Leader Dan Feltes of Concord, who is a candidate for governor in 2020.
"We value work and we value family. Paid family & medical leave is about valuing the idea that no one should have to choose between work & family when possible. Let's override @GovChrisSununu's veto of paid family and medical leave!" Feltes tweeted.
Sununu has called the plan a back-door income tax, as one of several options to finance it would be an employee wage deduction.
Sununu and Vermont Gov. Rick Scott came up with a voluntary leave program for state employees in both states, but the idea didn't get off the ground in either state.
The Democratic Party planned a conference call Tuesday but instead sent out statements to promote three gun control measures Sununu vetoed that would expand criminal background checks, create a waiting period and create a state-enforced gun-free school zone.
"We have seen too many mass shootings in this country and it is past time to act to ensure New Hampshire's children, teachers and parents are safe at work, school and public events," said State Rep. Katherine Rogers, D-Concord, who sponsored two of the three bills. "The lives of Granite Staters are at stake and the time to act is now."
New Hampshire Firearms Coalition Secretary and former State Rep. J.R. Hoell sent out an email to gun rights supporters.
"We are one of the safest states in the nation, yet those running the 'Concord Swamp' want to adopt public policies that are more similar to that of Chicago," Hoell said. "We all know how well that worked for the citizens out there."