Sports betting is now legal in New Hampshire, and state officials expect it will bring in $10 million for education funding in its first full year.
Flanked by beaming lawmakers and lottery officials, Gov. Chris Sununu signed House Bill 480 into law Friday. And he said he wants to place the first bet when the system is up and running.
That could happen by Christmas, according to Debra Douglas, who chairs the state lottery commission.
The commission will operate the new program, contracting with vendors who will offer sports wagering both through mobile wagering platforms and in retail locations.
This is not your grandfather's betting parlor.
Charlie McIntyre, executive director of the NH Lottery, said "only a handful" of vendors have the expertise to run this kind of operation. "This is not for the faint of heart, in terms of the businesses who engage in this," he said. "They know what they're doing."
Sports betting is a worldwide operation, he said. And the businesses that do this have extensive risk-management, surveillance and security capabilities.
As a former organized crime prosecutor, McInytre said, he knows how prevalent sports betting already is. "Our hope is to just migrate this from the illegal market that exists already," he said.
And officials say sports betting is a different animal than Keno, New Hampshire's newest game of chance, which raked in nearly $27 million in gross sales in the fiscal year that ended June 30.
"It's a very different game and likely a very different clientele," Sununu said. "Which is exciting."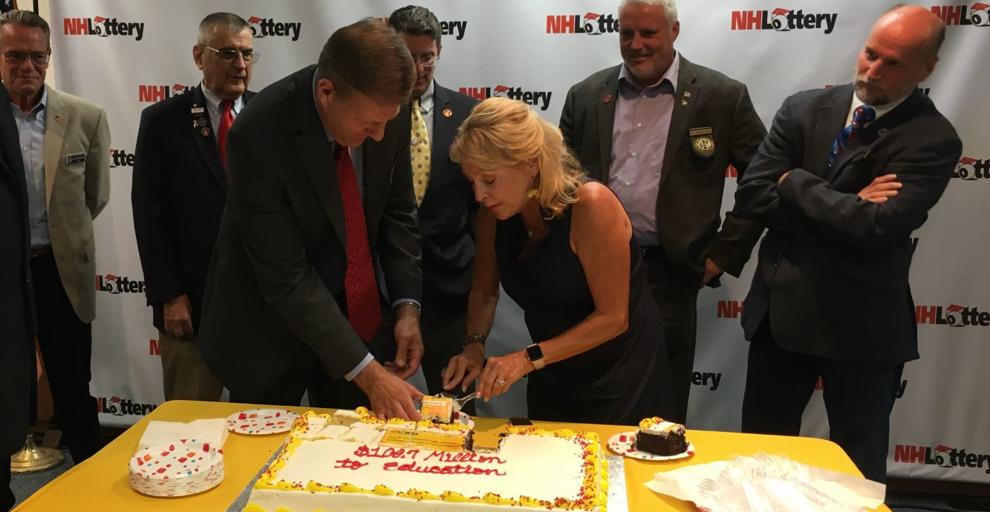 Rep. Timothy Lang, R-Sanbornton, the prime sponsor of House Bill 480, was all smiles Friday at the signing ceremony, held at the NH Lottery headquarters in Concord. "I'm happy that we're bringing an illicit activity into the light," he said.
Lang said his bill contains consumer protections to ensure that "people who make a bet can get their winnings." And he said passing the law is "a huge win" for everyone in New Hampshire.
"Our citizens get new freedoms and new liberties, our businesses get more opportunities to make more revenue, the state gets new opportunities to make more revenue, and probably the biggest win of the whole thing is that the education system gets more money out of this," Lang said.
McIntyre projected that could amount to $10 million in "year two" of the new program.
Sports wagering also could provide economic development opportunities for New Hampshire, he said. "There are companies looking to get into the U.S. market that could move their headquarters to New Hampshire, which is ultimately one of our goals," he said.
A large-scale betting operation "will have 500 employees who do nothing but risk management," he said.
Under the new law, local cities and towns would have to approve any retail betting venue. Sununu said he's heard from several communities eager to open such places.
No more than 10 sports book retail locations, and no more than five mobile sports wagering agents, can be in operation at any given time. The lottery commission plans to create a new division of sports wagering with 10 employees including a division director, two audit managers and two enforcement investigators.
The law, which took effect immediately, prohibits wagering on New Hampshire college teams or any college games taking place here. And players must be 18 or older to place bets.
The law also creates a Council for Responsible Gambling to promote the prevention and treatment of problem gambling. It will consist of five members who are state residents and who are "qualified in the field of addiction or mental health services with a focus on problem gambling."
The council is authorized to enter into grants and contracts, and the lottery commission will provide up to $250,000 a year for such activities.
The new sports betting law comes as the NH Lottery announced a record-breaking year, with more than $384.2 million in total sales in the fiscal year that just ended. That meant more than $100 million for state education funding, a 15% increase over the previous year.
A fiscal note on House Bill 480 estimated the New Hampshire market for sports betting, "based on recent activity in other northeastern states," is $200 million to $300 million in gross sales.