CONCORD — With emotions raw from a weekend of two mass shootings, advocates for gun control packed a news conference here Monday afternoon pleading for Gov. Chris Sununu to allow three reform bills to become law.
Dozens of sign-waving activists then marched over to Sununu's office to deliver their message in person to one of the governor's aides.
Katie Henry is a 2018 graduate of Concord High School.
"Govenor Sununu, I'm asking you directly, right now, to do the bare minimum to protect the students, teachers and citizens of our state," Henry said summarizing the three bills at hand.
"Gun-Free School Zones, thorough background checks and three-day waiting periods interrupt no one's rights and keep everyone safe."
The media event came two hours after President Trump condemned "racism, bigotry and white supremacy" in a televised address to the nation after at least 31 people died from mass shootings in El Paso, Texas and Dayton, Ohio.
Trump also endorsed the concept of tougher federal criminal background check legislation but offered no specifics and suggested it should be tied to his long-desired and politically stalled immigration reform package.
State Rep. Kathi Rogers, D-Concord, authored two of the NH bills and praised Sununu's tweet condemning the violence after the El Paso shooting at a crowded Walmart.
"Will these three bills stop all the violence? No. No one statute will ever stop a person bent on killing," Rogers said.
"But they will move us in a direction toward slowing down an individual with the intent to destroy life, either their own or someone else's."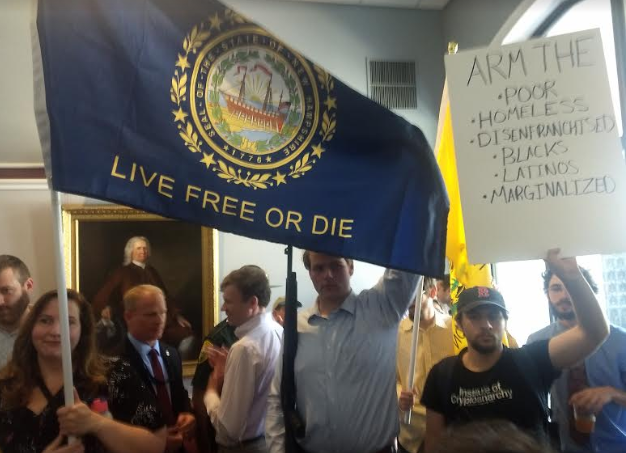 The event turned more combative after some gun control advocates became angry and loudly scolded reporters for interviewing a conservative gun owner advocate, Brennan Robinson of Webster, who carried a 12-gauge shotgun and showed it off in the back of the room.
"I find it abhorrent that every time there is a mass murder these people are here trying to turn it into a political tool to take our rights away," said Robinson stretching out a "Live Free or Die" flag with the New Hampshire seal on it. He stood next to a sign that read "Arm the poor, homeless, disenfranchised, blacks, latinos and marginalized."
"I want everyone to have a gun," Robinson summed up.
Former State Rep. J.R. Hoell, a leader in the New Hampshire Firearms Coalition, said a billionaire Michael Bloomberg-financed gun control group backed the conference, which he described as full of "political opportunists."
'We again need to reach out to the governor to remind him to protect the citizens and veto these anti-gun bills; let his office know that criminals do not obey laws so these changes will only disarm the law-abiding citizens of NH," Hoell said in a statement. "These potential changes would only make it harder for the law-abiding to protect themselves and their families."
Late Monday afternoon, Sununu issued a lengthy statement mourning the loss of life while stressing steps the state has taken under his watch to keep citizens safe.
"Like the entire nation, I was horrified by the senseless acts of hate and violence this past weekend. What we must say unequivocally is that hate, white supremacy, and acts of domestic terror have no place in New Hampshire or anywhere in this country. While we will never know all the things that lead a person to commit acts of evil, we must be mindful that the mental health crisis gripping our state and nation is a significant factor," Sununu said.
"Here in New Hampshire, we have taken multiple steps to address our mental health needs and to build a more welcoming and tolerant state. From the school safety task force, to rebuilding our state's mental health system, including the largest investment of resources in decades, to establishing the Governor's Advisory Council on Diversity and Inclusion, and to establishing the state's first Civil Rights Unit to step up prosecution of hate crimes, we are taking major steps to ensure the safety of our citizens is paramount."
After control of the Legislature went from Republicans to Democrats in November, the new legislative leaders proposed four gun control measures, including one Sununu had already vetoed that would have made it easier for a judge to take away guns from someone accused of abusing "vulnerable adults."
Sununu said he had "Second Amendment concerns" about what he called a "well-intentioned" bill but vetoed it for multiple flaws in other areas.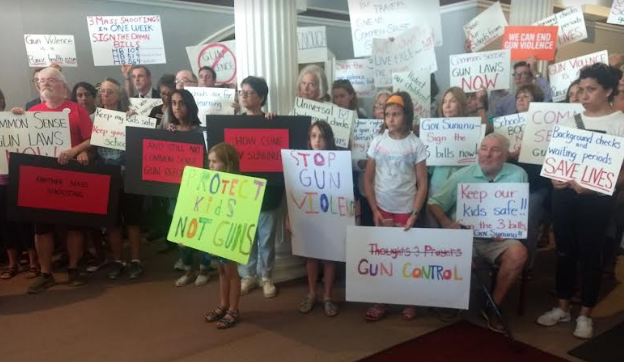 House Speaker Stephen Shurtleff said he has been a hunter for five decades and carried a gun as a Vietnam War veteran and later as a deputy U.S. marshal prior to his retirement.
"So I am certainly not anti-gun but this carnage that is happening across America has got to stop," Shurtleff said in a statement.
"This is not a Democratic issue or a Republican issue. This is a New Hampshire and an American issue and it's going to take all of us working together for the common good to find a solution."
Senate President Donna Soucy, D-Manchester, was the last signature penned to the bills that were sent to Sununu.
"We have the ability, right now, to take action in New Hampshire to help prevent gun violence. Why in the world would we possibly wait any longer?" Soucy asked in a statement.
"I implore Governor Sununu to join the House, the Senate, and the people of New Hampshire in supporting these commonsense gun violence prevention efforts. At the very least, we ask today that he put politics aside and let these bills become law without his signature. Enough is enough."
Advocates from 8 to 80 held signs that read, "3 mass shootings in one week. Sign the damn bills" and "We want to live free and not die from gun violence."
"This is the kind of crowd you get when people care," Rep. Rogers said speaking to Sununu. "It is time for action and you can lead the way."Bow resident Tracy Hahn-Burkett leads a working group on gun violence prevention for the liberal Kent Street Coalition.
"What are we waiting for? Are we waiting until we have our own body count?" Hahn-Burkett asked rhetorically. "To do nothing in the face of this is a lack of leadership."
If Sununu vetoes the bills, supporters will need to change the minds of some Republican lawmakers who earlier opposed them in sufficient numbers to back up the governor.
NHGOP Communications Director Joe Sweeney released the following statement: "Democrats are disgustingly politicizing a tragedy by sending the governor these anti-Second Amendment bills immediately following terrible acts of violence in Texas and Ohio. None of these bills would have prevented those tragedies. But, by purposefully withholding the legislation for months until tragedy struck, Democrats made it clear that they are only here to play politics and they should be ashamed of themselves."
Sweeney said "Sununu is right to veto all anti-Second Amendment legislation, and Granite Staters support him doing so."