CONCORD — Gov. Chris Sununu's credentials as a pro-abortion rights Republican will be more severely tested than ever before if he runs for the U.S. Senate in 2022.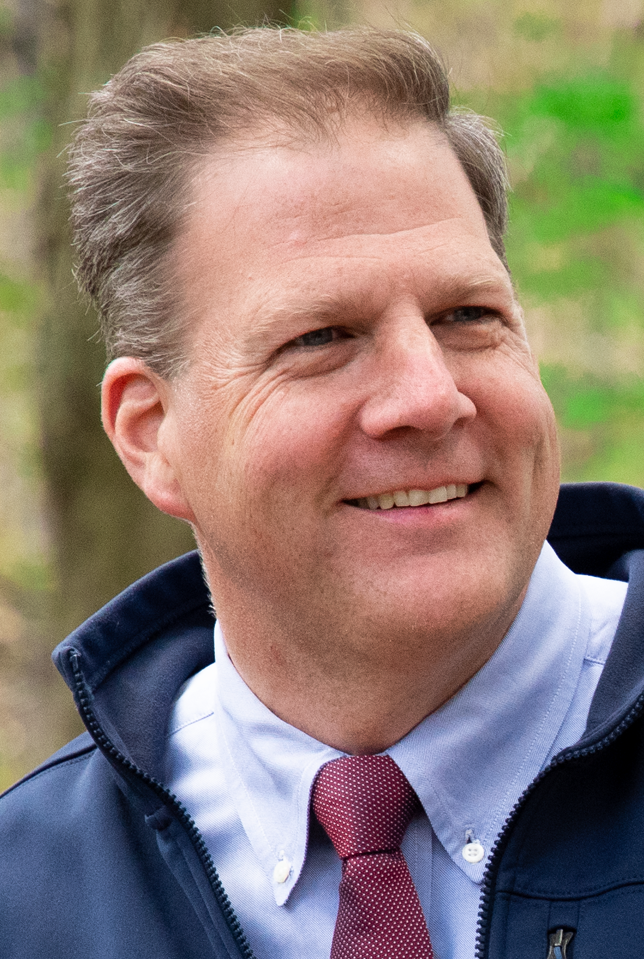 The state's all-Democratic congressional delegation served notice of that reality last week, hosting a virtual news conference at which they tried to brand Sununu as "anti-choice" and "anti-woman."
Seasoned political analysts, however, say it's too early to conclude whether abortion will be an issue that would move moderate voters in a Sununu showdown with Democratic Sen. and ex-Gov. Maggie Hassan 13 months from now.
"There's no guarantee this issue will be front and center when this Senate race would really heat up," said Dante Scala, a political science professor at the University of New Hampshire in Durham.
"Midterm elections are typically a referendum on the president and the party in power, so Maggie Hassan already has enough to worry about, given all the challenges facing the Biden administration right now," Scala said. "Clearly, Democrats are searching for an issue to cut into Sununu's standing in the state, and perhaps this is it.
"As far as I'm concerned, it's worth them spending some money now to find out."
Amplify NH, a liberal special interest group, late last week launched a seven-figure TV and digital advertising buy attacking the abortion ban that Sununu signed into law last June as part of the two-year state budget.
"Health care professionals, patients, and activists have repeatedly called on Governor Sununu to repeal his abortion ban because it is wrong for New Hampshire. We plan to educate every Granite Stater about Governor Sununu's extreme, right-wing agenda that puts politics before women's health care," said Molly Kelly, an Amplify board member and the 2018 Democratic nominee for governor.
Neal Levesque, executive director of the New Hampshire Institute of Politics at Saint Anselm College, said Democratic leaders have been searching for the "magic bullet" that could wound Sununu heading into a Senate run.
"They tried to make him Mitch McConnell's puppet and independent polling showed voters just weren't buying it," Levesque said.
"This frontal assault over abortion is their latest weapon. The fact Gov. Sununu reacted so strongly to the delegation tells you he takes this threat very seriously."
Sununu accused the state's four representatives in Washington of deliberately trying to mislead voters into thinking he's opposed to family planning contracts when he's supported them every year as governor.
"They have tried this against me every single year and just to be a little frank about it, I win and I win big because people know where I stand, they know I am pro-choice, they know I have supported the family planning contracts," Sununu said.
Ban on late-term abortions
The governor also said a super-majority of New Hampshire voters support a ban on late-term abortions he signed, which is similar to ones in more than 40 states.
The degree to which abortion rights becomes a decisive mid-term election issue lies neither with Democratic leaders on Capitol Hill nor with Republican leaders like Sununu.
Instead, it rests largely on whether the U.S. Supreme Court alters the landmark Roe vs. Wade decision of 1973 that legalized abortions before a fetus is viable to live outside the womb.
Last week, U.S. Reps. Annie Kuster and Chris Pappas voted for the Women's Health Protection Act, which would codify in federal law the Roe vs. Wade decision.
Not a single House Republican voted for the bill, which passed, 218-211. All but one House Democrat did.
"Access to women's health care is really on the line now," Pappas said.
The bill likely won't go to a vote in the U.S. Senate, where it would have to overcome a certain filibuster.
"I think that's why I believe this issue runs out of steam by next summer. I can't see the court fundamentally altering Roe," said Greg Moore, state director for the fiscally conservative Americans for Prosperity in New Hampshire.
"Democrats here clearly are getting a lot of traction right now by the court leaving in place the restrictive abortion law in Texas. I still think the court's ultimate action will prove they oversold this as an end to Roe as we know it."
Despite the GOP majority in the Legislature, Moore also said there isn't support in Concord to adopt further abortion restrictions.
"The likelihood of a similar law passing in New Hampshire is infinitesimally small, if not zero," said Moore, a former chief of staff in the New Hampshire House.
"There will be no impact of the ultimate Texas decision on policymaking in New Hampshire."
That said, state Rep. David Testerman, R-Franklin, already has submitted a proposed bill for 2022 to outlaw all abortions in New Hampshire once there is a fetal heartbeat.
Testerman's wife, Karen, ran against Sununu for governor in 2020. She already has announced she'll seek the same office next year.
Tag-teaming Sununu
Scala said he's not surprised the delegation is helping deliver the anti-abortion attack against Sununu for Hassan.
"Jeanne Shaheen is the only one of them not on the ballot in 2022. The political futures of both Congressmen Chris Pappas and Annie Kuster are tied to how well Maggie Hassan does next year," Scala said.
"The more Maggie can stay above the fray and let others lob these bombs for her, the better."
Sununu's answer, however, seemed to say to Pappas and Kuster they could be playing with fire.
In 2020, Sununu got a record number of votes in his blowout win over Dan Feltes, which helped change control of the Legislature and the Executive Council from Democratic to Republican hands.
Last year, Sununu endorsed both Matt Mowers and Steve Negron in their unsuccessful challenges to Pappas and Kuster.
"He really didn't invest much political capital in either race," Moore said. "Maybe that changes based on what we saw last week.
"Keep in mind, Republicans hold all the levers of power right now, so if this governor is so motivated, he could make things for the delegation very uncomfortable."
This partisan agenda, by the way, could start with redrawing the maps that will be used for voters to fill both congressional seats in 2022.
Republican State Chairman Steve Stepanek said one of the party's top goals for the Legislature in the coming months is to create a map that makes it much harder for Pappas to win a third term in 2022.
The Council factor
As for family planning, Sununu has time to convince the GOP-led council eventually to approve contracts for Planned Parenthood and the abortion clinics that operate in Concord and Greenland.
Planned Parenthood of Northern New England's Kayla Montgomery said her group will keep applying pressure.
"It is clear that they either don't understand how the New Hampshire family planning program works or they don't care," Montgomery said of the GOP councilors.
Jason Hennessey with New Hampshire Right to Life urged the council to hold firm.
"We commend the Executive Council for upholding the will of the N.H. Legislature and are saddened that our federal legislators and governor don't seem to be content with the rule of law," Hennessey said.
Scala said Democratic leaders could decide abortion is a good way to start a conversation with college-educated women voters to get enough of them to drop past support for Sununu.
"This really comes down to a question of trust. Can Hassan and Co. get enough women swing voters to decide, 'You know what? I've voted for Chris Sununu before now whether it's abortion, child care or any number of issues. I just don't know if he's still on my side anymore,''' Scala said.
Moore said AFP-NH has been polling this race for months but declined to provide details.
"I will say this: For suburban voters, the No. 1 issue for them in New Hampshire isn't abortion, it's not COVID-19, it's not immigration or even taxes and big government," Moore said.
"It's inflation and their fears their money is going to be able to buy less and less as we head into this next election."