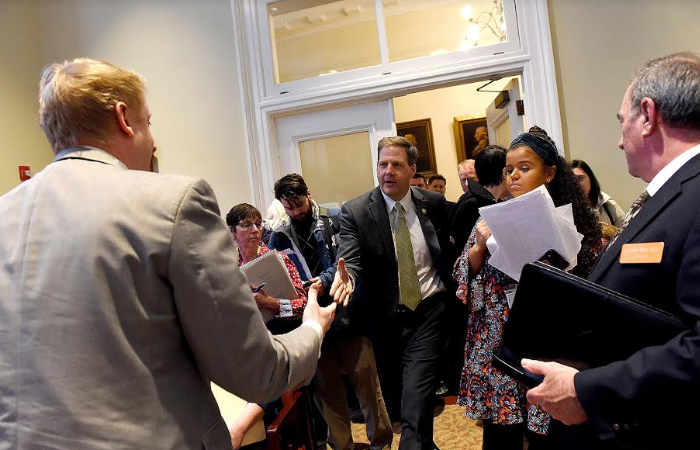 CONCORD — Gov. Chris Sununu joined a potential 2020 election opponent in embracing a wholesale drug importation program that could deliver "safe, reliable and lower-cost drugs" from Canada to New Hampshire consumers.
"Skyrocketing drug prices are harming the health and well-being of Granite State families, especially our seniors who are on fixed incomes and can least afford spikes in costs," said Sununu, a two-term Republican from Newfields.
Senate Majority Leader Dan Feltes, D-Concord, and a 2020 Democratic candidate for governor, said the state has among the highest health care costs, including premiums, copayments and deductibles.
"We also have among the highest prescription drug costs," Feltes told the Senate Commerce Committee on Tuesday.
"All too often, Granite Staters are choosing between their own health care and financial security."
Feltes' bill (SB 685) would take advantage of an obscure federal law that lets the U.S. Health and Human Services secretary approve a state's importation of drugs from Canada.
To qualify for the exception, the drugs must pose no greater risk of harm than the current supply chain and must produce "significant consumer savings."
Sununu said he has spoken to Health and Human Services Secretary Alex Azar.
Vermont, Maine, Colorado and Florida already have passed similar laws, though none is importing Canadian drugs on a large scale.
The governor endorsed two of five other prescription drug reform bills the Senate panel heard Tuesday — one that prevents an insurer from denying a choice of drug for a consumer in the middle of a contract year (SB 690) and another that would require greater price transparency (SB 687).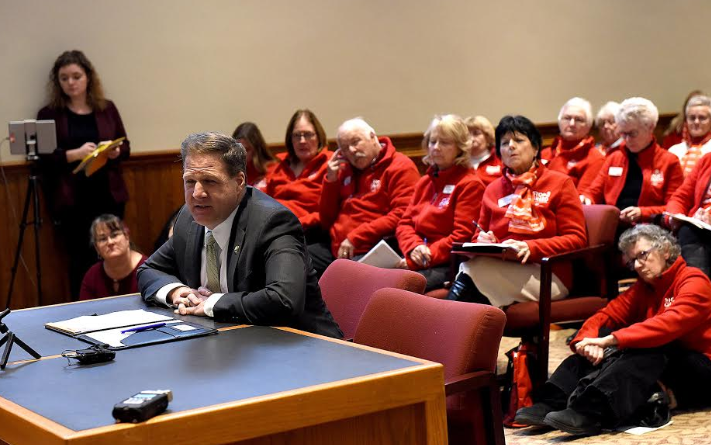 The other three bills heard Tuesday would ban prescription price-gouging (SB 688), outlaw steering a patient to a specific pharmacy (SB 689) and require any rebates paid to pharmacy benefit managers to be passed on to consumers through their health insurance plans (SB 686).
Feltes and Sununu brought the same facts to the table. From 2012 to 2017, drug prices have shot up 60% in New Hampshire. Two years ago, 22% of patients reported they had to stop taking prescribed drugs for a while because of cost.
Leah Stagnone, 23, of Litchfield has dealt her entire life with severe, chronic pain from a genetic connective tissue disorder. Her condition has worsened the past three years, permitting her to work only part-time as an organizer for ABLE NH, an advocacy group for the disabled.
"I live with multiple debilitating conditions and managing those health needs is a financial burden for myself and my family," said Stagnone, whose prescription drug costs often total several hundred dollars a month.
Last year she didn't take a drug prescribed by a specialist because of its $500 a month price tag.
Although President Donald Trump has said he remains hopeful that a safe way to deliver imported drugs to states will be found, Canadian opposition exists.
John Adams, leader of a Canadian drug pricing advocacy group, boarded a bus from Toronto to Concord this week to oppose the bill.
"Even though we are your neighbor, your friend and your ally, most of us don't think kindly of you trying to import medicines that are intended for Canadians," said Adams, chairman of the board of the Best Medicines Coalition, which represents 28 organizations that deliver drugs to millions of Canadians.
Currently, 2,000 of 13,000 medicines in Canada are not available or are in short supply. Adams said state efforts to import drugs would outstrip inventory in his country, which has about one-tenth the population of the United States.
"We could give you all of our medicines. What would happen to us? Patients would suffer and die prematurely, but there would be no benefit for eight of nine of your patients," Adams said.
"Sometimes it takes a good friend to say you are dealing with a bad idea."
Nick Doherty, director of policy for Pharmaceutical Research and Manufacturers of America (PHRMA), said a Vermont study last year found no net savings from importation.
Officials concluded the breaks were less than discounts the state already gets under the Medicaid program, Doherty said.
"It may seem like a viable option to save money, but the state would be responsible for high start-up costs and recurring costs and would be liable for any ongoing litigation," Doherty said.
The federal rule doesn't allow all prescription drugs to be imported. Among those exempted are biologics, which include many of the most popular and costly drugs to treat diabetes, cancer, arthritis and other chronic conditions. Controlled and intravenous drugs also could not be purchased.