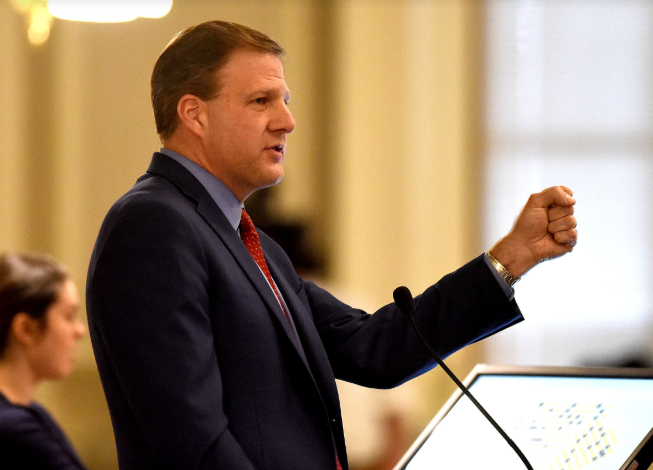 CONCORD — Gov. Chris Sununu called on the Democratically-led Legislature to reach common ground with him on health care, student debt and family leave during his State of the State address Tuesday.
The two-term Republican already has two Democratic candidates opposing his bid for a third term, but Sununu made no mention of the upcoming 2020 campaign or his record 57 vetoes of legislation last year.
Instead, Sununu urged lawmakers to show Washington politicians that results, and not scoring political points, matter most in this state.
"You've heard me say it before. New Hampshire does things differently. We challenge ourselves to find innovative solutions. We don't subscribe to a one-size-fits-all approach and that has allowed our state to be stronger and better than ever before," Sununu said in his 27-minute speech.
The governor's two biggest applause lines were when he praised state election officials for executing a flawless first-in-the-nation primary and when he paid tribute to the seven motorcyclists who died in the Randolph tragedy last June.
Sununu endorsed three bipartisan bills to make prescription drugs more affordable. They would allow the state to import cheaper-priced drugs from Canada, prevent price-gouging and give consumers more transparency about costs.
"Please get them to my desk so we can get these initiatives moving forward and provide some relief to our citizens," Sununu said.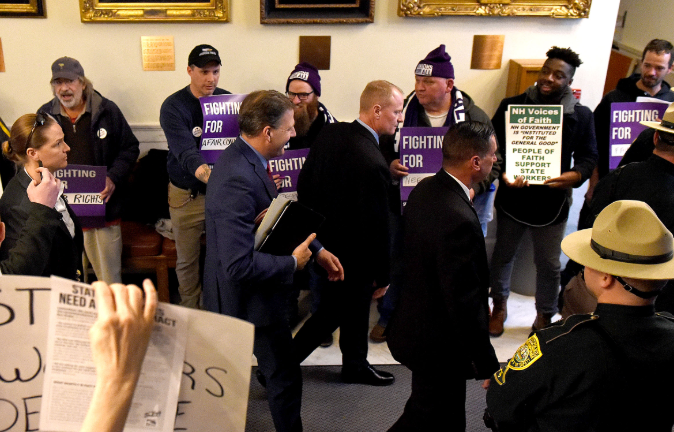 He drew a much harder line on family and medical leave, warning he would continue to oppose a mandated program and instead seek a voluntary model.
"Senator Jeb Bradley's bill which I wholeheartedly support has been vetted by insurance officials and is the only shot of delivering a viable, voluntary paid family leave program that doesn't contain an income tax," Sununu said.
"Let's not miss this opportunity and get it done for the citizens of our state."
Senate Majority Leader Dan Feltes, D-Concord, a 2020 candidate for governor, said he'll keep pushing for the mandate.
And Feltes will keep pushing back on the program, saying it would not be financed by an income tax but could be paid for by increasing employer/employee paycheck withholding.
"We need paid family medical leave insurance for our working families, not just something that's tax giveaways to companies that already provide paid family leave," Feltes said.
State Rep. Allison Nutting-Wong, D-Nashua, said she gave birth to a low-weight baby nine weeks ago and could have used the family leave measure, which offers 12 weeks of paid benefits.
"This has really been rough," she told reporters during a conference call. "The governor called it a vacation; it felt so disrespectful and rude."
Sununu's other Democratic rival, Executive Councilor Andru Volinsky, said the governor offered his "own reality."
Volinsky used the occasion to propose his own proposal to give commuters a bigger discount when they are using turnpike tolls. "Let's give hard-working families a real New Hampshire advantage," Volinsky said.
Senate President Donna Soucy, D-Manchester, praised Sununu's tone but quibbled with some of the details.
"I think there were a few issues where I thought there were omissions or only half the story; it's clearly an election year," Soucy said.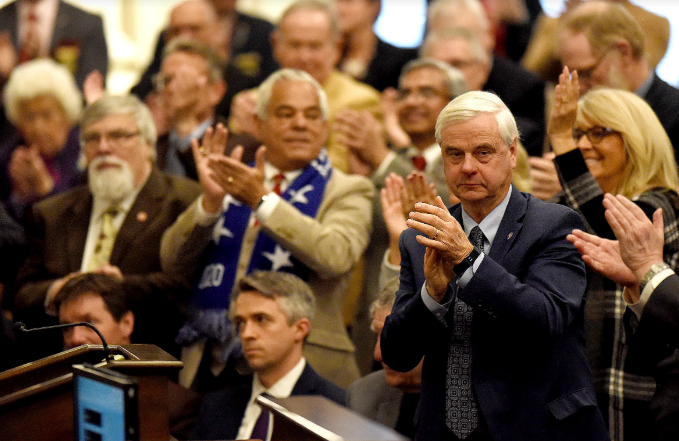 Senate Republican Leader Chuck Morse of Salem said New Hampshire remains the envy of the nation and Sununu is benefiting from that.
"The state has record low unemployment, one of the highest per-capita incomes in the nation and an education system second to none," Morse said.
Sununu named Health and Human Services Commissioner Lori Shibinette to chair a working group to come up with ways to improve the delivery of long-term care to seniors.
"Unfortunately, too often their only choice is to live in a hospital bed for an extended period of time because there are no other options available while they wait for appropriate long-term care," Sununu said.
Lawmakers last year killed his plan to create a fund to help families reduce their college debt, but Sununu said he was hopeful agreement on the topic could be reached.
The governor also embraced a measure to ban discrimination against pregnant women in the workplace.
"No woman should be forced out of a job or denied employment opportunities simply because she is pregnant," Sununu said.
In battling the opioid epidemic, Sununu said his design for expanding treatment of addicts has led to positive change.
"One year after getting up and running, the Doorway is a success. Addiction treatment providers — the spokes in the hub-and-spoke delivery system — they agree the Doorway is working," Sununu said.
"It has ensured that we have a statewide distribution of Narcan and access to Medication-Assisted Treatment, not just in the southern tier but throughout New Hampshire."
Sen. Cindy Rosenwald, D-Nashua, countered that by any objective measure, the program has fallen short.
"The Doorway model has mostly been a failure in New Hampshire's largest cities," Rosenwald said.
"It's clear his Doorway model has not lived up to expectations. Now he's going to have to clean up this mess that he created."
Several groups praised Sununu for coming out strongly against a national campaign to increase gasoline taxes to support more spending on infrastructure.
"It is a relief that the governor said no to the Transportation and Climate Initiative because that cap and trade program could have sent gas prices up by as much as 17 cents a gallon, hurting many small businesses," said Bruce Berke, state director for the National Federation of Independent Business.
"Just imagine how that would have raised costs for the flower or pizza delivery shop, construction companies with heavy equipment, and even home service businesses."