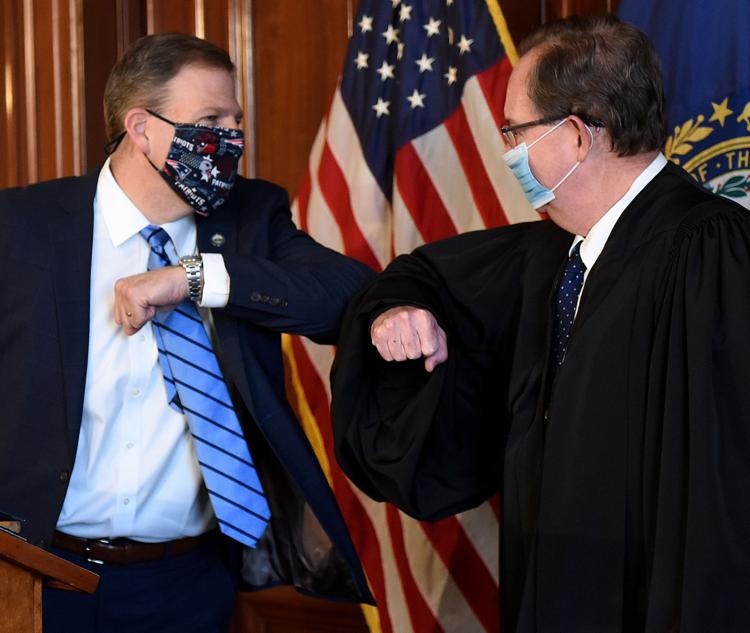 CONCORD — Gov. Chris Sununu gave an upbeat inaugural address Thursday night, celebrating the "neighborliness" of the state's citizens and concluding that the state's "Live Free or Die" motto was about building consensus while peacefully respecting dissent.
The nearly 30-minute speech was almost devoid of policy except for the final two minutes. Sununu then rattled off a laundry list of his priority items — cutting taxes, expanding workforce housing and student debt relief options, "more balanced" education aid, lowering prescription drug costs and a voluntary paid family leave program.
"We are at the precipice of a paradigm shift, we really are ... let's not waste this chance. As we often do, let New Hampshire lead the way," Sununu, 46, said during the speech televised live on WMUR-TV.
Sununu urged citizens not to use the state's motto as license to be intolerant or to feel superior to those with different views.
"Our motto of 'Live Free or Die' comes with the obligation that we will put our politics and prejudices aside and ensure our family and neighbors are supported," Sununu said.
"When our side doesn't win, it doesn't mean there's a conspiracy or the world is out to get us … And we mustn't let COVID or politics rob us of our passion for neighborliness."
New Hampshire has always stood out for having a generous and selfless people, he said.
"Yes, we treasure our Live Free or Die culture, but not at the expense of being a good and responsible neighbor. Even though it is not written on a license plate, the New Hampshire I grew up in always put others first," Sununu said.
Sununu made many religious references in the speech, including his solution for how the nation heals following the insurrection at the Capitol Wednesday.
"When I look at the condition of our nation today and see what happened in our nation's capital yesterday, I know it is going to take the grace of God to bring about the changes I believe we all want," Sununu said.
Sununu paid tribute to health care workers who risked their own health to keep citizens safe.
"Most importantly, I want to thank New Hampshire's Heroes of 2020, the true Citizens of the Year: our frontline health care workers, the nurses and caretakers who never stopped, never slowed down, put themselves at risk and when the chips were down, they kept going," Sununu said.
"They were there for our loved ones when many of us could not be."
And while Sununu mourned the 827 residents lost to COVID-19, he said those souls would want those they left behind to work still harder to bring an end to this pandemic as vaccines become widely available to all New Hampshire adults in the coming months.
"2021 will not be better simply because we wish it to be," Sununu said. "2021 will only be better if we are willing to look in the mirror and first initiate that change within ourselves."
At noontime Thursday, Sununu took the oath of office for a third term in a private, low-key ceremony in the Executive Council chambers at the State House while about 200 protesters without masks loudly condemned Sununu's response to COVID-19.
Supreme Court Justice Gary Hicks, senior of the four on the highest court, administered the oath to Sununu, who then swore in the five members of the Executive Council.
The entire event, streamed online and broadcast live on WMUR-TV, took less than 10 minutes.
"This will go down as the shortest inaugural ceremony in state history," Sununu quipped.
Pastor Michael Worsley of Goffstown Harvest Christian Church touched on the violent scenes in Washington in his prayer kicking off Sununu's ceremony on Thursday.
"As we saw things unfolded yesterday that no one would ever have expected, I believe you would move upon them, impress your wisdom upon them as they lead us," Worsley said during the invocation.
Last week, Sununu canceled plans to have the event outside the State House because of concerns about "armed protesters," who for several weeks have held vigils and protests outside his home.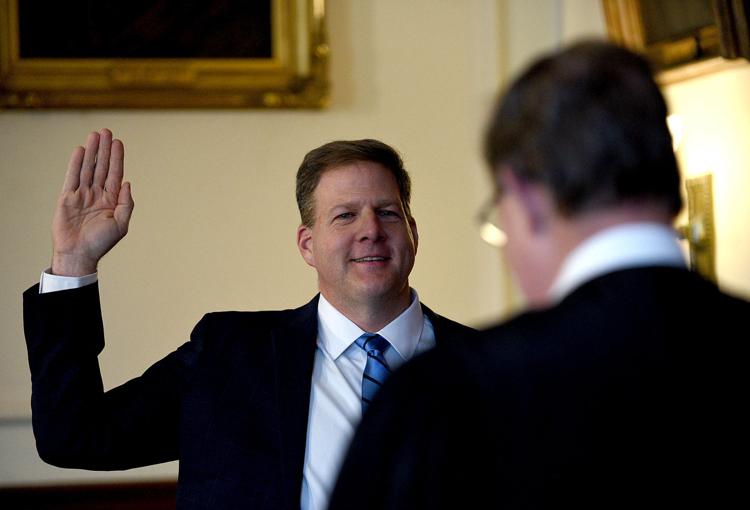 Meanwhile, outside the State House, the self-described leader of the New Hampshire chapter of the right-wing Proud Boys lamented the law enforcement crackdown on Capitol Hill.
"The reason why the left is winning is your fault, your fault, my fault. Over the last 40 years, we have capitulated to them," said the man, who identified himself as "Rob" and refused to give reporters his last name.
"What matters is we lost our country last night … Are you guys done sitting on your sofas?"
Websites have identified Todd Clark, a Cheshire County resident, as the New Hampshire Proud Boys president.
Protesters carried signs reading, "Masks are conditioning you into slavery," "Stop Government Overreach," "Make NH Great Again," "Open the State House now," and "I will not wear someone else's fear."
"We need to keep fighting for our freedoms," said Andrew Manuse, leader of Rebuild NH, the first group formed to oppose the stay-at-home order Sununu issued last March.
Manuse urged protesters to act "peacefully and honorably."
Frank Staples of Manchester, president of Absolute Defiance, one of the groups that protested at Sununu's home, shouted at Manuse to become more confrontational.
"Everyone must pick a side — join or die," Staples said.
Former state Rep. J.R. Hoell organized the rally around the theme that Sununu ignored the state Constitution, which states the governor must be inaugurated before both houses of the Legislature.
"Our main point is that once again there's another part of the Constitution that was violated," Hoell said.