There's seems to be no end to the horrible animal hoarding stories, as the state Legislature struggles to devise a better way of avoiding these situations and dealing with them after they're discovered.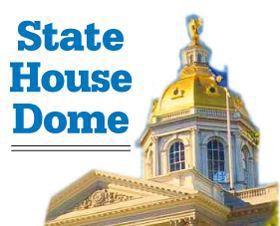 No one knows the litany of cases better than state Sen. Jeb Bradley, R-Wolfeboro, who for the past two years has worked with Rep. Peter Bixby, D-Dover, to find a middle ground among humane organizations who want more regulation, licensed breeders who want less and hobby breeders who worry about getting ensnared in new rules.
In that time, Wolfeboro, Croydon, Berlin, Marlborough, Exeter and Bristol have all faced the prospect of thousands of dollars in unanticipated costs to house, shelter and otherwise care for animals confiscated in high-profile cases of animal abuse or neglect, most involving dogs.
Now you can add Bradford to that list.
More than 100 dogs were seized on June 11 from a Bradford kennel, where local police say the animals were kept in squalid conditions. They were transferred to the care of the Humane Society for Greater Nashua and the Pope Memorial SPCA in Concord.
Bradley has been at work on the problem since the infamous Great Dane confiscation case out of his town of Wolfeboro resulted in animal cruelty charges against breeder Christina Fay, who was convicted by a judge in 2017.
Bradley realized his town could have been stuck with more than $1 million in the cost of caring for and transporting the animals until the case was resolved and they could be placed elsewhere. It was also discovered that Fay came to New Hampshire with her dogs from Maine, which has stricter breeder regulations.
A deal to introduce tougher regulations in New Hampshire fell apart last year when the Senate and House passed competing bills and were unable to reach a compromise.
One of the major sticking points was the opposition of those identifying themselves as hobbyists and not professional breeders who objected to being licensed and subjected to state regulations.
It looked like the effort was headed for a similar outcome this year, when House and Senate versions of an animal cruelty bill could not be reconciled.
Bradley had a bill to tighten up on the definition of breeders and create a Cost of Care Fund for confiscated animals.
The House wanted to finance the Cost of Care Fund by taking 50 cents from every dog license issued by a municipality, combined with 50 percent of the registration fees collected by the state from distributors of commercial animal feed. But like a few other pieces of legislation that looked dead, it miraculously reappeared in the budget bill rider, HB 2, with language that creates a $200,000 Cost of Care Fund. The fund would be financed by annual deposits of $100,000 from the state General Fund.
There is also language in HB 2 that tightens the definition of pet vendor, which now means anyone who transfers more than 50 animals or 10 litters in a year. Pet vendors are subject to state licensing and regulations. Hobby breeders are not.
The new definition of pet vendor in HB 2 is anyone who transfers 25 or more animals in a year. That will subject a much larger group of breeders to state licensing and inspection.
"The Humane Society and other folks wanted 20," said Bradley. "I insisted on a compromise of 25. I think it's a good number that puts us in line with other states in New England and creates an enforceable definition of breeder."
The matter won't be fully resolved, however, until a budget is signed into law, with the animal cruelty language intact. And that's no sure thing.
Signing off
This will be my last column on State House affairs for the New Hampshire Union Leader, as I put -30- on a journalism career that spans four-plus decades.
It's been an honor to cover politics and state government for the past seven years. Having spent much of my career as an editor, first in Portsmouth and then in Nashua, I can say without reservation that being a reporter is a lot more fun.
And for those who may be wondering, I'll quote Wikipedia: "-30- has traditionally been used by journalists in North America to indicate the end of a story."