SPEAKING TO a crowd of enthusiastic supporters at a GOP rally in front of the State House a few weeks ago, Gov. Chris Sununu blasted key parts of the Democrats' agenda in the state Legislature and said his veto pen was at the ready. He's going to need a lot of ink in that pen.
When all is said and done, Sununu could easily beat the record for vetoes since 1997, currently held by former Gov. John Lynch.
Lynch enjoyed Democratic majorities in both House and Senate from 2007 to 2010, but in the Tea Party election of November 2010, Republicans rode a national wave to veto-proof, two-thirds majorities in both chambers.
Over the two-year session of 2011 and 2012, Lynch vetoed 28 bills. Despite sizable majorities for the GOP in both chambers, 14 of those vetoes were sustained, illustrating the power of the veto pen. And that doesn't count the state budget that Lynch allowed to become law without his signature.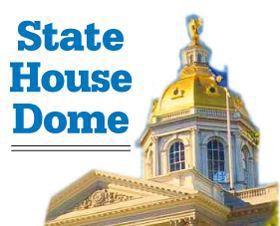 Sununu isn't even facing veto-proof majorities, as Lynch did, and so is more likely to see his vetoes upheld.
Vetoes can definitely be expected on a basket of bills Democrats expect to put on Sununu's desk regarding gun control and election law, as well as renewable energy legislation that Sununu has already vetoed in the past. Add to that death penalty repeal, family medical leave, marijuana legalization and changes to the work requirement for certain Medicaid recipients.
The governor has already warned that the House version of the state budget for 2020-21, now working its way through the Senate, will be vetoed unless the Senate makes substantial changes.
A couple dozen bills have already passed the Legislature, but are sitting on the desk of House Speaker or Senate President awaiting submission to the governor for his consideration. They include SB 1, the Democrats' signature campaign issue and policy initiative for 2019 — paid family medical leave.
That bill was fast-tracked with a speed rarely seen in Concord, clearing the Senate on Feb. 4 and the House on March 20, mostly along party lines. More than a month later, it has yet to resurface.
Betting odds are good that Democrats would like to hit Sununu with an override before he starts to chalk up a series of sustained vetoes, so watch for death penalty repeal, HB 455, to be the first bill Sununu sees. It passed by veto-proof majorities and a successful override looks likely.
After that, the flood-gates could open.
For those keeping score, former Gov. Maggie Hassan, who had to deal with Republican majorities in 2015 and 2016, issued 26 vetoes, all but three upheld.
Former Gov. Jeanne Shaheen appears to have had the most bipartisan success in recent history. Dealing with Republican legislative majorities in 2002 and 2003, she issued 21 vetoes, all of which were upheld.
'Grow your own'
While full legalization of recreational use of marijuana by adults is headed for a certain veto, should it pass the Senate, prospects are better for a bill allowing home cultivation of therapeutic cannabis.
HB 364 passed the House on a voice vote in March and heads for the Senate on Thursday, with a 3-2 "ought-to-pass" recommendation from the Senate Health and Human Services Committee.
The bill allows cultivation of up to three mature cannabis plants, three immature plants and 12 seedlings, out of public view, by patients in the therapeutic cannabis program or an authorized caregiver.
DCYF on 'Laurie List'
Officials at the Division for Children, Youth and Families no doubt took notice of a judge's ruling on Tuesday that names on the "Laurie List" — the secret list of New Hampshire law enforcement officers with credibility problems — are subject to disclosure.
The judge didn't order the names released, and the Attorney General's office appears determined to fight against that, perhaps all the way to the state Supreme Court.
The redacted version of the list available to the public has the names blacked out, but does disclose the agency or department involved. It consists almost entirely of state, county and local law enforcement, with a few corrections officers as well.
But the most recent version of the list, updated on April 11, also cites a DCYF employee involved in the juvenile justice system as having a problem with "truthfulness," in a notification dated March 3, 2019.