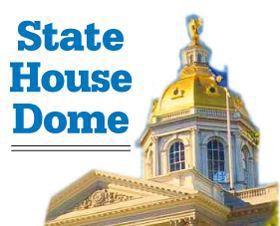 IT'S UNUSUAL to hear the chairman of the House Criminal Justice Committee allude to a ZZ Top song from the early 1980s during committee deliberations, but that's what occurred on Wednesday, as the committee met to vote on a bill to declare gun-free zones on school property across the state.
The bill, HB 564, is now on its way to the House for a second vote. The committee vote, as expected, broke 10-8 along party lines, and there was a good debate on the merits. But not before a half hour was spent discussing whether lawmakers on the committee should be wearing strings of fake pearls.
"Every time I see them, a ZZ Top song goes through my brain," said committee chairman Rep. Renny Cushing, D-Hampton, referring to "Pearl Necklace," a fairly obscure cut from the El Loco album that went to No. 28 on the Billboard Rock chart in 1981.
His remarks came in response to a question from Rep. Daryl Abbas, R-Salem, who wanted a ruling from the chairman on decorum.
The pearls have been handed out at public hearings on gun control legislation for the past two years by members of the Women's Defense League of N.H., in opposition to the bills at issue.
There wasn't much notice given to the fact that some sympathetic lawmakers like Abbas were wearing them at public hearings and voting sessions until the founder of Moms Demand Action for Gun Sense attended a recent hearing on a gun control bill and tweeted criticism of the pearl-wearing lawmakers to her 300,000 followers.
"There has been no ruling on decorum as to what representatives wear or do not wear," said Abbas. "Now that this has been going on for three to four weeks, I would ask some ruling from the chair on that issue."
Cushing did not take the bait.
"I would like to think that all of us give our attention to members of the public and that we are trying to be open to the information they are giving," he said. "I realize though that people can make a decision about what they choose to wear. I'm not going to tell someone they can't wear pearls."
Cushing said he didn't want to "create a dynamic in this committee that further fractures our ability to work together," by issuing such a ruling, and suggested the matter is best taken up by the House as a whole "to figure out how we function and what decorum should be in a given situation."
The discussion that followed illustrated that the situation has already caused the fracture that Cushing alluded to, as Abbas criticized unnamed fellow committee members who have taken to social media to voice their disapproval.
"Airing our disagreements on social media, especially something like this that's got national attention, causes a lot of side issues that my family is now going through," said Abbas.
Republican David Welch of Kingston criticized other members for making comments about him on social media in real time.
"While I was making a statement, there was another member on social media commenting about what I was saying, and not in a very good way," said Welch. "I think it's a discussion we ought to have."
Cushing agreed to schedule a committee meeting this week to discuss decorum.
"Can we do it in a non-public way?" said Welch, "because there will be names if you want to know the truth."
All this tension in the House arises against the backdrop of an increasingly divided Senate, where debate over a Democratic bill to weaken work requirements for expanded Medicaid has ruptured a carefully cultivated consensus over the government-funded health insurance program for low-income households.
"I think more damage is being done with this piece of legislation than most people think is happening in Washington every day," warned Republican minority leader Chuck Morse, R-Salem.
A March 27 analysis by CitizensCount.org, a non-partisan political information website based in Hampton, sheds some light on growing divisions in the state Legislature. They crunched the data on the number of party-line votes in the House and Senate from 1999 to the present.
"We found that based on at least one measure of partisanship, the New Hampshire House of Representatives is getting more partisan, but the New Hampshire Senate is not. The Senate is also less partisan overall."