Looks like the top executives in the New Hampshire Liquor Commission are going to get pay raises of nearly 5 percent, despite a 3-2 vote of the Executive Council in February to hold off on the increases until the fall.
The raises were in front of the council again on Wednesday, and this time they passed in a 3-2 vote, as Democratic Councilor Michael Cryans changed his position and decided to support the raises.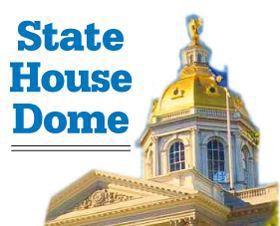 Back in February, Cryans joined fellow Democrats Andru Volinsky and Debora Pignatelli in voting to put the raises on hold, citing concerns over the commission's failure to meet its budgeted revenue targets, implement mail-order sales and install new inventory and sales management software that has been promised for years.
Volinsky also cited strained relations with the state employees who staff the 79 liquor and wine outlets.
After the vote, Cryans said he's learned that NHLC Chairman Joseph W. Mollica has begun meeting with Rich Gulla, president of the state employees' union, which prompted him to support the raises.
"I thought it was important to get the two of them together, so I contacted both of them and asked if they would be willing to get together and talk on a monthly basis," he said. "They had their first meeting and promised me they are going to meet monthly."
Gulla confirmed that the meetings are taking place. "We've been meeting with the Liquor Commission in an effort to work together to resolve issues," he said. "Much remains to be done and we are hopeful to see meaningful progress in our relationship."
Cryans was joined by Republicans Ted Gatsas and Russell Prescott, who never supported withholding the raises in the first place.
The raises will see Mollica's pay go from $118,707 to $124,579; Director of Enforcement and Licensing Mark C. Armaganian's from $103,059 to $108,149; Deputy Commissioner Michael R. Milligan's from $112,255 to $117,805; and Director of Marketing, Merchandising and Warehousing Nicole Brassard-Jordan's from $103,059 to $108,149.
There was no indication on the council agenda for the April 17 meeting that the raises were going to come up for a second vote. The governor controls what comes before the council, and he accepted the late item submitted by email on April 16.
Pressure on Soucy
Death penalty repeal advocates are confident they have the votes to overturn an expected veto of the repeal bill by Gov. Chris Sununu, but aren't taking anything for granted.
John-Michael Dumais, campaign director for the Coalition to Abolish the Death Penalty, says members of law enforcement and others who want to keep capital punishment on the books aren't going quietly into the night.
"We have continued to hear that some senators have been coming under fire for their vote on the death penalty. We believe this is a coordinated attack, not just a few random constituents," wrote Dumais in an email urging repeal opponents reach out to their senators as well.
"In particular, Senate President Donna Soucy has been under constant pressure from police groups and other constituents, not just this year but for several years running," according to Dumais. "It's no overstatement to say that support in the Senate would not be as strong without her leadership."
Soucy is one of three senators representing Manchester, where police officer Michael Briggs was murdered in 2006 by Michael Addison, New Hampshire's only convict on death row.
Opponents of repeal have warned that Addison will never be executed if capital punishment is banned in New Hampshire, even though repeal advocates claim the repeal won't be applied retroactively.
Manchester Sen. Kevin Cavanaugh voted against repeal. The dean of the Senate, Manchester's Lou D'Allesandro, has voted against repeal in the past, although he was absent for the vote on April 11.
Soucy has stood alone as a Manchester senator favoring repeal.
The Senate president says her recent vote for repeal should not have surprised anyone, as she has been consistent on the issue throughout her career. Nor was there any pressure on senators from party leadership to vote one way or the other.
"This has really been an issue of conscience," she said. "And one that does not break along party lines."