Gov. Chris Sununu has generally been sympathetic to legislation addressing civil rights of the LGBTQ community, and has taken some flak from social conservatives as a result.
Last year he signed into law two controversial bills, one adding transgender rights to the state's anti-discrimination statutes and another banning gay conversion therapy for minors, saying at the time, "Discrimination in any form is unacceptable and runs contrary to New Hampshire's Live Free or Die spirit."
Sununu came under fire from social conservative groups like Cornerstone Action, which criticized the governor for "failing to stand by Christian principles."
The governor's capacity to stray from the more conservative wing of his party and tolerate the backlash will be tested once again, as two controversial bills related to gender identity are headed for his desk.
The Senate on Wednesday passed HB 669 and HB 446 on voice votes. HB 669 makes it easier to change gender identity information on a state-issued driver's license or non-driver ID, while HB 446 makes it easier to alter birth records without a court order or showing proof of sex change surgery.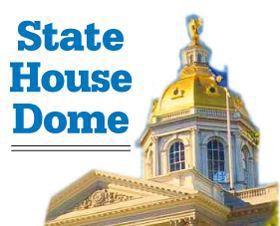 "This change recognizes what the medical community already knows is true — that being transgender or gender non-binary does not require a surgical change of sex," said Democratic House Majority Leader Doug Ley, D-Jaffrey. "These bills work in conjunction to assure accurate designation and representation for all Granite Staters."
Also headed to Sununu's desk is a bill prohibiting any discrimination in public schools, SB 263, despite warnings from opponents about transgender students born as males participating in female sports.
The 214-143 vote to pass SB 263 was largely along party lines, with only two Republicans voting for the bill. It passed the Senate, 20-3, on March 28.
The bill is now before the House Judiciary Committee, where Sununu said he hopes some of the unanticipated consequences can be addressed.
"We'll take a look at the final bill, but on the whole I'm hopeful they can work some of those issues out and get it to my desk in a positive way," he said.
Lessons learned
The Senate voted 24-0 on Wednesday to pass HB 280, designating the red-tailed hawk as the state raptor and bringing to a close a sorry chapter in state legislative history. The House has already passed the bill and there's no doubt it will be signed into law.
Students from the Lincoln Akerman School in Hampton Falls tried to have the bill passed four years ago when they were in the 4th grade, and got caught in a culture war crossfire as the debate turned to abortion and other matters having nothing to do with the red-tailed hawk.
"The bill did not pass four years ago, as it was hijacked by unrelated political debates in an embarrassing moment for the New Hampshire Legislature," said Rep. Renny Cushing, D-Hampton, co-sponsor of the legislation. "We have an opportunity to right the wrong of 2015. It is time to let the red-tailed hawk live free and fly!"
Happy ending
Another lengthy legislative effort will come to a happy ending on Monday as Sununu hosts a ceremonial signing for HB 406, a bill that expands the authority of the state Department of Labor to investigate workplace accidents that kill or seriously injure employees, who don't enjoy the OSHA protections that exist in the private sector.
Samantha Wooten is expected to be on hand for the event. She's been trying for three years to change state labor laws after her father, Tom Wooten of Belmont, was killed in an industrial accident while working for the Northfield Highway Department.
Wooten tried unsuccessfully with the help of former Manchester Rep. Mark MacKenzie to have similar legislation passed in 2017.
Army partnership
Sununu last week joined Under Secretary of the Army Ryan D. McCarthy in signing a memorandum of agreement to join The Partnership for Youth Success (PaYS) program, a partnership between the Army and a cross section of private industry, academia and state and local public institutes.
The program guarantees soldiers a job interview leading to possible employment after their service in the Army.