The House has no voting sessions scheduled this week, which is probably a good thing, since a cooling-off period is definitely in order.
In this age of hyper-partisanship, acrimonious debate is hardly big news, but things really went off the rails during a marathon two-day session that saw lawmakers plow through 158 bills.
One representative shouted "coward" to another who had declined to take a question after speaking on behalf of a bill.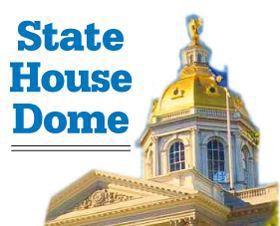 Another was overheard telling a fellow representative, "go back to Massachusetts with the rest of the communists."
A veteran member had his patriotism questioned and was called an "embarrassment to the military."
As my colleague, Kevin Landrigan, reported Wednesday night, House Majority Leader Douglas Ley, D-Jaffrey, urged his colleagues to be more respectful of each other as lawmakers were preparing to adjourn.
Ley, a seven-year House veteran, didn't mention anyone by name and stressed that he was addressing both parties. "I am not here to chastise any particular caucus," he said. "Neither caucus, if you take the long view, has been blameless."
Representatives don't get to make speeches on whatever topic they choose from the well of the House, except by unanimous consent at the end of a session.
It was clear that Ley's speech was generating tension, but chaos broke out when he said legislators should think twice about "wearing paraphernalia" at committee meetings or House sessions. "Don't wear the buttons, don't wear the beads," he said.
Several Republican lawmakers stood up to withdraw their consent for Ley to speak, and many left the room in protest. At one point, the Sergeant at Arms staff appeared poised to intervene if necessary.
The representatives who remained voted, 210-54, to permit Ley to finish giving his remarks.
House Republican Leader Richard Hinch of Merrimack was livid.
"He should stick to dealing with his own fractured caucus and leave Republican affairs to Republican leadership," he said.
"If he has concerns about the behavior of some individuals there are more professional ways to go about resolving them. The speaker should have never let his majority leader take this unprofessional and disrespectful route."
On Thursday, Hinch upped the ante and said Ley should resign.
"His divisive comments showed that he is more interested in fanning the flames of discontent in the House, than resolving concerns in a professional and respectful manner," Hinch said in a statement.
"In my four years as a member of the majority leadership team, we would have never resorted to making a public spectacle of this sort on the House floor. We always extended courtesy to our friends in the minority to work out our differences with dignity and honor rather than impugn our colleagues' motives before the House."
He called Ley's speech "condescending."
For his part, Ley makes no apologies, nor is he planning to resign.
"I may be Democratic majority leader, but I'm also a member of the House and in this case I just felt it was necessary for something to be said," he said in an interview on Thursday.
Ley said the first three months of the 2019 session have seen a growing lack of civility and deterioration of decorum.
Democratic members wearing buttons in support of their causes at public hearings or in the well of the House is just as bad as Republicans who wear beads in support of the Second Amendment or yellow scarves for school choice, he said.
"It runs both ways, and you can't have it both ways," he said. "If you don't want representatives to indicate in a hearing, where they are supposed to be impartial, that they are predisposed to one side or the other, that means you have to follow suit as well."
"We have people who are calling into question someone's patriotism, someone's standing," said Ley. "There is no place for that if you are going to try to maintain an atmosphere that is different from the highly politicized and highly partisan atmosphere in Washington."
The irony in all this is that just before Ley took to the podium, Speaker Steve Shurtleff commended him and Hinch for their bipartisan leadership in what most people thought was going to be the last word on a tough two days.