When lawmakers override a gubernatorial veto, they expect the bill to become law, unless overturned by the courts.
But that's not what happened last year, when the Senate and House mustered the two-thirds required to negate Gov. Chris Sununu's veto of a renewable energy bill designed to subsidize the state's six wood-burning power plants.
After the override in September, the state's largest electric utility, Eversource, was supposed to negotiate contracts with the wood-fired power plants to purchase their energy at above-market prices.
More than six months later, no such contracts have been signed. Four of the plants have already suspended operations, with the two others likely to follow.
So it should come as no surprise that a coalition of Democratic and Republican senators on Friday announced new legislation to overcome legal challenges to the law now before the Federal Energy Regulatory Commission (FERC).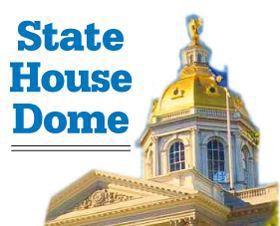 "The biomass industry is at a crisis point, and these legal challenges are undermining jobs in the forest products industry and reliability in New Hampshire's generation mix," says Sen. Jeb Bradley, R-Wolfeboro, prime sponsor of SB 365.
A group calling itself the New England Ratepayers Association last fall filed a petition with FERC, claiming the state was usurping FERC's sole authority to set wholesale energy prices by ordering utilities to make wholesale purchases at above market rates.
NERA is the same organization that has lobbied for Northern Pass and new gas pipelines.
With that legal action pending, Eversource and the six power plants were unable to come to a power purchase agreement, and the Public Utilities Commission refused to order the utility to do so.
"These delays prevent the plants from operating under the law's benefits and, instead, force the plants into economic shutdown," says Bradley.
Not content to sit by and watch their will thwarted by a skillfully conceived regulatory challenge, Bradley and three of his peers on the Senate Energy and Natural Resources Committee on Tuesday will formally submit an amendment to a House energy bill.
Bradley says the amendment will "support the enacted state policy to protect the biomass industry rather than continuing to wait for resolution in a legal fight waged by the law's opponents."
The amendment aims to neutralize the NERA argument about wholesale rate-setting by using the state's renewable-fuels portfolio law.
Passed with near unanimous support in the House and Senate in 2007, the law requires all electric service providers to purchase a certain percentage of their electricity from in-state, renewable-energy sources, including wood-fired or small-scale hydroelectric plants.
A service provider has to prove it purchased the requisite amount of renewable energy by buying renewable energy credits from the eligible suppliers. If the utility can't find enough renewable energy to meet the requirements, it makes "alternative compliance payments" that go into a Renewable Energy Fund.
All of this forces energy suppliers to buy a small portion of their electricity at higher than market rates, or pay penalties, in the interest of fostering a renewable energy industry that might not otherwise evolve, and to reduce carbon emissions.
The amendment coming on Tuesday will expand available credits to include the baseload energy generated by the six biomass power plants.
The Senate Energy and Natural Resources Committee will hold a hearing on the amendment on Tuesday and a full vote is anticipated by the middle of May.
"Biomass is an important tool for managing our forests that we cannot lose," says Sen. David Watters, D-Dover.