DURING A LONG legislative session with a narrow Republican majority, House Speaker Sherman Packard, R-Londonderry, might at some point need some Democratic votes to achieve a majority on an issue.
Has Packard burned that bridge during the first week of this 2022 meeting?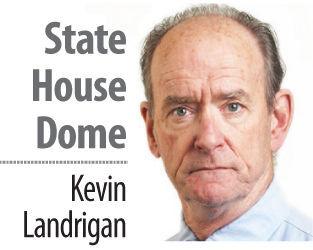 That's the question following his startling announcement Thursday he would use parliamentary power to single-handedly block legislation (HB 622) to eliminate the requirement that women seeking abortions must first get an ultrasound.
The prime architect of that bill, state Rep. Marjorie Smith, D-Durham, said she learned only minutes before the debate began that Packard decided he would rule that repealing the ultrasound mandate was a "non-germane" amendment made to a different anti-abortion bill.
The ruling meant that even to take the bill up, the House needed a two-thirds supermajority vote to overcome Packard's decision.
This power rests solely with any House speaker or Senate president and every year legislative leaders use it.
What angered House Democrats was that the House Judiciary Committee took this action in mid-November.
So they wasted more than seven weeks lobbying their colleagues to vote for the measure, only to learn that for now at least, it's a goner.
Gov. Chris Sununu already has said he would sign a repeal of the ultrasound mandate.
"I can't quite get my mind around the careful procedure that you and the (House) clerk have used so well in the past, and I am distressed about it," Smith told Packard.
The House leader said he only made the decision about a week ago.
"I had 200 bills that were retained and unfortunately I did not get to that bill right away when it came over," Packard said.
The move only postpones an inevitable debate on this issue in the coming months.
Abortion rights advocates already have proposed new bills to eliminate the 24-week abortion ban containing the ultrasound mandate.
There is no doubt they will move for an up-or-down vote on the ultrasound issue in the House later this year.
Democrats save Sununu
Sununu would have suffered his first veto defeat last week but for a few House Democrats who bailed him out.
The fight was over whether to let for-profit companies operate treatment centers that dispense medical marijuana (SB 38). Currently the business is limited to nonprofit owners.
Sununu opposes legalizing recreational use but said part of the reason he vetoed this bill was how it could lead to a retail market in the future.
"This bill would create pre-ordained for-profit monopolies in New Hampshire's medical marijuana marketplace, with no opportunity for other entities to compete or otherwise enter into the marketplace," Sununu wrote.
"In a circumstance where recreational marijuana became legal in New Hampshire, these monopolies would be well situated to dominate..."
Not all three current sellers of medical marijuana were on board with the bill.
Sanctuary ATC and Temescal Wellnesss supported the bill, but the third vendor, Prime ATC, was "neutral."
"We are happy to continue operating on a not-for-profit basis at this time," said Matt Simon, a spokesman for Prime ATC.
The Senate overwhelmingly overrode Sununu's veto, 19-5, with Senate President Chuck Morse, R-Salem, and four GOP senators his only supporters.
It looked dicey in the House when the Commerce Committee voted, 11-9, to support an override.
But Commerce Committee Chairman John Hunt, R-Peterborough, took to the House floor and urged the House to sustain Sununu's veto.
Here's where the Democrats came in.
The House vote to override was 228-115. Republicans were split, with 111 backing Sununu's veto and 72 supporting the bill.
The upper echelon of Packard's leadership team backed Sununu, but a few committee chairs voted to override.
House Democrats went against Sununu, 155-4, and the only independent, Rep. Ellen Read of Newmarket, also voted to override.
The four Democrats who backed the veto were Reps. Richard Abel, D-West Lebanon, Michael Cahill, D-Newmarket, Sallie Fellows, D-Holderness and Patricia Klee, D-Nashua.
Had one of the four Democrats voted differently, Sununu would have lost, 229-114.
House leader: Behave
While Speaker Packard praised the House membership for completing its work during two days of marathon sessions, he continued to call for members to behave better.
"I do want to take a moment to remind members about decorum on the House floor. Please, at all times, regardless of our differences, be respectful of each other and of our staff," Packard said.
"Further, I remind members that you should not be writing or saying anything in a public venue that you would not be proud to read from the well of the House, especially if you choose to use your legislative title. We must never forget that one of our primary responsibilities as state representatives is to maintain the integrity and dignity of the New Hampshire House."
Things got testy Thursday when state Rep. Bill Marsh, D-Wolfeboro, asked Packard about a rumor that an unidentified House member had admitted to testing positive for the virus and still showed up for the session at the DoubleTree Hotel in Manchester.
"I have reason to believe there is at least one person in this chamber who is present and is positive," said Marsh, a retired physician who changed from Republican to Democrat in part over the vaccine mandate issue last summer.
"I have no evidence," Packard responded. "If you have tested positive, get out now and you shouldn't be here."
A short time earlier, Rep. Sherry Frost, D-Dover, shared on her Twitter feed:
"Overheard in the ladies'; one R woman chastising another for wearing a mask "I should; I took the test and it came up positive." So we have at least one self-professed, active infection in the @NHHouseofReps #NHPolitics."
Gardner drops the mic
With nearly five decades of memorable stories and experiences, departing Secretary of State Bill Gardner decided to make his retirement speech more about those around him than himself.
No doubt Gardner, 73, will have many occasions to wax about the first-in-the-nation primary fight or the many legislative battles over election law reforms.
But the font of all New Hampshire election knowledge and political lore for half a century started by thanking his most senior, dedicated veteran staffers for their years of service.
"I am proud of the incredible staff I have worked with over the years; they are the unsung heroes of many important functions of the state — archives, vital records, corporate and securities, service to the Executive Council and of course, elections," Gardner said.
"They love New Hampshire and have shown dedication and commitment to the people of our state."
A quartet has always made Gardner look competent and prepared:
• Senior Deputy Secretary of State Bob Ambrose of Meredith (50 years) served with Gardner in the House before joining Gardner as his top lieutenant.
• Senior Assistant Secretary of State Karen Ladd (48 years) was in the office when Gardner took over in 1976. Although "retired" from full-time service, she remains the ubiquitous secretary to the Executive Council and the person who has always known where to find a lost document Gardner was looking for.
• Assistant Secretary of State Paula Penney (37 years) has managed to keep the business functions of this office running smoothly even as over the decades it acquired new task, including the regulations of securities and municipal insurance plans.
• Deputy Secretary of State David Scanlan (36 years) of Bow was for 16 years a House Republican member from Sanbornton. He rose up the ranks of GOP leadership before Gardner tapped him as the full-time No. 2 in 2002 when Ambrose went to "senior" (non-full time) status.
The timing of Gardner's decision makes it even more likely Scanlan will become his permanent replacement when the Legislature elects a new Secretary of State after the 2022 election.
If Democrats pull off a stunning flip of both houses of the Legislature this November, then a Democratic alternative to Scanlan would emerge.
Through 23 elections, Gardner demonstrated an uncanny ability to survive regardless of which party was in charge.
Over the past two decades, Scanlan has built some strong relationships with city and town election officials across the state, which will make him a favorite to succeed Gardner.
Still battling for power
The 2021 session drew to a close last summer with approval of a compromise state budget that settled a fight between Sununu and social conservatives about how much power governors should have in future states of emergency.
Among the changes made in the state budget trailer bill (HB 2) was one to require governors to come back to the Legislature 90 days after declaring a state of emergency with a message to the Legislature on continuing it.
In response, lawmakers could end that emergency by majority vote of the House and Senate.
Last week the House returned to the matter.
The House voted, 190-165, for a bill (HB 275) that would limit a state of emergency to 84 days or less and require a vote of the Legislature to continue it.
Rep. Tony Lekas, R-Hudson, said this wasn't about how Sununu managed COVID-19, but the principle of the matter.
"We need to consider that a future governor may not deal with this in an appropriate matter," Lekas said.
On Friday, Sununu didn't sound eager to engage again.
"None of the provisions I have seen or restrictions on emergency orders are something I would support right now," Sununu said.