Gov. Chris Sununu has begun to yield the veto pen with gusto — perhaps a bit too much gusto for Democratic leaders in the House and Senate.
Senate President Donna Soucy, D-Manchester, and House Speaker Steve Shurtleff, D-Penacook, delivered a letter to the governor on Friday asking that he stop writing all over the formal signature page that accompanies bills to his desk.
The page has space for five signatures, with the last being the governor's. It has been customary for the governor to write "Veto" on the line for his signature and attach a veto message if that's his decision.
On his first big vetoes of the year — death penalty repeal and paid family leave — Sununu decided to literally add a little color. On the signature page for the death penalty veto, HB 455, and the family leave bill, SB 1, Sununu used a bright red marker to write VETO, before signing and dating it.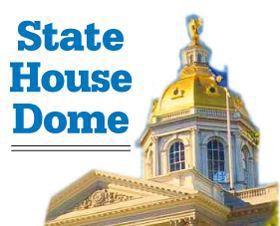 He then added some commentary using the same red marker on each signature page. On the death penalty signature page, he wrote: "God Bless Officer Briggs and His Family," a reference to the slain Manchester officer whose murderer awaits execution on New Hampshire's death row.
That might have been left alone, if not for the fact that the signature page for the family leave bill was marked up in a similar fashion, with the red-ink VETO in inch-high letters, above a three-line notation: "No Income Tax. Not Now! Not Ever!"
According to legislative leaders, the governor's commentary is occupying space on the form needed for official use.
"While we are disheartened with your decision to veto the paid family and medical leave bill this week, we write today to express our deep disappointment with your decision to once again spoil a bill's signature page with your personal veto statement. It is improper and below the dignity of the State House and its officers," the letter states.
The signature sheet is returned to the clerk of the House or Senate, depending on where the bill originated.
"Your message on each of these signature sheets will impede these constitutional officers from executing their responsibilities. … In accordance with past precedent and practicality, any message a governor wishes to convey on the actions taken on a bill should be reserved for the official veto message, not the official signature page."
Hopefully, the matter can be resolved soon because there are many vetoes that lie ahead. One Republican lawmaker was overheard in the cloakroom saying as many as 60 bills could be vetoed this year.
Some bills signed
The governor has signed 17 fairly uncontroversial bills into law, including:
HB 372, requiring that motorists give a wide berth to all vehicles displaying blue, red or amber emergency lights, not just stationary vehicles;
HB 248, allowing a driver to make a right turn even if a pedestrian signal is flashing as long as the driver gives the right of way to a pedestrian who might be there; and,
HB 307, removing the requirement that drivers' license photographs be in color.
License bill
One of the most controversial bills of the session will be up for a vote in the Senate on Thursday, HB 397, "relative to drivers' licenses for New Hampshire residents who do not possess a Social Security card."
This is likely to be the end of the road for this one, even though it passed the House, 204-137.
The bill will come to the Senate floor with a 4-0 committee vote recommending it be shelved, at least for this year.
The DMV strongly opposed the bill, warning it would set the stage for identity fraud. The ACLU recommended it be re-referred to committee to address privacy concerns.
Smart petition
The Executive Council is expected to decide this week if it will hold a hearing for Pamela Smart, who is seeking clemency in connection with one of New Hampshire's most sensational murder cases.
Smart was convicted by a Rockingham County jury in 1991 of accomplice to first-degree murder, conspiracy to commit murder and tampering with a witness in connection with the shooting death of Gregory Smart, her 24-year-old husband of less than a year.
The vote before the five-member council on Wednesday will be to decide if she should get a chance to make her case for a sentence commutation, which would allow her to some day apply for parole.