AT LAST WEEK'S END, Gov. Chris Sununu said the state is striking the right balance in its response to COVID-19, restricting transmission of the virus while providing essential services and trying to limit damage to the economy.
"This continues to be an incredibly, rapidly evolving situation which makes a lot of our decisions very tough," Sununu said at his last public briefing on the crisis Thursday afternoon.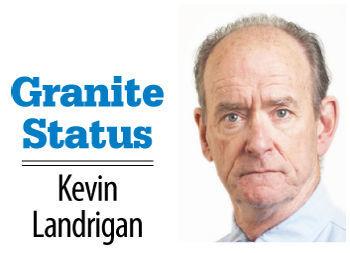 New Hampshire officials have taken several strong steps, including the closure of schools in favor of remote learning, bans on gatherings of more than 50 people, and elimination of dining-in at eating and drinking establishments.
Sununu said the limited number of COVID-19 cases here and the lack of many serious illnesses explains why the state has not taken more restrictive steps. Late last week California Gov. Gavin Newsom ordered a lockdown of the state's residents except for essential trips for supplies.
Last Friday, state Sen. Jon Morgan, D-Brentwood, said New Hampshire should follow suit.
".@GovChrisSununu NH must shelter in place NOW. Spoken with a significant number of hospitals, healthcare and first responder pros. This is not an alarmist statement," Morgan tweeted. "This is REALITY. As a result of our minimal capacity to test, we are literally flying blind. #nhpolitics."
During an appearance on a Concord radio show Friday, Sununu said he wouldn't criticize any other governor for their actions, but New Hampshire is not to the point where a lockdown is necessary.
"I think sheltering in place is a very dramatic response. We aren't there yet. That's not even being contemplated by us at this point," Sununu said on WTPL-FM.
The governor said he would take that step only as a last resort.
"The problem is once you shelter in place, what is left for you to do to make you safer, and once it starts how long does it last?"
Regarding retail stores, Republican Maryland Gov. Larry Hogan last week ordered the closure of all shopping malls.
Sununu has said that some large, national retail chains have announced their own closures, and he's confident individual business owners in the state are making "smart calls" on their own businesses.
Pennsylvania Gov. Tom Wolf, a two-term Democrat, announced the most sweeping shutdown of businesses last week.
His order affected 150 different types. The move attracted stinging criticism from the majority Republicans in his Legislature and strong concern from some business leaders.
"I had hoped for voluntary compliance so our public safety officials could focus on assisting with the crisis," Wolf said. "Unfortunately we have not seen full compliance. We have no time to lose."
Pennsylvania was one of the first states to close its liquor stores, though beer distributors in the state remain open, and beer and wine can be ordered and can be delivered by bars and restaurants.
Executive Councilor Andru Volinsky, D-Concord and a Democratic candidate for governor, said New Hampshire liquor stores should be closed.
"State-owned liquor stores are not safe for employees or people concerned about community spread of coronavirus," Volinsky said.
"New Hampshire's liquor profit motives should not be a vector to spread coronavirus, especially given the number of out-of-state cash buyers New Hampshire attracts," Volinsky said. "Gov. Sununu should order liquor stores to be temporarily shut down. This is a time for leadership, and we should all be modeling behavior that shows we value the health and safety of our neighbors."
State officials report liquor sales remain strong.
The governor has said key factors in deciding to keep businesses open are whether employees are safe and whether many people are crowding into a store at one time.
In the past week, governors in neighboring Massachusetts and Vermont have moved to close most private day care centers, leaving enough open to serve first responders and health care workers who can't do their jobs from home.
Sununu said business owners and parents have urged him not to do this.
"Our day care and child centers are vital to allowing as much of our work force to be able to do their jobs, especially those who are on the front lines fighting this virus," Sununu said.
"We have had a lot of parents and folks in the workforce say, 'Please keep them open, because if they aren't, it's going to hold people back.'"
Sununu noted that unlike schools, most day care centers are small operations. He said owners are heeding guidance to segregate their clients into still-smaller groups on site.
"They are manageable in size, and that's key," Sununu said.
Senate Majority Leader Dan Feltes, D-Concord and a Democratic rival for governor, urged Sununu to use some of the $5 million the state is receiving in federal assistance to increase the reimbursement rate to day care centers so more can remain open.
"We must ensure that child care centers that are able to safely stay open can afford to do so," Feltes said. "That's critical for our child care workers, our overall workforce, our economy, our public health, and, most importantly, our kids."
Volinsky said Sununu should have ordered the closure of large child care centers.
"Our response should focus on providing day care for the children of first responders and health care workers, while sending most other children home," Volinsky said.
"There will be difficulties, but this is where our priorities should lie to limit the rate of further infections."
Dr. Benjamin Chan, the state epidemiologist, said many who want a COVID-19 test have been unable to get one, though the testing rate here is greater than the national average.
Statistician Nate Silver reported New Hampshire was one of only 10 states that had test results from at least .4 per 10,000 residents, a group that included Vermont and Maine.
An assessment of the state's health care landscape last week by the Kaiser Family Foundation contained several findings:
— At-risk adults: New Hampshire had the eighth-highest percentage of adults over 60 who medical authorities say are at a greater risk of getting sick from the coronavirus;
— Younger with complications: New Hampshire ranked 14th-highest in this category, with 18% of its under-60 citizens affected by medical conditions that could make them more vulnerable to severe illness, compared to the national average of 16%;
— Average family deductible: For those receiving health insurance through work, New Hampshire's average deductible of $4,644 is the highest in the country, compared to $3,392 nationally;
— Hospital beds per 1,000: New Hampshire's figure of 2.1 ranked 40th, and all New England states fell below the national average of 2.4;
— Flu shots: Among seniors over 60, the 54% vaccination rate was 40th.