NASHUA — The 10 major Democratic presidential hopefuls raced through more than 30 events on the eve of Tuesday's first-in-the-nation primary, which remains too close to call and could well end with more than one candidate claiming some measure of victory.
According to state Democratic Party chairman Raymond Buckley, the outcome of Tuesday's election is very much in doubt.
"I have said all along this is anyone's to win, and I truly believe that, with so many undecided voters," Buckley told reporters on a conference call Monday.
Secretary of State Bill Gardner predicted 420,000 will turn out, which would be a record for a New Hampshire primary in which an incumbent president is running.
Gardner's prediction included 128,000 ballots in the GOP primary between President Donald Trump and former Massachusetts Gov. Bill Weld, which also would be a record.
On Monday, Democratic contender Amy Klobuchar declared herself the "surging" candidate. She said voters are looking for someone with a record of bipartisan results.
Two independent tracking polls show the Minnesota senator has slipped into third place, narrowly ahead of former Vice President Joe Biden and Massachusetts Sen. Elizabeth Warren.
Vermont Sen. Bernie Sanders, the 2016 New Hampshire primary winner, leads in those surveys, with former South Bend, Ind. Mayor Pete Buttigieg trailing closely.
"I think a lot of this has to do with this simple idea I know you share — that America is a country that may not be the most enlightened nation, but it is a country that repairs its faults and makes itself better," Klobuchar said at the close of an address to the Nashua Rotary Club on Monday.
Klobuchar has raised $3 million since what many observers saw as a solid performance in the final debate last Friday night.
"Since that debate, our campaign is surging," Klobuchar said.
Meanwhile, Sanders and Buttigieg have traded shots in the final days before the primary. Sanders has called his opponent a captive of billionaire fundraisers. Buttigieg has accused Sanders of a "my-way-or-the-highway" approach that scuttles the possibility of change.
Biden started the attack over the weekend by mocking Buttigieg's record as a small city mayor.
By Monday, Biden had changed his approach, with his barbs aimed solely at President Trump.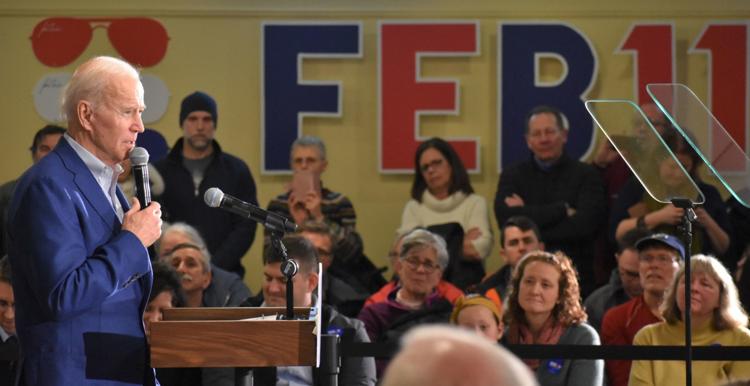 "He's telling the American people that they should accept a devil's bargain — sell the soul of this nation to Donald Trump for an OK economy. We can have both," Biden said at a town hall forum in Gilford.
Later he said, "No previous president of the United States has ever asked us to trade in our character for cash. It's a false choice being forced on us by a phony."
Independent voter Matt Soza, of Laconia, said Monday's Biden rally was the second he has attended.
"He gave a strong presentation that was forceful and very effective in a lot of ways, said Soza, who said he still hadn't made up his mind.
At a rally in Rindge, Sanders said that though he ultimately lost to to Hillary Clinton four years ago, his New Hampshire win prompted states to raise the minimum wage and adopt family and medical leave laws.
"If we win here tomorrow, I think we have a path to victory and the Democratic nomination," Sanders said.
At his forum in Plymouth, Buttigieg said that unlike some of his rivals, he often does interviews with conservative media.
"I don't hesitate to go on Fox News quite often because how can I blame someone for not hearing our message or our view if they've literally not encountered it?" Buttigieg said.
After Buttigieg's strong showing in Iowa, he has received the support of more celebrities.
On Monday, actor Kevin Costner attended his events a day after Michael J. Fox endorsed the candidate.
Warren told reporters that if Biden, Buttigieg or any other Democrat won the nomination, she would be disappointed but would gladly "lead the parade."
"I've been underestimated, counted out, told what I can't do, right until I've gotten in the fight and actually won it," Warren said.
State Rep. David Meuse, D-Portsmouth, said Warren's decency was what moved him to support her.
"She is kind and truly listens to people. She will not let the perfect be the enemy of the good. She's also single-minded when she believes she's right," Meuse said.
"Anybody who believes that is an off-putting quality in a woman can take the next bus back to 1950."
New York City businessman Andrew Yang had six events scheduled Monday, including rallies at the Currier Museum of Art in Manchester and on the Keene State College campus.
"We are going through the greatest transformation of our economy in the history of this country," he said.
Hawaii Congresswoman Tulsi Gabbard's final town hall forum was scheduled for the Rex Theatre in Manchester Monday night.
Denied a spot at debates, Gabbard has fought openly with party leaders. On the race's final weekend, her campaign debuted a petition calling for Democratic National Chairman Tom Perez to resign.
While her rivals attacked Trump for it, Gabbard defended the president's right to fire military adviser Alexander Vindman after his testimony during the House impeachment inquiry.
"Ultimately, whether people like it or not, there are consequences to elections, and the president has, within his purview, to make the decisions about who he'd like serving in his Cabinet," Gabbard said.
Former Massachusetts Gov. Deval Patrick had three events on his schedule, including a question-and-answer session at The Bookery in Manchester.
"We are meeting voters who are undecided or still unconvinced by the other candidates," Patrick said.
Sen. Michael Bennet, D-Colo., remained in single digits but continued to pile up endorsements. On Monday he won the support of state Rep. Mary Heath and ex-Ambassador George Bruno, both of Manchester.
Democratic Party chairman Buckley said Tuesday's turnout will be strong, but he noted that some voters are having so much difficulty making a choice that they may sit this one out.
"Some voters might just not want to be forced to make a choice between one of these candidates because they believe whoever is the nominee, they will support that person," Buckley said.