Democratic presidential rivals Steve Bullock and Tom Steyer have different-sized campaign accounts but on Tuesday they both called for reducing the influence that corporations have in political campaigns.
Bullock, 53, said the "signature fight" of his political career was trying to sustain a ban on corporate spending on campaigns.
Steyer, 62, said he's the only major candidate to call for congressional term limits and a national referendum that would allow voters to adopt federal laws via the ballot box.
Bullock, former Montana attorney general and current governor of that state, is the only major candidate who hasn't built any campaign infrastructure in New Hampshire.
Steyer is the last candidate to enter this race but he got himself onto the Democratic National Committee debate stage by spending nearly $50 million on ads promoting his candidacy.
Bullock got a history lesson about his namesake while making his first-in-the-nation primary bid official.
Bullock signed his filing papers on a desk that belonged to the late State Rep. Stephen Bullock of Richmond who authored the first New Hampshire presidential primary law in 1913.
Greeting Bullock along with Secretary of State Bill Gardner was Sybil Bullock of Wells, Maine, a great-granddaughter of former Rep. Bullock.
"Is there a Bullock family discount?" he asked, referring to the $1,000 filing fee all candidates have to pay.
Candidate Bullock said he's traced his family's roots back to Iowa.
"I really need to do the ancestral research to go back in time and trace it all," Bullock said.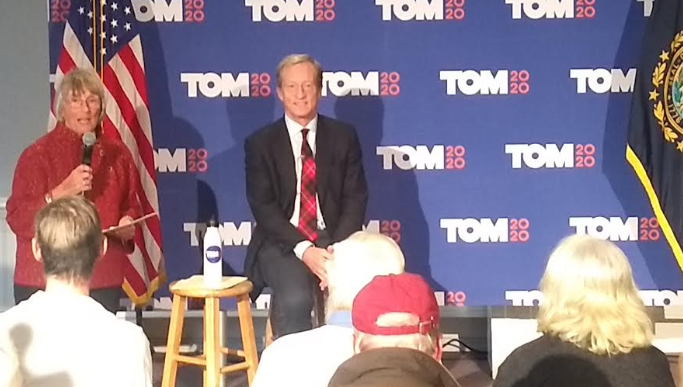 A few hours later, Steyer, a billionaire and former hedge fund executive, signed up.
"I have a very simple message that this government is broken, it is bought and paid for by the corporations and we aren't going to get the policies Americans want until we break the stranglehold, that is take back our democracy," Steyer said.
Steyer vowed that, if elected, he would fight to repeal what he called voter suppression laws that set up barriers that make it more difficult for many, including African-Americans, to cast a ballot.
And Steyer said the Constitution needs to be amended to undo the Citizens United Supreme Court decision that concluded "corporations were people" with free speech rights.
"I know the Supreme Court has said a lot of stupid things over the past 200 years and this is one of the stupidest and has led to some terrible political outcomes," Steyer said.
Former Executive Councilor Dudley Dudley of Durham endorsed Steyer Tuesday, saying he was the candidate best equipped to defeat Trump.
In 2016 Dudley supported Vermont Sen. Bernie Sanders who won New Hampshire but lost the nomination to Hillary Clinton.
"I love Bernie but this is not his year," Dudley said.
The calling card Bullock has brought to this race is he's the only candidate who has won statewide elections in a state Trump won in 2016, but he remains mired at low single digits in the polls and has qualified for only one of four party-sponsored debates.
Bullock said his duties as governor prevented him from getting into the race until last May, which he said put him well behind many of the others.
Senators were able to also get a head start on fundraising by moving money from their Capitol Hill campaign accounts into a presidential one, he added.
On Citizens United, Bullock won his lawsuit over Montana's corporate spending ban in state court but lost before the U.S. Supreme Court in a 5-4 decision.
On the federal level, Bullock said he would do what he achieved in state law to compel all government contractors to reveal how much they have spent to try to influence elections.
Bullock said that as a chief executive he's accomplished more than many of his rivals who serve in a divided Congress that has gotten very little done.
"When it comes to health care, when it comes to protecting civil liberties, when it comes to taking big money out of elections I'll put my record up against anybody in this field," Bullock said.
"They have given a lot of speeches but they haven't actually done anything," he said.
Bullock said in the early states he needs to break into the upper tier.
"If you aren't top four or top five it is a pretty good signal that things aren't working out," Bullock said.