CONCORD — Democratic presidential candidate Pete Buttigieg faced some pushback Thursday night from unionized state workers about his health care plan that would maintain private insurance.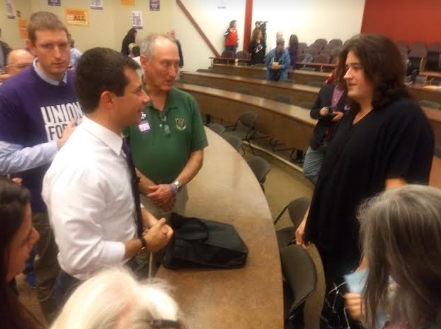 The South Bend, Ind. mayor got some positive media reviews following his attack in the last debate against Elizabeth Warren for her refusal to say her Medicare for All public insurance plan would raise taxes as primary rival Bernie Sanders has already said his would.
Jess Wheeler-Russell, an employee with the NH Dept. of Information Technology and a supporter of Medicare for All, tried to turn the tables on Buttigieg a bit during a town hall forum in Grappone Hall on the campus of NHTI-Concord's Community College.
"We are playing defense on our health care. You would allow private insurance to exist as it does today without any real controls," Walker-Russell began.
Walker-Russell asked how Buttigieg would ensure that private insurers don't cherry-pick the market.
"What does this do about the incentive for the private insurers to take the low-risk, low-cost people and dump all the high cost and high risks onto Medicare for All?" she asked.
Buttigieg said his plan would impose rigorous controls on private insurance to include monthly caps on how much customers would have to pay in out-of-pocket expenses for health care.
He said he would seek the same steps Germany and Canada took on "risk management" to make sure no insurers are dumping consumers.
And he maintained his so-called "Medicare for All Who Want It" plan would create a robust public option.
"This would have enough purchasing and scale that, I think, it is likely to out-compete any private insurance plan that is there," Buttigieg said.
Wheeler-Russell shot back, "So you are trusting the private plans?
Buttigieg answered, "I am trusting you to decide what the right plan is for you."
After the one-hour forum, Wheeler-Russell said she hadn't changed her mind but said Buttigieg's answer was "strong," noting he made sure to mention it would protect "Cadillac plans" some union workers have in their contracts.
"I'm still where I am but he gave it a good shot," she said.
Another female state worker with the Department of Health and Human Services who did not give her last name asked Buttigieg how he will strike the balance of setting himself apart without going nuclear on his opposition.
"How do we ensure we don't do damage for when we are on the same side next year?" she asked.
Buttigieg said the contrast between rivals will continue.
"You are going to see some of the differences sharpen," he said.
He vowed on his part to keep it his focus on the issues and never get personal.
"We do have to go out and make this case but it should always be factual, it should always be respectful and it should always be based on policy views," Buttigieg said.
The two dozen who got into this primary fight have kept their eyes on the prize, which was beating President Trump, he said.
"Those 24 need to rally around whoever is the nominee and I am committed to doing that," Buttigieg said.
A third, retired state worker named Lorraine asked Buttigieg if as President he would sign a Medicare for All plan if one was put on his desk.
Buttigieg answered by pointing out polls show a majority like a public option but still want to keep private insurance.
He said he would seek federal law changes to make sure independent contractors could obtain health insurance and do away with the hours-per-week caps that allow employers to hire someone for less than 30 hours a week and not have to pay them benefits.
Buttigieg became the first candidate taking part in this forum the State Employees Association is sponsoring for its members to ask questions.
In his 11th visit to the state, Buttigieg kicked it off by unveiling his plan to empower women that includes a commitment that at least half his cabinet is female, that he would fight to reduce the wage gap, adopt federal paid family and medical leave and spend $10 billion to end workplace discrimination.
"Women, particularly women of color, have challenged our country to live up to its values," Buttigieg said.
"But this advocacy and progress for women has come despite systemic, persistent sexism and discrimination that have excluded women from economic, political, and social power. This cannot go on. It's not right. And under my watch, it will end. Today, I'm proud to release our most comprehensive plan yet — one to systematically build up women's power."
Buttigieg started his day at the Nashua Adult Learning Center and wrapped it up with a second town hall forum at Bow High School.
His two-day trip concludes with three events Friday, including a town hall forum at the University of New Hampshire in Durham, a morning event with U.S. Rep. Annie Kuster in New London and finally a Manchester City Democrats reception at the Puritan Backroom Conference Center.