With just over three weeks before the November election, volunteers on the Trump and Biden campaigns are working hard to reach voters.
State Rep. Latha Mangipudi's home in Nashua served as a base for about 50 volunteers Saturday morning, as they picked up fliers to leave at voters' doorsteps. Democratic campaigns in New Hampshire, including former vice president Joe Biden's campaign for president, are not knocking on doors to talk with voters, out of concern that it could spread COVID-19.
In line to pick up a stack of leaflets, Keith Thompson of Nashua said he was excited to volunteer for candidates who would push for policies like paid family and medical leave.
Thompson said he cared for his mother, who had Alzheimer's. He said paid leave was the most important issue for him, and was rankled by Gov. Chris Sununu's opposition to state Sen. Dan Feltes' bills that would use a payroll tax to fund paid leave for all workers.
"I think about that every time I feel too tired to volunteer," Thompson said.
Sen. Elizabeth Warren (D-Mass.) stopped by the volunteer event on a swing through New Hampshire and Maine, campaigning for Biden and supporting Feltes' campaign for governor.
"What we do between now and Nov. 3 is going to determine the direction of the nation," Warren said. "It all comes down to us."
Republican volunteers in New Hampshire are also feeling the pressure and the excitement of the final weeks before the election.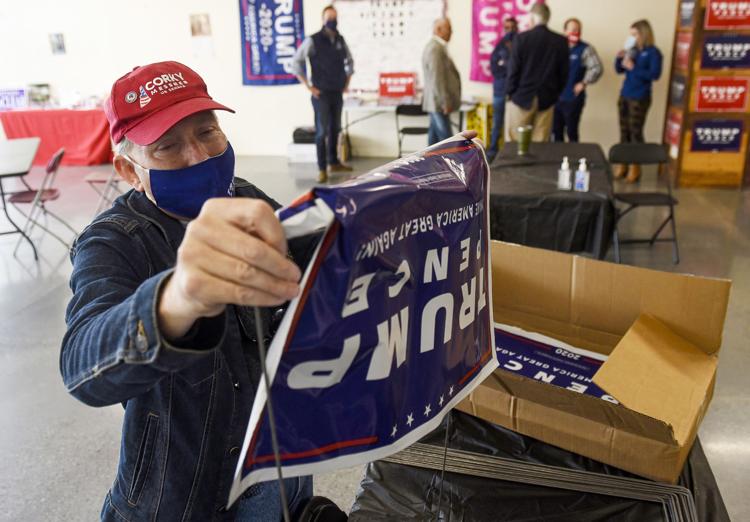 A volunteer day for President Donald Trump's campaign in Manchester on Saturday morning saw a handful of volunteers making calls and assembling yard signs in a South Willow Street office, including Katherine Photos.
Photos said she has been volunteering every day after work for the past three weeks. She supports the president, Photos said, and wants to do what she can to help him get reelected.
Nina McLaughlin, a spokeswoman for the Republican National Committee and the Trump campaign, said the pool of volunteers is growing all the time.
The Trump campaign said its volunteers made some 160,000 "voter contacts" last week, including around 40,000 door-knocks. McLaughlin explained the campaign counts every call or knock at a door as a voter contact, even if no one is home or no one picks up.
The campaign has made about 1.5 million of these voter contacts, targeting around 300,000 individual voters, including people who are not registered with either party, and people who do not vote often.
"The machine is working as intended," McLaughlin said.