MANCHESTER — As New Hampshire residents rolled into polls for the first-in-the-nation primary on Tuesday, many candidates — and a few celebrities — were spotted around the Queen City.
Former South Bend, Ind., mayor Pete Buttigieg began his day at 6 a.m. by greeting voters and supporters at the Webster School, the Ward 1 polling location. He and other Democratic candidates hope to unseat incumbent Republican President Donald Trump in November.
Bryce Kaw-uh, 25, of Manchester, never thought he would shake Buttigieg's hand on primary day. 
"I have family from all across the country from California to West Virginia, ranging from conservative to progressive, so I really love how Pete is able to propose these really bold, progressive ideas and plans that he explains in such common-sense ways," Kaw-uh said. "He brings everyone on board, or he is trying to."
For a short time, Academy Award-winning actor Kevin Costner stopped by the school in the city's North End to stump for Buttigieg. He greeted and took selfies with the group of about two dozen supporters. 
As of 11 a.m., about 1,407 of approximately 6,000 registered voters had cast ballots in Ward 1.
"It seems pretty good, very steady," said Sharyn Kelley, the polling location's moderator.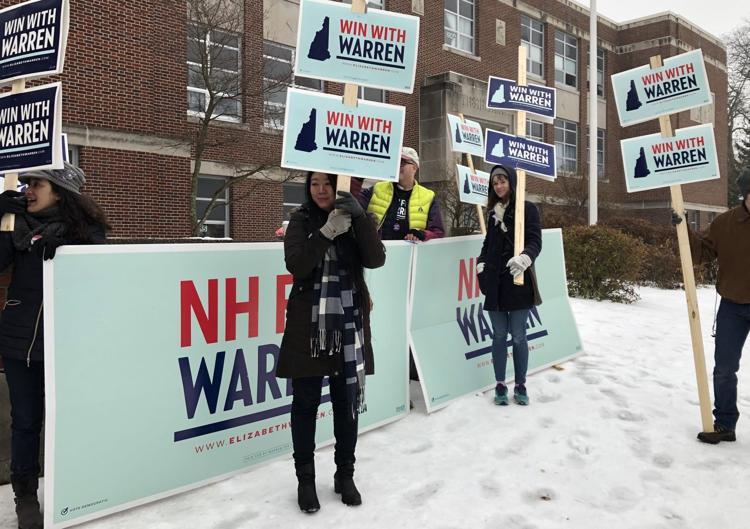 Outside, supporters of Massachusetts Sen. Elizabeth Warren cheered, "It's time for a woman in the White House."
Several supporters asked voter Kathy Tangney, 67, of Manchester, to help elect a female president. 
"Yes, I will," she said as she entered the school. 
Tangney confirmed she voted for Warren. She said she made up her mind about a year ago, shortly after Warren announced her candidacy.
"She is a woman with a plan, she has been consistent and she doesn't spend time criticizing other people," Tangney said. "She is not a bully."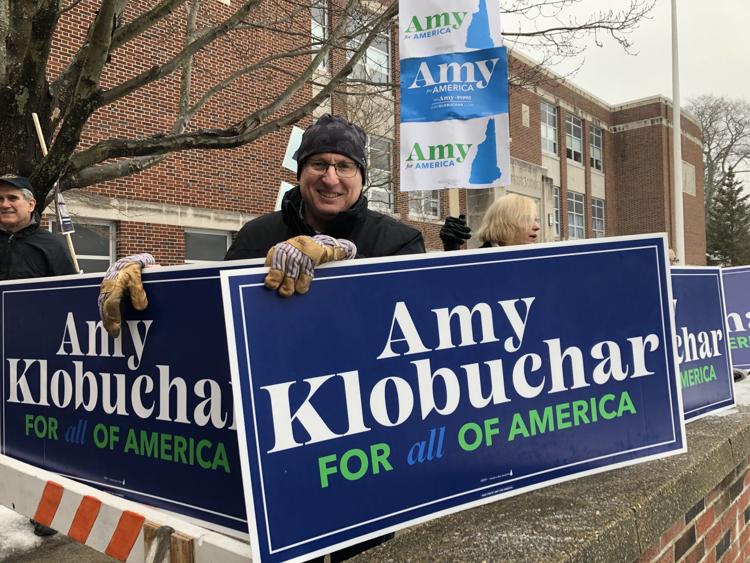 Rich Sigel, of Manchester, held signs for Minnesota Sen. Amy Klobuchar outside the school. Klobuchar made a campaign stop there about 7:30 a.m.
"I really like her message of wanting to be a president for not just half the country, but the whole country, and I think she understands we need to bring together Democrats and independents and moderate Republicans to build a coalition that can win this election," he said. "She's got a record of winning in a purple state like Minnesota."
Sen. Bernie Sanders of Vermont greeted some of his supporters at the McDonough School, the Ward 4 polling location, at noon. 
"We have an agenda that speaks to the needs of working families all across this country, which in many cases have felt like Washington has turned its back on them," Sanders said.
State Rep. Amanda Bouldin of Manchester brought her mother, Linda Bouldin, 63, of Epsom, as a surprise to see Sanders after she received an email alert.
"I think he has the best interest of the masses in mind, and to me it is a very important thing," Linda Bouldin said. "Right now, we have a president that has the best interest of himself and maybe a few billionaires and that doesn't serve the people. I don't want this country to turn into an oligarchy, which it looks like it's headed that way . The president should serve all people and I don't feel served."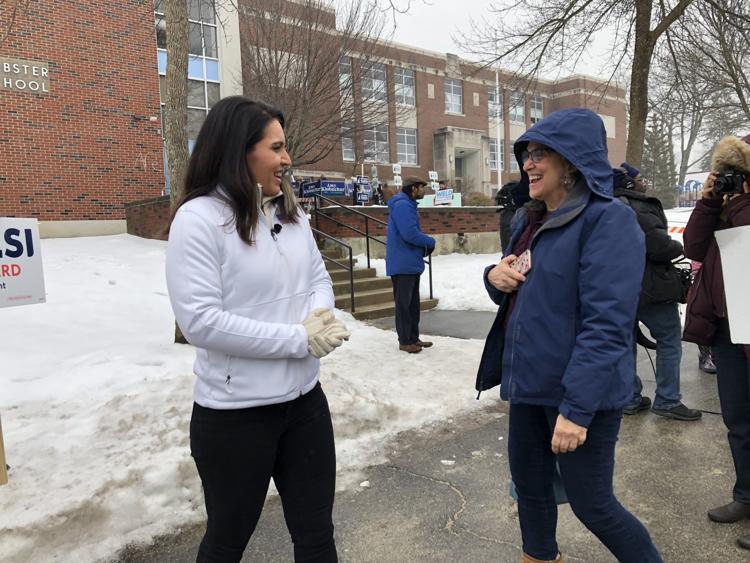 Back at the Webster School, candidate Tulsi Gabbard, a Hawaii congresswoman, stopped by about 10:30 a.m.
"The American people want a whole new fresh new generation of leadership, but one that comes with experience both in being prepared to serve as commander-in-chief on Day 1, but also able to work with Congress to get things done," she said.
One voter wished she brought Hawaii's weather to the Granite State.
"Turns out my powers are somewhat limited," Gabbard said.