MANCHESTER — Vanessa Banti and Srinivas Gorur-Shandilya drove up from Cambridge, Mass., early Saturday morning, forgoing the comforts of a quiet morning to tromp around the Queen City with clipboards for Sen. Bernie Sanders.
The couple were among about 20 volunteers gathered in a ramshackle campaign office Saturday morning, a small sample of the thousands of volunteers and campaign staffers gearing up for the final month before the New Hampshire primary.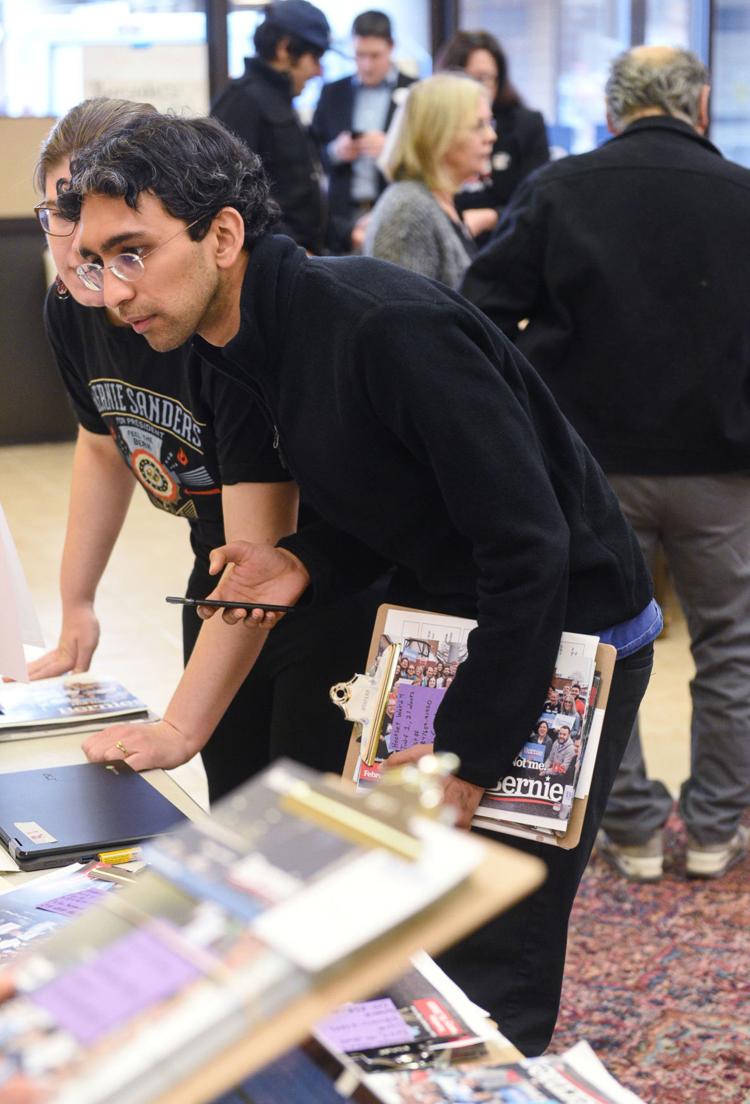 Banti and Gorur-Shandilya said they plan to volunteer every weekend, even when it means dealing with ice-slicked sidewalks and winter cold.
Sanders' state director Shannon Jackson said volunteers like Banti and Gorur-Shandilya are critical in engaging undecided voters by talking about Sanders' policies.
Sanders is already well-known in New Hampshire thanks to the 2016 campaign, Jackson said, and does not have to introduce himself to voters. The senator enjoys strong support in polls, leads the pack in fundraising, and has the largest staff in the state with 133 people working from 15 offices.
Even with those advantages, Jackson said, Bernie won't be taking the Granite State for granted.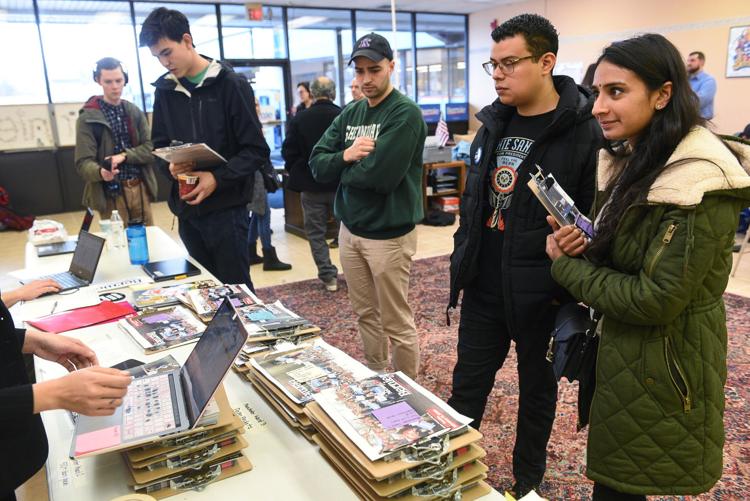 "With such little time left, the pressure's on," Jackson said. "We have phone banks, we have canvasses, we have events with surrogates. More town halls and rallies — you name it, we're doing it," he said.
Before Banti, Gorur-Shandilya and the other volunteers hit the street, one of the Sanders campaign's co-chairmen, former state Sen. Nina Turner of Ohio, revved up the group with a sermon on the 2020 election.
"All that we love is on the line," she told the volunteers, but their work would make a difference. "Eyeball to eyeball, one door at a time," she said.
Campaigns report similar scenes across New Hampshire, as volunteers talk with as many voters as they can before the primary — making sure supporters stay committed and every potential voter has heard the candidate's pitch.
It's hard work that campaigns are asking of every last volunteer available.
"This is really the time where we are mobilizing our volunteer army," said Kevin Donohoe, New Hampshire communications director for Pete Buttigieg.
The former South Bend, Ind., mayor's campaign has 74 staff across the state and hundreds of volunteers culled from Buttigieg's town halls and events around the state. Donohoe said volunteers are teasing out what issues voters care most about, and explaining where Buttigieg stands on those issues.
Scott Merrick, New Hampshire state director for Sen. Amy Klobuchar, said there is palpable excitement at the campaign's offices.
"We're feeling that hit of adrenaline," he said. "All of a sudden it's a month away."
Klobuchar was not well-known before launching her campaign, Merrick said, so volunteers are still introducing the senator to voters. With voters who know Klobuchar's name, he said, field staff and volunteers are focusing on her economic agenda and history of winning elections in rural and suburban areas.
Klobuchar might not win in New Hampshire, but Merrick said exceeding expectations — that is, finishing in fifth place or breaking through the four-candidate top tier — would set Klobuchar up to build toward the Super Tuesday contests on March 3.
Volunteers for former Vice President Joe Biden's campaign are trying to convince voters that Biden is the strongest candidate to win a general election, said state director Ian Moskowitz, and fix what he termed "the mess we're in."
Like Merrick, Moskowitz said he can feel the excitement in all 10 Biden campaign offices in the state. The final month before the primary is intoxicating, especially given the momentum we've seen pick up," he said.
Liz Wester, the state director for Sen. Elizabeth Warren, said the campaign is telling voters about Warren's record, like her advocacy that led to the creation of the Consumer Financial Protection Bureau, and her 2017 bipartisan bill on hearing aids.
In a statement, Wester said her staff and volunteers are also talking to voters about why they believe Warren can win a general election.
"With 30 days left until the New Hampshire primary, our campaign is building momentum because Granite Staters are ready for a sea change in our foreign policy," said Mark Bergman, an adviser to the Tulsi Gabbard campaign. "They are ready for a commander in chief who will end these wasteful wars overseas and invest in the urgent needs at home like universal health coverage, better schools and a clean environment."
Sen. Cory Booker's state communications director, Chris Moyer, hoped Booker's early start — the campaign launched almost a year ago — means Booker has a strong foundation in New Hampshire. Moyer said Booker will be in New Hampshire somewhat less, as he makes the upcoming impeachment trial his top priority. The Booker campaign will lean on its nearly 30 staff and long list of endorsers — many of whom are state representatives, or have campaign experience of their own — and talk to voters through video chats and phone calls.
For campaign staff and volunteers, Moyer said, the focus is on getting people excited about Booker, even if he cannot be in the state as often.
Tom Steyer, the billionaire businessman and philanthropist, said his strategy for the next month will be about meeting as many voters as possible face-to-face.
That strategy has not changed with the Fox News polls last week showing jumps in support in Nevada and South Carolina. On Friday morning, Steyer said the only difference since the big polls was a little more attention from reporters. He said the campaign will remain focused on talking to voters.
Steyer said he is trying to split his time evenly between the four early states over the next six weeks, rather than making a big push toward one primary.
The Republican parties in Nevada and South Carolina canceled their nominating contests, choosing to endorse President Donald Trump instead. But Iowa and New Hampshire are still technically up for grabs, even though Trump enjoys broad support from Republican voters in both states.
"Our top-notch ground game operation, unparalleled data program, and vast fundraising war chest have allowed Trump Victory to capitalize on the tremendous organic support of President Trump across the Granite State," wrote Republican National Committee spokesman Nina McLaughlin in an email.
Former Massachusetts Gov. Bill Weld is looking for cracks in Trump's support as he wages a primary challenge in Iowa and New Hampshire.
"He'll be back and forth every few days between now and the primary," said Joe Hunter, communications director for Weld's campaign. "It will be a full-court press right up until the votes are cast."
He said the Weld campaign is deploying targeted digital ads, as well as campaigning the old-fashioned way. "Without getting into the ugly details and frankly things I won't tell you, it's a very targeted effort," he said.
Weld's campaign has made contact with "several thousand" people who are at least considering voting against Trump in the Republican primary, Hunter said. The campaign's job is making sure they follow through.
"Keep them motivated, and make sure they actually vote," he said.