NASHUA — Saying he feels "less and less" of an underdog every day, presidential hopeful Deval Patrick unveiled his democracy agenda.
Patrick spoke to a relatively small gathering of supporters at Nashua Community College, with some in attendance having driven up from Massachusetts, where he served as governor from 2007 to 2015.
The democracy agenda, he said, stresses the need to make government more responsive to the American people by making voting more accessible and secure, cleaning up politics, strengthening democratic institutions and achieving universal voluntary national service.
"We need healing in this country," Patrick said during a presidential candidate forum at Nashua Community College hosted by the Community College System of New Hampshire, in collaboration with the New Hampshire Union Leader and Goldman Sachs 10,000 Small Businesses.
While not a large crowd, those in attendance were able to talk with Patrick and meet one more presidential candidate. Several said they remain undecided with just weeks left before the primary vote.
When questioned about the cost to implement his democracy agenda, Patrick said expanding service opportunities will take money, but there will be a profound return on the investment.
"I think making our democracy function like a democracy is cost-free, or frankly cost isn't the point," he said. "The point is making the system so it actually responds to the will of the people. And as long as we have the concentration of money, so much of it dark, partisan gerrymandering, which is in fact a cost today that we ought not to have to spend, as long as we have the voter suppression and purging and the things we do to make it so hard to participate.
"This is supposed to be a participatory democracy, and I want to be the sort of candidate who inspires and encourages people to participate, but the job of government is to make it easy to do so. And I think the question of cost is not the one to be associated with that," said Patrick.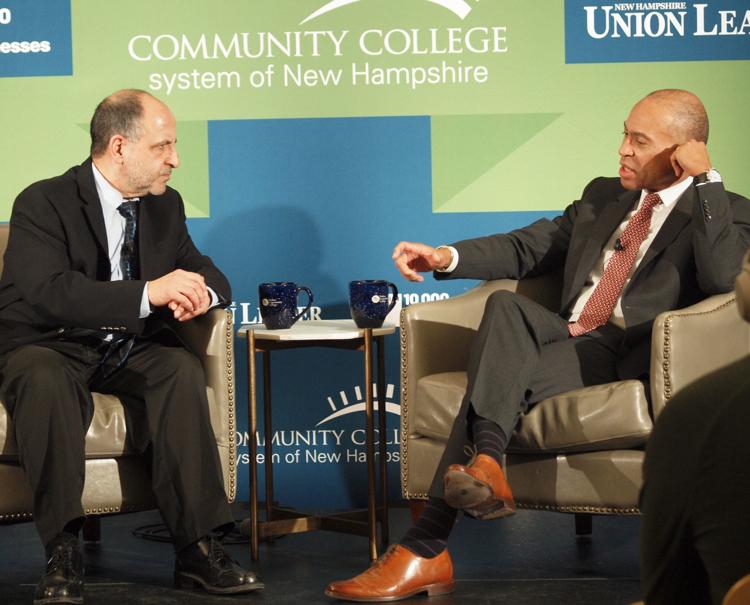 Patrick was completing a three-day swing through the Granite State on Friday, but said he will return frequently until the primary election next month. He spoke with retired Union Leader State House Bureau Chief David Solomon, moderator for Friday's event, about various issues facing businesses throughout the country.
"As President, I would like to model a different narrative and behavior about long-term value," said Patrick. While it may be an old-fashioned idea, he said Americans should do what they can in their lifetimes to leave things better for the people behind them.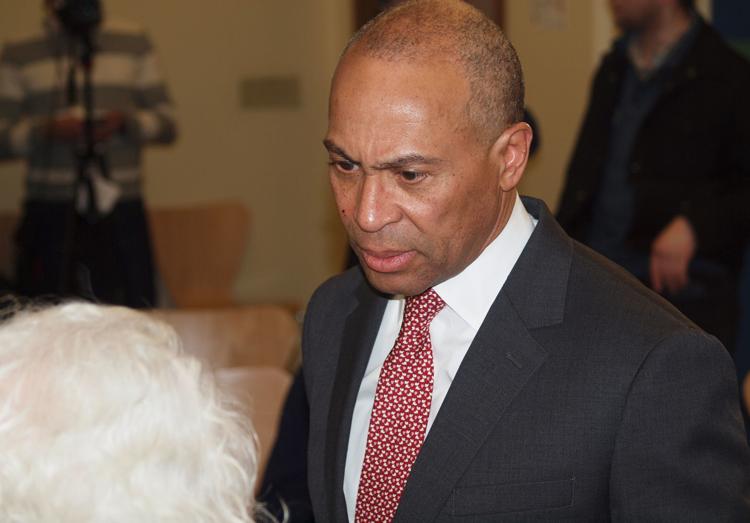 There are still many people who find the American dream hard to imagine because what it takes to get them on the path to economic mobility is harder and further out of reach, according to the former governor.
"I think we are hungry for unity. I think there are many, many more folks who are ready for that unity and tired of our outrage culture," he said. "I want to be the sort of leader that calls that out."
Patrick entered the Democratic presidential primary race relatively late and had to quickly ramp up a presence in the Granite State. He's hired staff, opened a campaign office and has begun running ads in earnest.
Robin Green of Wakefield, Mass., traveled to Nashua to hear him Friday; it was the fourth presidential candidate she's had the opportunity to meet in recent months. She said she appreciates the opportunities New Hampshire's first-in-the-nation primary presents to meet candidates up close and personal.
"Personally, I think we need a more moderate candidate," she said. Green said she remains undecided, but is currently leaning toward Pete Buttigieg.
Patrick was the first candidate her husband, Tim Green, has had the chance to hear speak so far.
"I think what this country needs is to get us all together and united. I think we are so polarized," he said, acknowledging that Patrick's late entry into the race could be challenging.
Still, Tim Green said he always supported Patrick at the polls during his gubernatorial races in Massachusetts.
George Ramirez drove up from Lowell, Mass., to listen to Patrick.
"It is great to see him enter the conversation at the national level," he said. "I think he has so much to contribute. He has been undermined in politics his entire life, but he has a no-quit mindset, and if people give him time, he will convince them."
For his part, Patrick said he won't take any voter for granted and will work hard to earn their support.