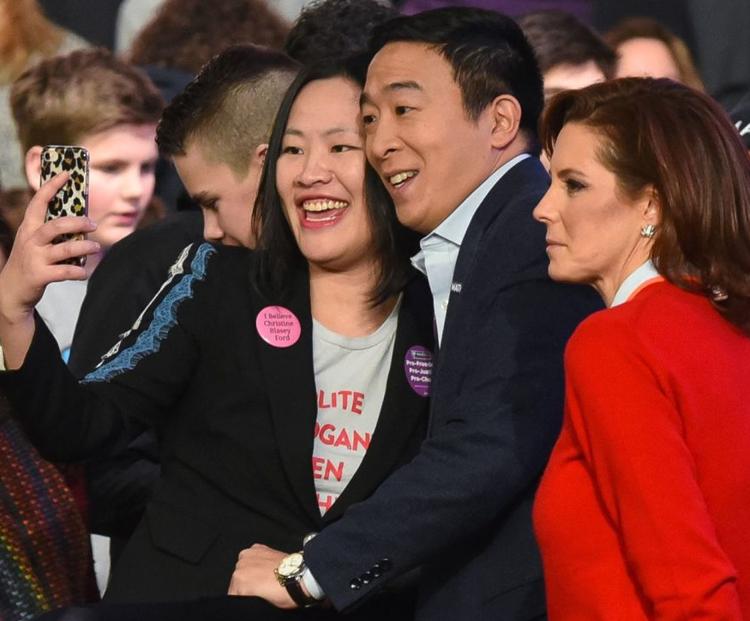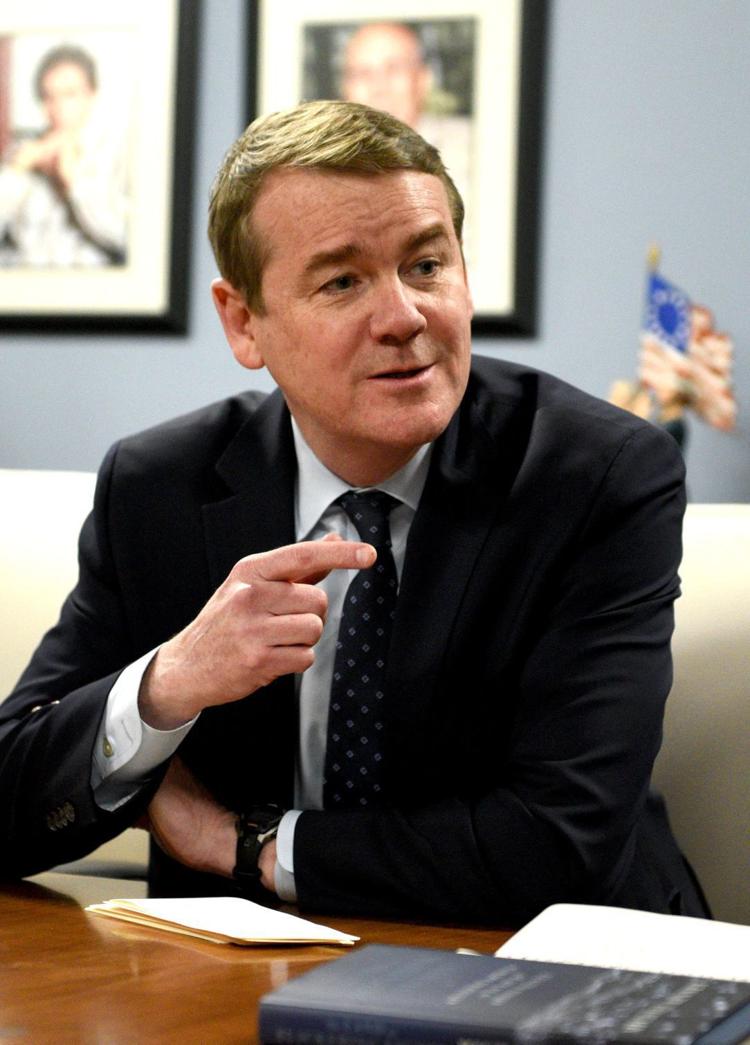 Every four years, New Hampshire anoints a handful of front-runners, but just as importantly, Granite State voters eliminate third-tier candidates not ready for the rigors of a White House campaign.
That happened Tuesday evening when Colorado Sen. Michael Bennet and New York businessman Andrew Yang ended their bids for the Democratic Party nomination. With about 150 of the 300 New Hampshire precincts reporting results, they tallied 1 percent and 2.8 percent, respectively.
"You know I am the math guy, and it is clear tonight from the numbers we are not going to win this race," Yang told supporters.
They follow several other hopefuls, once with strong promise, who departed New Hampshire even before votes were cast: Beto O'Rourke, Kamala Harris, Cory Booker and Marianne Williamson.
Now the focus turns on Elizabeth Warren, the Massachusetts senator who came in fourth, polling 9.4 percent of the vote late Tuesday, possibly falling just short of a respectable double-digit showing.
Dante Scala, a political science professor at UNH, said Warren was in the regional bracket against fellow New Englander Bernie Sanders, the senator from Vermont.
"Of the two, whoever finishes second to the other, it's hard to see them with a path forward," Scala said. "If you can't win in your backyard, that's a big warning sign."
Warren addressed her supporters earlier, acknowledging the good night for Sanders, Buttigieg and Minnesota Sen. Amy Klobuchar. But Warren said the party might be heading into a primary battle that will go on for months, and she cast herself as the candidate who could unify the party.
"Americans in every part of the country are going to have their voices heard," she said.
National pollster John Zogby said Warren is losing her key constituencies. She has lost the progressive vote to Sanders while Klobuchar has made inroads into the women's vote.
"She has been in a bit of a tailspin, and I don't know where she goes from here," Zogby said.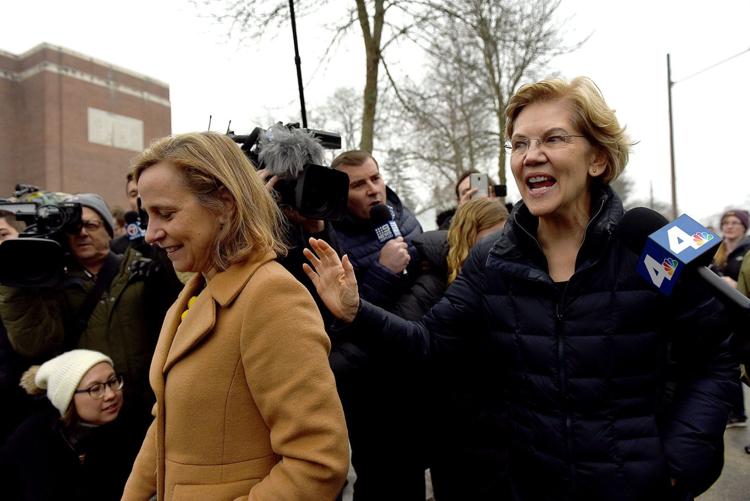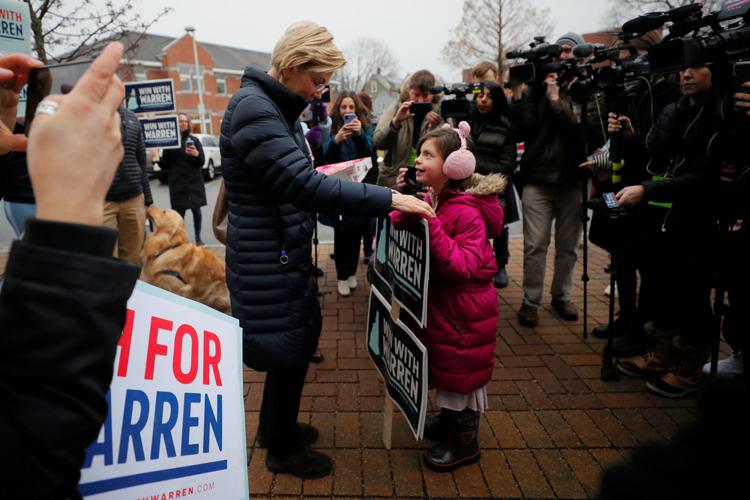 In a memo sent to the media, Warren campaign manager Roger Lau said Warren is poised to finish in the top two slots in eight of the 14 Super Tuesday states.
"People who are predicting what will happen a week from now are the same people who a year ago predicted that Beto O'Rourke was a front-runner for the nomination," Lau said.
While New Hampshire culled a few candidates, political strategists think most of the others will stick around for a variety of reasons. Deep pockets that permit them to keep writing checks despite poor showings. Polls that give promise of stronger showings in states more diverse than New Hampshire. And the muddle that was Iowa, where delays bruised the impact for winners Bernie Sanders and Pete Buttigieg.
New Hampshire is "kind of playing the Iowa role this time," said Mike Biundo, a Republican strategist who ran the campaign for Pennsylvania Sen. Rick Santorum in 2012. Iowa usually punches four tickets for the New Hampshire primary and subsequent contests, though he cautioned that every cycle is different.
"This year what's different is more candidates might see a viable path to the nomination than is normal," Scala said.
Meanwhile, former Vice President Joe Biden, the once perceived front-runner who performed poorly in Iowa and predicted he would do so here, left the state before the polls closed. He was pulling down about 8.6 percent of the vote with half of precincts counted.
"Joe Biden did all he could here in New Hampshire. The campaign goes on," said New Hampshire House Speaker Stephen Shurtleff, a Biden supporter.
Shurtleff thinks Biden should have reached out to the media more to get his message before voters.
But Biden has name recognition, and Scala said he could move on to South Carolina and Nevada even his fifth-place showing here.
Although Minnesota Sen. Klobuchar declared herself the momentum candidate, Zogby sees confusion coming out of New Hampshire.
"Amy Klobuchar was very impressive, but that really muddies up the center lane. If the center lane is muddied up, where do we go from here?" Zogby said.
That mud could end up being cleared by the candidate Zogby said was the fourth winner in the New Hampshire primary — New York mayor Mike Bloomberg.
Although Bloomberg skipped New Hampshire and other early states to gear up for the Super Tuesday primary on March 3, he spent heavily in the Boston television market.
Earlier than Biden, Tom Steyer departed the state to campaign in Nevada and South Carolina for the past two days.
Steyer, a California billionaire businessman who was pulling 3.6 percent of the vote Tuesday night, can spend indefinitely even if he doesn't get the results he hoped for, he said. He released a statement Tuesday night challenging Biden in South Carolina.
"Joe Biden does not own the black vote," Steyer said. Former Massachusetts Gov. Deval Patrick, who also tallied less than 1 percent, has given no word about his plans.
A few hundred votes more and a 3.3 percent showing was good enough for Hawaiian congresswoman Tulsi Gabbard to decide to remain in the race.
"As much as they tried to erase us from this election, we stand strong. We are still here," Gabbard told supporters.