MANCHESTER — Friday's debate will be a last chance for presidential candidates to make their case to New Hampshire voters.
With both Sen. Bernie Sanders and former South Bend, Ind. mayor Pete Buttigieg claiming victory after the Iowa caucus, University of New Hampshire political science professor Dante Scala predicted other candidates would use the debate to change the subject — or take the winners down a peg.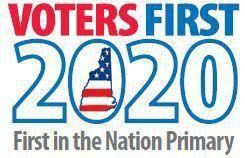 "I fully expect Friday night, a lot of candidates will be lined up to take a shot at Pete Buttigieg, stop the surge, and present themselves to be part of the story again," he said.
Right now, he said, the story seems to be that Buttigieg is surging and former vice president Joe Biden is fading.
"And a bunch of other candidates are trying to be a part of that story," he said.
For candidates like Sen. Amy Klobuchar, or Sen. Elizabeth Warren, Scala said the debate will be the last, best chance to capture New Hampshire voters' attention going into the weekend.
"There's just so much noise out there," he said, that it's hard for campaigns to drive home a message without being on television.
Kathy Sullivan, a former state Democratic party chair and national committeewoman, agreed that the debates were one of the last best shots for New Hampshire candidates. And the New Hampshire debate has produced some memorable moments.
"You never know what might happen," she said.
Sullivan supports Warren, and said she hoped the Massachusetts senator would talk about her life story on Friday, and why she can be the unifying candidate.
Peter Burling, a former Democratic National Committeeman who backs Klobuchar, said he hoped Klobuchar would use the debate to show off her legislative record, her backbone and her smarts, and show she can rally the party. He said he thought Democrats want to see a winner, even more so since Wednesday's Senate vote to acquit President Donald Trump.
Burling said he is hearing more Democrats say the party needs to unify, and fast.
"Democrats need to get behind a candidate and get going," he said.
New York entrepreneur Andrew Yang will be working to make a comeback after a poor showing in Iowa.
Brandon Laws, a Nashua alderman who supports Yang, said he doesn't want him to attack any of the other candidates or even go after Trump. Everyone has already made up their minds about the president, he said. Laws said people want to hear about the candidates and their policies.
"People have questions. People have needs. People want solutions," Laws said.
Scala said Buttigieg is in a strong position heading into the debate.
"If you're Pete Buttigieg, you're loving life right now. Everything is breaking right for you," he said.
He compared Buttigieg's situation to that of Florida Sen. Marco Rubio in 2016. Rubio was said to have a lot of momentum from Iowa, and had high hopes for the New Hampshire debate.
"But he got flattened by Chris Christie," who taunted Rubio for having a robotic, memorized stump speech.
"Buttigieg wants to avoid having one of those moments," Scala said.
In polls this week, Scala said Sanders has not gotten the same bounce out of winning Iowa that Buttigieg has. He said New Hampshire voters have made up their minds about Sanders, one way or the other, and the Iowa result would do little to change any minds.
Suzanne Prentiss, a Lebanon city councilor who backs Buttigieg, said she was excited to see how well he did in Iowa — neck-and-neck with Sanders and finishing ahead of Biden.
"He will draw the distinctions about his values, what he brings to the job and how he believes in governing," Prentiss predicted of Buttigieg.
State Sen. Martha Fuller Clark, who is backing Joe Biden, said she thinks the muddle around the Iowa caucuses means New Hampshire voters will be less swayed by the results.
After watching Biden deliver strong addresses in New Hampshire, she anticipates a good performance at the debate.
"I think he just needs to be assertive enough to calm any concerns voters may have had at debates in the past," Fuller Clark said."
More than anything else, she said she thought voters are looking for assurance that the New Hampshire primary will be fair — and that confidence in the process will convince voters that it's worth the effort to go to the polls on Tuesday.
"That's why the New Hampshire primary is even more important than it's ever been," Fuller Clark said. "I think that's what voters are looking for more than anything else."