CONCORD — Democratic presidential candidate Tulsi Gabbard says her skirmishes with national party leaders will enhance her appeal from voters in the first-in-the-nation primary.
On almost every visit to New Hampshire, this four-term Hawaii congresswoman criticizes the Democratic National Committee for trying to hold what she has called a "pre-election" by disqualifying some candidates from taking part in debates because they failed to reach benchmarks for poll support and campaign fundraising.
After officially filing to get onto the New Hampshire primary ballot, Gabbard, 38, went there again Tuesday.
New Hampshire voters "do not take kindly to people in positions of power in Washington dictating the role they play in the political process," Gabbard told reporters at a rally outside the State House, flanked by a few dozen supporters.
Gabbard failed to make the cut for the third debate but did come back in the fourth. Many of her rivals came to her defense after 2016 Democratic nominee Hillary Clinton charged that Republicans were grooming Gabbard to be a third-party candidate to enhance the chances of President Trump winning a second term.
Gabbard has denied any interest in a third-party run.
Asked if she thinks she will make the fifth debate on Nov. 20 in Atlanta, Gabbard said, "I am honestly not thinking about it."
She ducked a question about whether she'll have enough money to wage competitive races in New Hampshire and Iowa, the latter hosting the first caucus in early February.
"We are looking forward to a win. That is why I am here," Gabbard said.
Democratic primary rivals Julian Castro, a former secretary of Housing and Urban Development, and California Sen. Kamala Harris have confirmed they are shedding campaign staff in New Hampshire to focus on breaking through in Iowa.
Late Tuesday morning, a campaign aide filed ballot papers for Harris at the Secretary of State's office.
Twelve days ago, Gabbard confirmed she would not seek a fifth term in the U.S. House, avoiding a primary challenge from a state senator who has criticized her attendance record in Congress during the presidential campaign.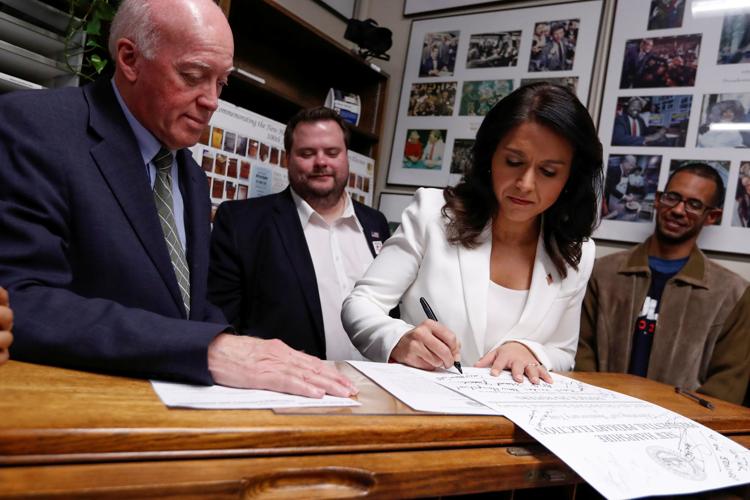 In signing up Tuesday, Gabbard told Secretary of State Bill Gardner that all candidates get a fair shot at succeeding in New Hampshire.
"You have got the model for what that openness and transparency should look like and we appreciate that very much," Gabbard said.
Having served two tours in the Middle East with the Hawaii Army National Guard, Gabbard is the first female combat veteran to run for President.
Her call to end "regime wars" has been a central theme of her campaign, but she's also maintained she would vigorously prosecute the war against terrorism.
"When it comes to the war against terrorists, I'm a hawk, but when it comes to counterproductive wars of regime change, I'm a dove," said Gabbard, the first practicing Hindu and Samoan-American to be elected to Congress.
Gabbard chose to use this stage to promote the cause of 9/11 survivors seeking to declassify documents they say show the kingdom of Saudi Arabia played a central role in the attacks on the twin towers in New York and the Pentagon.
"We need the facts released," Gabbard said. "This is at the heart of the change we are seeking to bring."
Last week, Gabbard was at Ground Zero in New York and the site of the 9/11 Tribute Museum to call for suspending weapon sales and foreign aid to Saudi Arabia over the issue.
Tim Frolich, who worked in the World Trade Center at the time of the attacks, came from his Brooklyn home to New Hampshire to praise Gabbard for her activism.
"What happened on 9-11 was a sickening display of putting America second," Frolich said.