MANCHESTER — Khizr Khan, the Gold Star father whose public clash with Donald Trump made headlines during and after the 2016 Democratic National Convention, was in Manchester on Monday supporting Joe Biden's bid to become President.
Khan was part of a roundtable discussion at the Biden campaign office in Manchester, where Khan recalled first meeting with the former vice president following several turbulent months after his famed convention speech that challenged Trump's knowledge of the U.S. Constitution and ability to lead the nation.
Khan said his feelings about Trump, whom he referred to only as "the incumbent" during the 40-minute roundtable, have been reinforced in the years since Trump took office.
"I am traveling out of concern for our country," Khan said. "I get asked this question throughout the nation: Could we not do better? We are better than what we have. Could we not do better? In my opinion, yes we can and we will do better."
Khan said he is supporting Biden because of his record of public service to the country, representing Delaware in the U.S. Senate for more than 35 years and serving two terms as vice president.
Khan said Biden has shown the ability to lead and feels he is the right candidate to unseat Trump next November.
"This blessed nation is being tested and the world is watching," Khan said. "Are we going to make the right decision? Are we going to bring the best of our nation forward because we have seen not-so-best."The event was billed as a roundtable discussion for veterans and military families. Early in the discussion, Khan held up a copy of what he called Biden's plan "to keep our sacred obligation" to our veterans, one of many reasons he cited for supporting Biden's presidential bid.
"It is that type of honorable attitude that distinguishes Joe Biden from the incumbent," Khan said.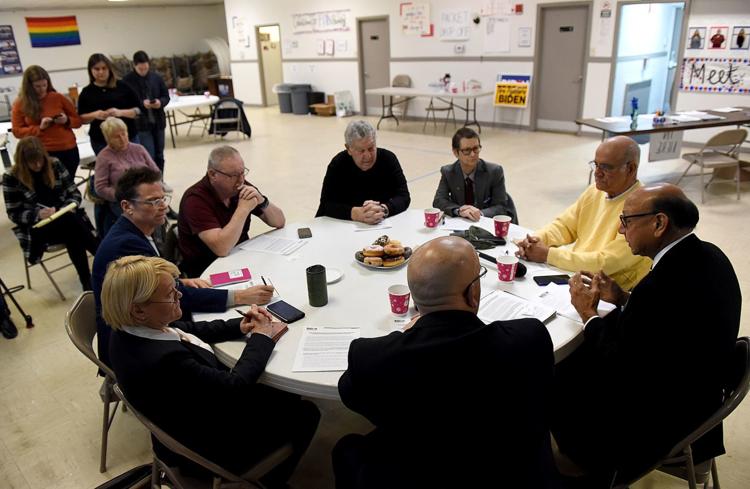 Khan said Biden understands the sacrifices members of the military and their families make in order to defend the country. Biden's son, Beau, served in the Delaware Army National Guard and was an officer in the Judge Advocate General's Corps who served in Iraq before dying of cancer in 2015 at the age of 46.
Khan and his wife, Ghazala, also lost a son. Army Capt. Humayun Khan was killed in an attack while he was serving in Iraq in 2004. Khizr Khan spoke about his son, who was awarded the Bronze Star and a Purple Heart posthumously, during his speech at the 2016 Democratic National Convention. Speaking about Trump's proposed ban on migration from a list of majority-Muslim countries, Khan pulled out a pocket copy of the U.S. Constitution and asked if Trump had ever read it.
"I will gladly lend you my copy. In this document, look for the words liberty and equal protection of law," Khan said in the 2016 speech.
That December, Khan said he and his wife received an invitation to come from their home in Charlottesville, Va., to meet with Biden in Washington, D.C., during the transition period before Trump's inauguration the following month.
Biden, Khan said, could not have been more gracious.
"It is the decency and the care that he showed in that few minutes of time that we spent with him. We felt as if all the burden of that negativity and the bullying and shouting to us and at us had just vanished. We have been admirers of his character," Khan said.
"I remain like you all — I remain concerned about the well-being of our nation. We are better than what we have at this time."
State Sen. Lou D'Allesandro, D-Manchester, who served in the U.S. Marine Corps and was among the eight people seated at the table, said it was an honor to be there with Khan. D'Allesandro also noted Khan's 2016 convention speech, saying it was "truly a message that meant something and went to our hearts."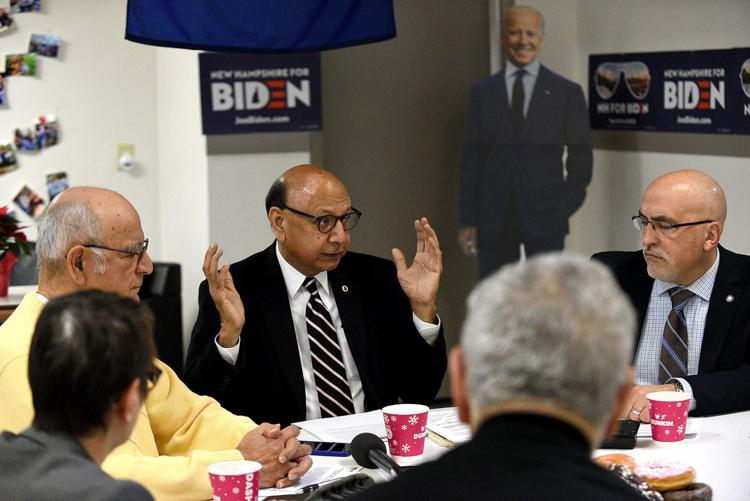 Jim Green of Londonderry, secretary of the New Hampshire Democratic Veterans and Military Families Caucus, mentioned his own military service during the Vietnam War.
"During Vietnam I made too many notification calls to families like yours and it stays with me," Green said.
Khan offered his endorsement of Biden last month and spent the weekend in Iowa, speaking at similar events as candidates and campaigns make a late push for support before the earliest primary events.
His appearance Monday came exactly six weeks before the Iowa Caucuses on Feb. 3, which are followed eight days later by New Hampshire's first-in-the-nation primary.
A native of Pakistan who became a U.S. citizen in 1986, Khan said it is important for Granite Staters and voters in other early primary states to take an active role in the political process deciding who will lead the country.
"These first states have a vital role to play. Do not underestimate the role that each and every person plays from this state and that is to advance a candidate who deserves the respect and the dignity of the entire nation," Khan said.
Green, who as a member of the Londonderry Democratic Committee said he couldn't formally offer support for any candidate, said Khan was an inspiration.
"I think he's a fine, fine man," Green said. "He has a real message to tell and I think he's very effective at presenting it."