CONCORD - With foes at every State House venue out to take his job, Gov. Chris Sununu is determined to resist the temptation to get into rough-and-tumble politicking too early.
"I am really good at building teams. I think I am good at creating a leadership team. The other thing I am pretty good at is ignoring what I can and should ignore. I think it's a New Hampshire-first approach," Sununu said.
"We aren't out campaigning. We aren't bashing people right now."
During a wide-ranging interview last week, Sununu, 45, said he has come to realize that to play politics now — 10 months before an election — would mean fewer, not more, accomplishments to point to when he makes his arguments to voters for a third term this fall.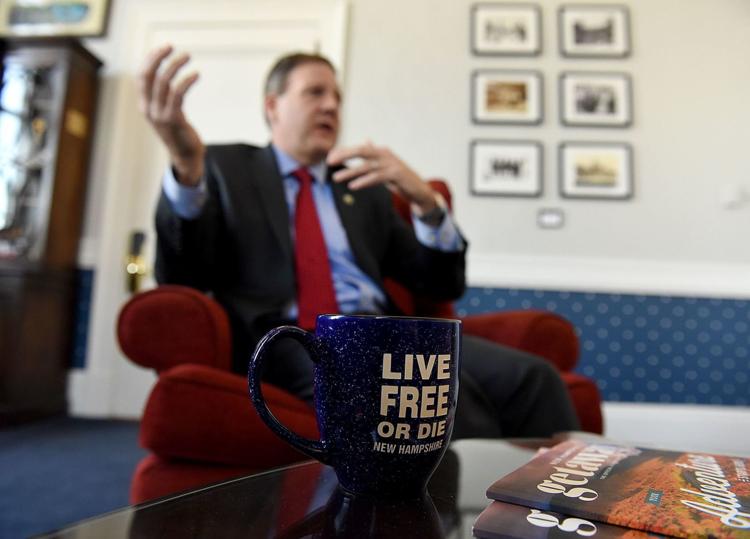 "As soon as you let politics in, it becomes a variable in your decision-making, and frankly it makes it harder to get things done and harms rather than improves the final product," Sununu said.
"I am hoping to show future leaders that by ignoring it, you get a lot more done, and you can run on your successes."
The two-term Newfields Republican was candid about how he is better at his job and what he needs to improve on, the impact of the Donald Trump impeachment trial on Granite State politics in 2020 and the future of the first-in-the-nation primary.
Every two weeks, Sununu presides over the Executive Council, where Councilor Andru Volinsky, D-Concord, sits. Volinsky is running a Democratic primary campaign for governor.
As Sununu promotes his legislative agenda, he has to get it by Senate Majority Leader Dan Feltes, D-Concord — also a candidate for governor this year.
Meanwhile, Sununu heads into this election year after vetoing a record-shattering 57 bills from the Democratic-controlled Legislature in 2019.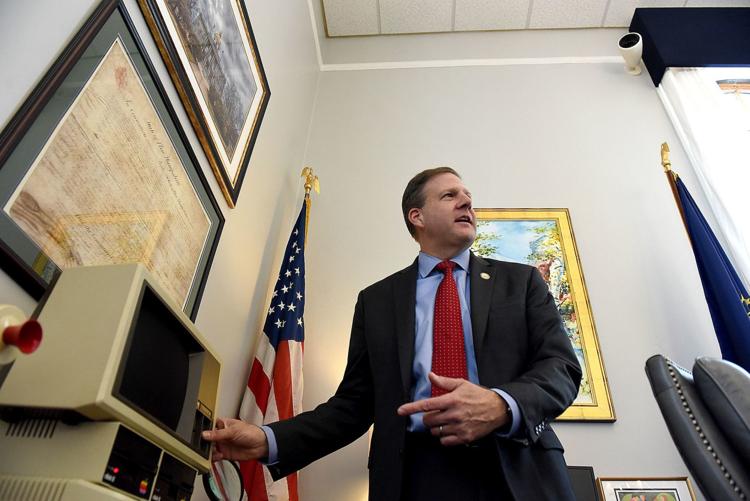 The governor won all but two of the battles to override his vetoes.
Democratic leaders have wedged bills on many of the same topics — minimum wage, gun control, renewable energy and paid family leave — into the pile of more than 900 measures they plan to take up.
Sununu said he doesn't want to govern by veto again, but what will happen depends a lot on lawmakers.
If they don't adjust their views, Sununu said, he'll have his red pen at the ready.
"I am concerned. A lot of the vetoed bills are just coming back again, which is a colossal waste of time and taxpayer money. I am encouraging the legislative leadership to manage that," Sununu said.
"These were all radical, aggressive things, but we didn't give up."
Common ground
Sununu said he has tried to put forward his own bills on vetoed topics, such as allowing utility customers who create their own power to sell it back to the power grid.
After vetoing a mandatory paid family and medical leave bill, he returned this year with a voluntary model for paid leave that doesn't require a payroll tax.
"Paid leave is a good example. I've come up with a public-private partnership that can be done that doesn't mandate an income tax," Sununu said.
"We started to show that it could work, doesn't require massive money to operate and doesn't have an income tax. I am hopeful some of the things I did veto last time can be done in a New Hampshire way."
Critics accuse Sununu, aware of voter interest in some of these issues, of offering solutions that are more cosmetic than substantive.
Sununu said his top priority in 2020 is to build on the state's strong economy, which features one of the nation's lowest unemployment rates, has proportionally the fewest people living in poverty and ranks in the top 10 of states in per capita family income.
"Maintaining our economic strength is really an important goal that drives me. Our economy is incredibly strong, leading the Northeast, but my constant vigilance is to make sure all of those puzzle pieces are going to keep us there," Sununu said.
"We have done a really good job; we can always do better. Not slipping or taking things for granted for me is a top priority."
Other important issues will require work well past 2020, the governor said.
"Opioids, mental health, DCYF (Division for Children, Youth and Families) and abused children — we saw all of these as completely unmanaged and without structure when we came in. The balance is how do you deal with the crisis at hand and how do you have a long-term strategy?" Sununu said.
"We are not going to quote — solve — unquote any of them any time soon in the next couple of years. Sometimes it's easy for elected officials to say, 'Oh that's a systemic problem that I can't solve in one year so I'm not going there.' I think that is what happened here for a while. I think people are feeling very hopeful on these issues."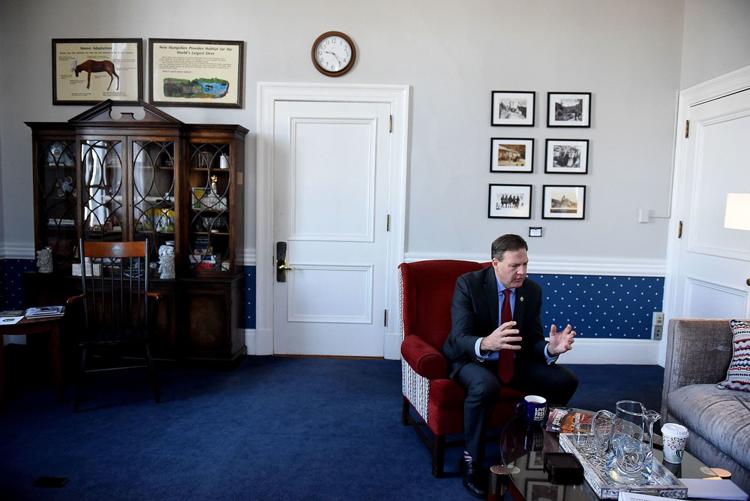 The real power
The Granite State's governor is constitutionally one of the weakest in the nation.
Only one other state's governor serves a two-year term, New Hampshire's governor lacks a line-item veto, and he must contend with a massive Legislature and an Executive Council that must give permission for every large contract and political appointment.
Nevertheless, Sununu said, the office has real power because the system allows its chief executive to get more involved in shaping public policy than his peers.
"Other governors, by the nature and size of the state, they just don't have the opportunity I do to get into the weeds and details of policy, and I love that," Sununu said.
"Whether it's the Legislature, the Council, at the end of the day the state is much better off allowing a check on not just Chris Sununu but any governor from having too much power."
Sununu said he doesn't believe the Trump impeachment trial will hurt him or other New Hampshire GOP candidates at the polls.
"President Trump doesn't define the Republican Party; no one individual does. We remain a purple state. For how long did we have a Democratic governor and a Republican Legislature? And now we have the opposite," Sununu said.
Once Trump's trial is complete, the governor said, voters will focus on the stark choice between the two parties.
"Generally, people in America and in New Hampshire are on the precipice of looking at whether they want to have extreme fundamental change," Sununu said.
"It's one thing to say we want to improve this country, but quite another to have fundamental transformation to go from a capitalist society with individual freedom to a more socialist society in which the government is more often than not driving the solution to every problem."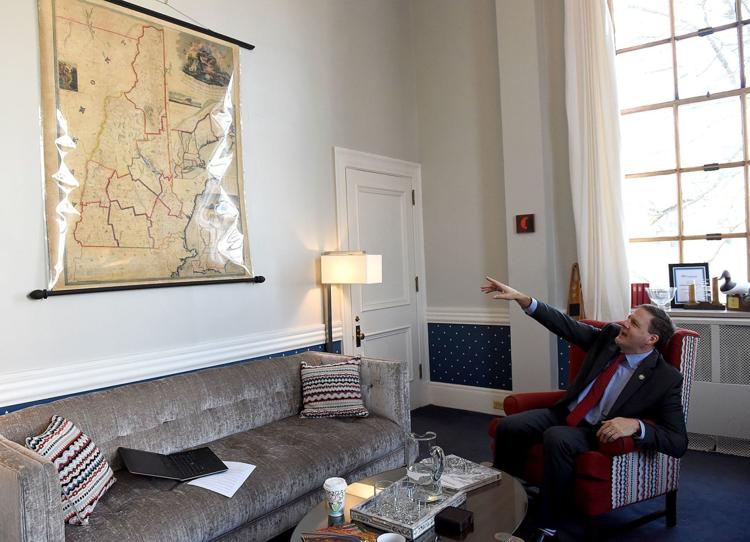 FITN alive and well
With a little more than two weeks to the vote, Sununu said New Hampshire's presidential primary is alive and well.
His diagnosis comes as former White House candidates have charged that the Granite State's lack of racial and economic diversity makes it a bad place for the race to start every four years.
"New Hampshire does the first-in the-nation primary better than any other possibly could. Nobody comes here and says, 'I don't get it.' Everybody is astonished at the grassroots nature of it," Sununu said
"Look at Mayor Pete (Buttigieg), small mayor guy who really has made a name for himself, raised millions and is really in this race. I'm not sure where it goes from here, but that is the power of New Hampshire."
Sununu pushed back on the view that New Hampshire isn't the best petri dish for presidential politics.
"We do have our inner cities, and I take offense when people say you are too white, too this, too that; I resent that. I think we are perfectly representative," Sununu said. "We know it could be threatened, it always is, but look at the results."
Now more than three years on the job, Sununu thinks he has become a better communicator, especially one on one with residents.
"I find that I really enjoy getting out of the office and not just doing business but engaging people. I think I am better at that," Sununu said.
"In many ways, the job won't work if you aren't a good listener. Coming from being number seven of eight kids, I had to learn early on to be a good listener."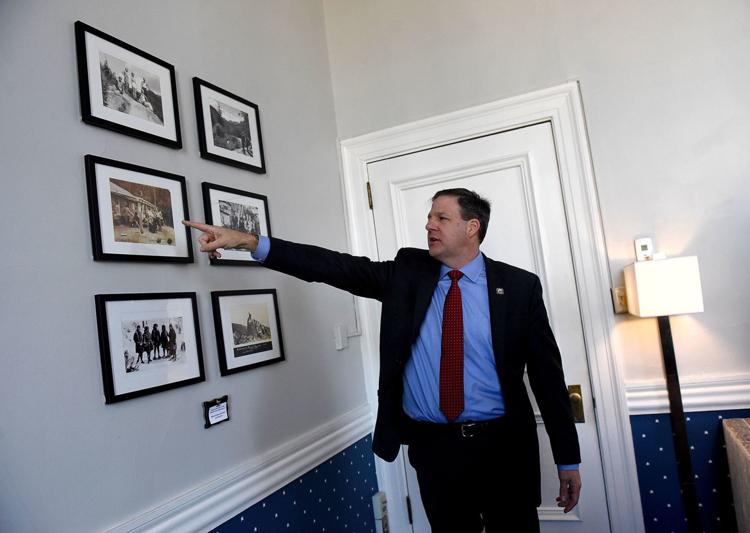 Seeking more family time
What does Sununu need to improve on?
One thing would be to make more time for a normal family life with first lady Valerie and their three kids, Calvin, Edie and Leo, he said.
"I could sit in that corner office chair 24 hours a day, but in any day you need balance. I am still not good in giving that balance to my life. I think if I had a more balanced social life, I would be better in my job," Sununu said.
"I'm trying to get it down to being out two or three nights a week. In December during one stretch, I was out nine nights out of 10, and that was brutal."
Sununu said he seeks what he called a "boring" but fulfilling routine at his Newfields home.
That would include watching plenty of movies. Sununu once attended film school at New York University before deciding to do something with his engineering degree.
"I am great at laundry. I really enjoy fixing things, but my wife says I'm just handy enough to be dangerous," Sununu said.
"I just redid my daughter's floors in her bedroom. I did OK; she's happy. Valerie will not let me do any plumbing, and that's probably a good thing."
As in politics, not every episode of Sununu's home improvement life is an achievement for the ages.
"Last year I made a dunking booth for my son to throw a football at. It lasted about four weeks and got destroyed," Sununu said.
"Valerie turned to me and said, 'See, you aren't as handy as you think you are.' "