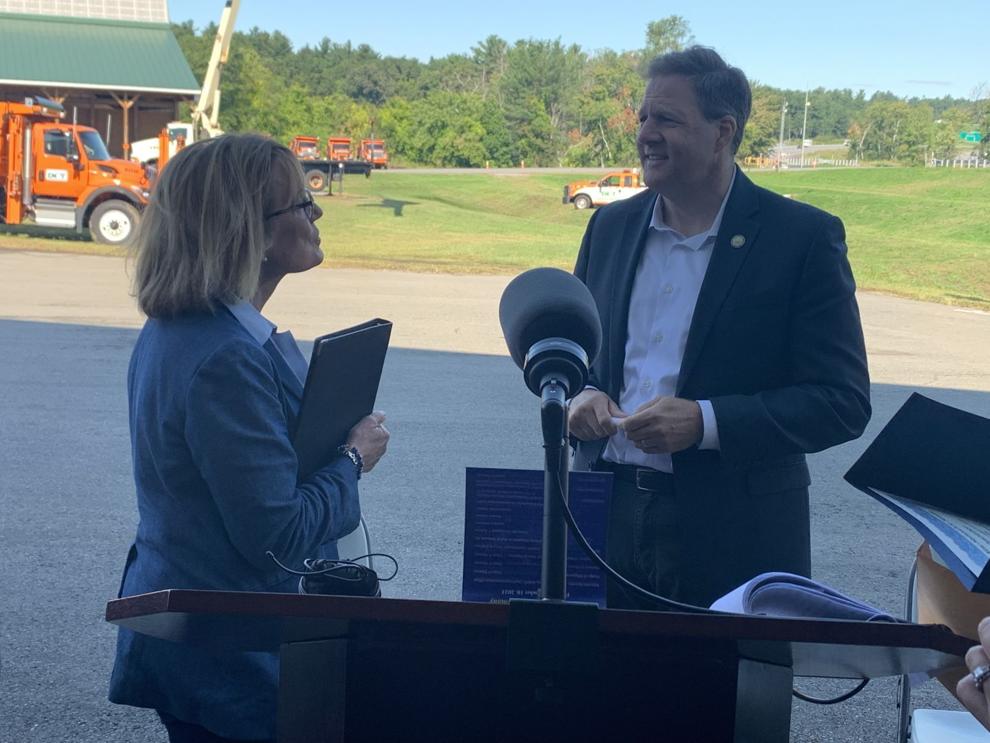 WASHINGTON - A Republican group with close ties to Senate Minority Leader Mitch McConnell will launch a new front Wednesday in the ad wars over the Democratic domestic policy bill, opening a $10 million ad campaign targeting three vulnerable senators.
One Nation, the issue advocacy arm of the Senate Leadership Fund, plans to air television, radio and digital ads criticizing Democratic Sens. Mark Kelly of Arizona, Catherine Cortez Masto of Nevada and Maggie Hassan of New Hampshire, all of whom face voters in 2022 and have been supportive of President Joe Biden's agenda.
The ads, which will be paid for by undisclosed donors, describe the potential Democratic bill as a "multitrillion-dollar spending spree" and "the largest tax increase in decades" that will lead to further inflation.
"It'll cost you," runs the slogan repeated across ads in the series.
The television ad planned for Arizona takes the unusual route of praising Sen. Kyrsten Sinema, D-Ariz., a moderate and the favorite Democrat of McConnell, as it attacks Kelly by contrasting the two senators' approach to the Democratic negotiations over the size and scope of the measure.
Sinema has publicly balked at the Democratic plan, while Kelly has been less vocal about smaller criticisms, as warring party groups negotiate over climate, health-care and other social spending that the administration says will be paid for by hiking taxes on the wealthy and corporations.
Ads in all three states mention House Speaker Nancy Pelosi, D-Calif., blaming her for the shape and scope of the bill, while other cameos include Biden, Majority Leader Chuck Schumer, D-N.Y., and Sen. Bernie Sanders, I-Vt.
"The timing of this coincides with what we see as rising chaos and disagreement about the scope of the bill, and we think there is opportunity to mobilize public opinion against the legislation," said Steven Law, a former McConnell chief of staff and campaign manager, who serves as president of One Nation and the Senate Leadership Fund. "The infighting we think has created opportunities to weaken it or stop it."
The One Nation effort joins an already crowded set of outside groups on both sides that have been flooding airwaves and smartphone screens in key districts, with pro-Democratic spending generally outpacing pro-Republican spending, according to strategists in both parties.
The Democratic onslaught has been funded by groups like Building Back Together, which was set up by allies of President Joe Biden and has spent nearly $15 million in key states, according to a spokeswoman.
The League of Conservation Voters, Stand for Children, and Climate Power, along with interest groups like AARP, which supports expansions to the social safety net, have also contributed to the cause.
The Republican side has been led so far by two main groups. The American Action Network, an adjunct of House Minority Leader Kevin McCarthy's fundraising operation, has spent about $15 million in 25 front-line House districts targeting the domestic policy measure and a linked infrastructure bill, according to a spokesman. The Common Sense Leadership Fund, founded by former National Republican Senatorial Committee executive director Kevin McLaughlin, has put more than $12 million into digital and television ads focused on competitive House and Senate races.
Law said he viewed the new campaign as a sequel to the ad blitz One Nation added to in 2019, when the group bought television time in early primary states to advertise against the idea of Medicare-for-all, in an effort to make it less popular among Democratic primary and caucus voters.
The first $5 million in this year's campaign will be spent in the next few weeks, with another purchase of ads planned for later this month, Law said, with the message depending on how negotiations over the legislation proceed.
"Elections are many, many months away, and action on this legislation is right now," Law said.